4 Free Ways to Convert Video to Slow Motion
Use Video Grabber
If you don't want to install additional programs on your computer, Video Grabber is what you need. From the name itself, it is a web-based application. But don't underestimate this tool because aside from being 100% free, it is packed with wonderful features you will enjoy. This application can convert videos into different formats, supports various media outputs, is equipped with video editor and many more.
How to convert a video into slow motion using this tool is easy, all you need to do is:
Visit Video Grabber and click "Select files to start" to launch the application. If this is your first time to use the app, download the "one-time installation only" launcher.
Then select and upload the normal video file. Tap the "Edit" button. On the advanced settings menu, choose "25% or 50%" on the play speed and click "OK".

Change the video format if necessary and click the "Convert" button to convert the file.
On the other hand, if you want a standalone video converter that runs offline, you may want to try Video Converter Studio. This ultra-high-speed video converter is packed with amazing functionalities you wouldn't find elsewhere. It features powerful multimedia player, video downloader, screen recorder, video/audio converter and flexible video editor. It also has the ability to convert normal video to slow motion without losing quality.
Use mp3care
Another slow-motion video converter you could try is mp3care. Just like the first-mentioned application, it is an online application that needs not to be installed on your computer. Aside from the ability to modify video acceleration, mp3care can perform audio conversion, video conversion, and online rotating of videos.
To convert video to slow motion using mp3care, simply:
Visit mp3care's website, scroll down below and click "Video slow motion".
Click "Select file" and upload the video that you want to modify. Note that the maximum video file size you can upload is capped at 100MB only.

Alter the acceleration of the video by choosing "0.5x slow or 0.25x very slow". Click "slow-motion or accelerate" then right-click the file to save it on your computer.
Use Movie Maker
Microsoft's Movie Maker is also a great tool that can convert normal videos into slow-moving clips. Most computers running Windows 7 are equipped with Movie Maker but for those running Windows 8.1, you might want to download the application on Microsoft's website. If you are using Windows 10, you'll be surprised to know that Movie Maker is sadly not compatible with your OS. To get Movie Maker working on Windows 10, you need to download Windows Essentials 2012. After you've downloaded and installed Movie Maker on your PC, this app can now turn into a slow-motion video converter.
To use it, just:
Launch Movie Maker and click "Add videos and photos". Select the uploaded clip on the storyboard and click the "Edit" tab on the video tools panel.
On the speed drop-down menu, choose from 0.5x to 0.125x video slo-mo options.

To save the modified clip, click "Save Movie" and select the appropriate quality. Give it a filename and hit "Save" to save it on your PC.
Use ApowerEdit
Ever want to turn a regular speed video into slow motion and add captions or overlays? Then ApowerEdit would be a nice tool for you to solve the task. It is an easy-to-use video editing tool but comes with lots of powerful functions: cutting, joining, splitting files, rotating, adjusting speed, saturation, brightness, hue, adding mosaic, and more. It also provides you many kinds of stunning texts, overlays, transitions and filters templates. Via it, you can personalize your video, audio, image with special effects. You may like it for its streamlined interface and advanced video editing timeline.
How to make your video into slow motion with it:
Download and install ApowerEdit on your computer.
Open the tool and import your video by dragging and dropping.
Right-click it and choose "Add to project". Select the file and click "Edit", then move the speed slider to set your desired speed.
Click "OK" and "Export" to output your project.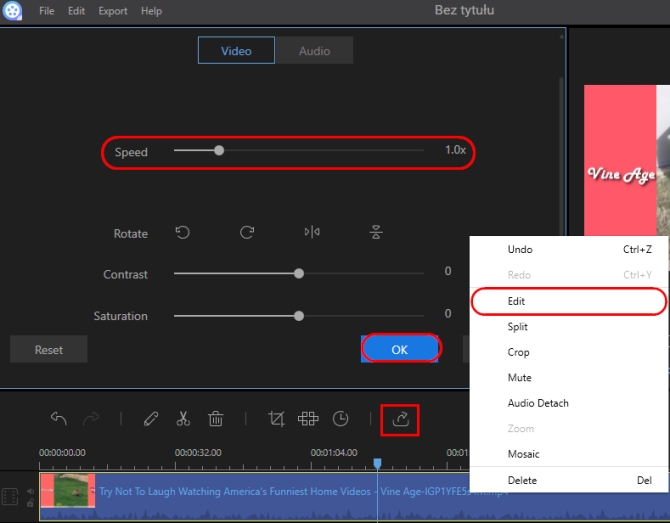 Conclusion
Indeed, there are many ways on how to convert a video into slow motion. Mp3care is wonderful because it's free and straightforward to use, however the 100MB limit makes it available for small clips only. Movie Maker features a wide variety of functionalities, but you need to download and install a compatible version first before using it.
If you want a free video converter that can turn normal videos into fantastic slo-mo, Video Grabber is perfect because it doesn't have any file size or time limitations. For more powerful video editing and speedy file conversion, either Video Converter Studio or ApowerEdit is immaculate.