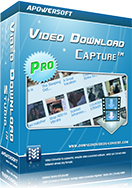 Video Grabber Pro is the toolkits combined with several useful media grabber software like Streaming video grabber, streaming audio grabber and Screen Video Grabber. It also has simple video audio editor and converter, the built-in CD ripper, CD burner and DVD creator. CD Ripper is useful for you to grab audio from CD and CD Burner is helpful for you to burn music, audio files to CD. DVD creator helps you burn videos you downloaded to DVD.
Online Video Grabber – grab all videos you want.
Audio Radio Grabber – record audio, music, radio from audio sites.
RTMP Video Grabber – record rtmp streams from any protected video sites .
Screen Video Grabber – record all movements on your screen.
Video converter editor – convert between all video formats like AVI, MP4
Audio converter editor – convert all audio formats.
CD Ripper and CD burner – burn and rip cd for you.
Grab streaming videos from online video sharing sites
You can grab all videos from most popular video sharing sites like YouTube, Google Video, Metacafe, Yahoo Video, Blip.tv, Vimeo, Dailymotion and more.
Grab Streaming audio, Radio and Music
You can grab any audio from your computer, microphone and online sites, grab internet radio from radio stations, and grab free music from music sites like imeem, last.fm, etc. It is no exaggeration to say, what you can hear is what you can grab.
Grab screen video, desktop activities
What you can watch is what you can grab! All screen activities can be grabbed into WMV, AVI, SWF and other video formats.
This tool is helpful for you create your own demo videos, training videos and how to videos. You can capture your demo video and then upload it to online streaming video sites. Screen Grabber can also help you grab live streaming video from CNN, Hulu, CBS and Netflix that cannot be downloaded directly by streaming video grabber.
Built-in Editor and Converter
Video Grabber Pro is also combined with Video Editor, Video Converter, audio editor and audio Converter.
You can make some simple and easy clip for the video and audio you grabbed, and convert video audio to all video and audio formats for different model of devices.
Burn online videos to DVD
With DVD creator in Pro, you can burn all videos you grabbed into DVD Disc, and then you can play online videos you grabbed on TV with DVD player. This is a good way to share happiness with your family and friends.
Grab audio from CD and burn audio files to CD
There is also a tidy CD ripper and burner, if you have some CDs, you can grab audio from your CD into pieces of music files, and burn audio you recorded to CD disc for your car CD player.
Grab any videos you watch.
Grab all audio you hear.
Edit and Convert video audio