Sometimes I download movies from YouTube or other video sites, but most of which are divided into several parts. So I am just wondering if those movie clips can be played on the same screen simultaneously. In other words, I suspect that I should merge video files into one for playing. How can I make it?
Available solutions to merge multiple video files into one
Hey guys, just take it easy, there is always a solution to every problem. Indeed, we will encounter many cases where we need to join video files into one in our daily life. For instance, you wanna make an entertaining movie project that requires you to merge several video part into a single movie or you have to put separate broken video parts into a full one etc. Any problem you encounter will be figured out with solutions described below.
Windows live movie maker
Windows live movie maker is a notable program for doing some editing stuff to your movies. Actually, it also offers you the option to combine video files into one. To get the job done, make sure you have installed windows live movie maker on your PC. All you have to do is click on "Add videos and photos". For example, if you merge two videos into one, drag each individual video clip into timeline. After organizing the videos, you can "save movie" with a few options "For computer", "For high-definition display", "Zune HD". Select either of them.It will start merging video files into one automatically once you save the movie.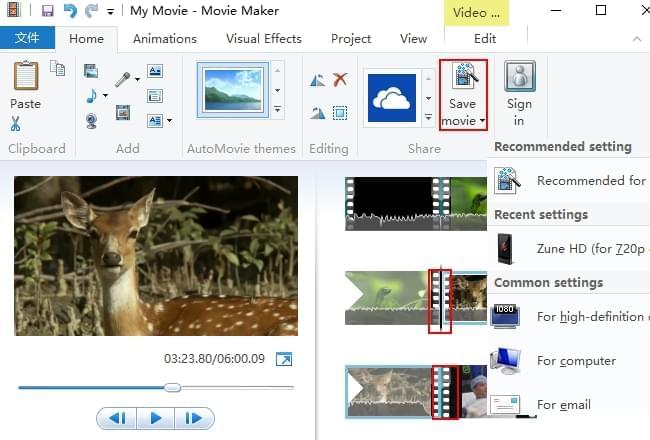 With the solution above, it won't bother you again about merging problem. However, the video output format of Windows live movie maker is limited to wmv and MP4. If you want to save videos as other formats like MOV, AVI, MKV, FLV etc, my advice is to make use of apps which can both edit and convert your videos. Here offer two such software for your reference.
Video Converter Studio
Video Converter Studio is the first tool worthy recommendation, which can quickly merge videos into one with ease. Besides, you can use to convert videos into any formats such as MKV, FLV, SWF, AVI, VOB, OGV, WMV, DV, 3GP, HTML5, HEVC, MKV, H.264, M4V, MOV and ASF.
Download this program and install it on your computer.
Launch it and then you will enter the main-interface.
Under "Convert" tab, you need to click "Add files" to import the video clips you want to merge and further click "Merge into one file".
Choose the video format and finalize the task by tapping on "Convert" button. Just in a while, you can merge videos files into one.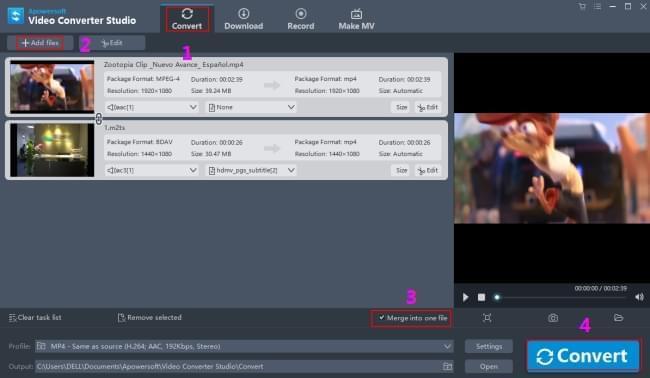 ApowerEdit
ApowerEdit is a second tool deserving mention. It not only can help you merge video files into one, but also provides multiple editing options, such as trimming, cropping, adding filter, layout, text and transtion, etc. The edited project can be exported to video and other portable devices like Android and iPhone.
Steps: after installation, launch the program and then add video files. Right clik the videos and then choose "Add to Project" and then adjust sequence in timeline. Last, press "Export" > "Export video" to generate your work.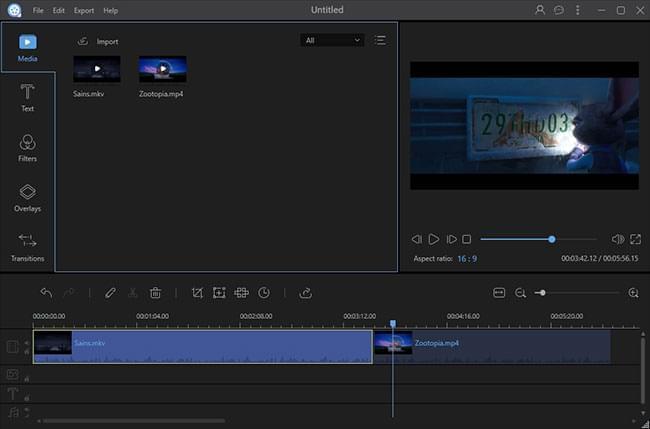 Do you love combing movie clips and making your home videos? Make the leap now.