Videos on Udemy are not always downloadable. It depends on the instructor if they will grant you access to download Udemy videos or not. You may want to download videos from the site for future reference as they are available on the site for an indefinite period. Furthermore, this will let you go over the content even without going online. Aside from the default download option on the site, there are other methods on how to download Udemy content, which you would find helpful if download option is disabled on the lectures. You may use an online screen recorder or a software downloader as an alternative.
Default Download Option Provided by Udemy
The first option that we will discuss is the default download option on the site. As mentioned, not all videos on Udemy are downloadable. But if they are, when you open a lecture, you will see the materials section on the right side. Under lecture files, there will be a download icon next to the downloadable file. Click on the download icon to save the video on your computer. If it is disabled, you may try requesting for download access from the instructor. Some may grant these types of requests.
Online Downloader
Next on the list is a relatively better way to download Udemy videos online, which is Video Grabber. Even if the download option is not enabled on Udemy, you can use this tool to save the videos on your PC. This is browser-based so it does not require installation. Just enter the URL of the video you wish to get and click Grab it to download. However, this Udemy downloader online also has some drawbacks. It can only record one video at a time. Plus, you cannot do anything on your screen while it is in the process of recording. If you want the best and most complete solution, then go for Video Download Capture, which we will discuss in the next part.
Software Downloader (Win and Mac)
The last Udemy downloader we have is Video Download Capture, which is the best method that you can try. This may actually be the first software to support the download of free and paid videos on the said site. It supports multiple downloads so you don't have to wait for one video to finish downloading before you can proceed to the next, which will save a lot of your precious time. To get your desired videos, paste the URL of the video on the correct field and wait for the download to finish. You can even convert the video to wide selections of formats. Right-click on the downloaded file and click add to convert. Go to the convert tab, select the format desired and click the start button.
Learning how to operate this software is easy and only takes a little more time compared to the online application.
Step 1. Start with Udemy Video Downloader
To start, take a free trial for this program, install it completely on your computer and then activate it, you will get the main interface as illustrated below. You will get to the "Download" panel as default and can input the link of any video to download it.
Now, visit Udemy and forward it to the directory of courses.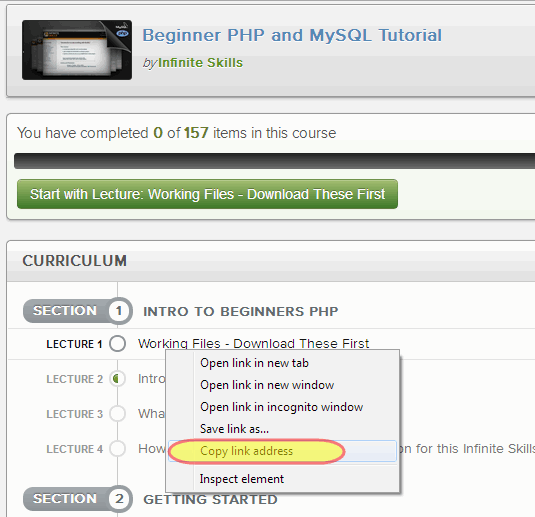 Right-click on a course title followed by "Copy link address", back to the program and then paste your link to the field. By clicking "Add to download" will let you get the course video within a few minutes. You can repeat the process as instructed to get as many video clips you need.
Step 2. Download Paid Video Courses from Udemy
If you aim to a paid video on this educational platform, you have to log in with your account before downloading. You only need to do it once. After that, you can save videos normally without being asked to log in anymore.
You can use this robust tool not only on Udemy but on other education courses sites as well. As a matter of fact, you can capture or download any video that you see on your screen using this program. Now get a free trial and feel free to pull download any video to enrich your knowledge without restrictions.