5 Tools to Remove People from Photos
Enlight Photofox
User's rating: 4.7
System requirements: iOS 11 or later
Size: 216.5 MB
The smartphone really simplifies our work with so many useful apps. Enlight Photofox is one of the iOS apps that can help us remove person from photo easily on a phone. This tool lets you delete any unwanted objects from photo, as well as logo, watermarks, date stamps and more. It has an advanced image correction feature to heal your photos.
Open the app, and upload the photo that you want, then look for the healing icon at the lower part of the screen. Highlight the person that you want to erase, then hit the checkmark icon for your photo to be processed. After that, you can export your photo in different formats like TIFF, PNG, and JPG.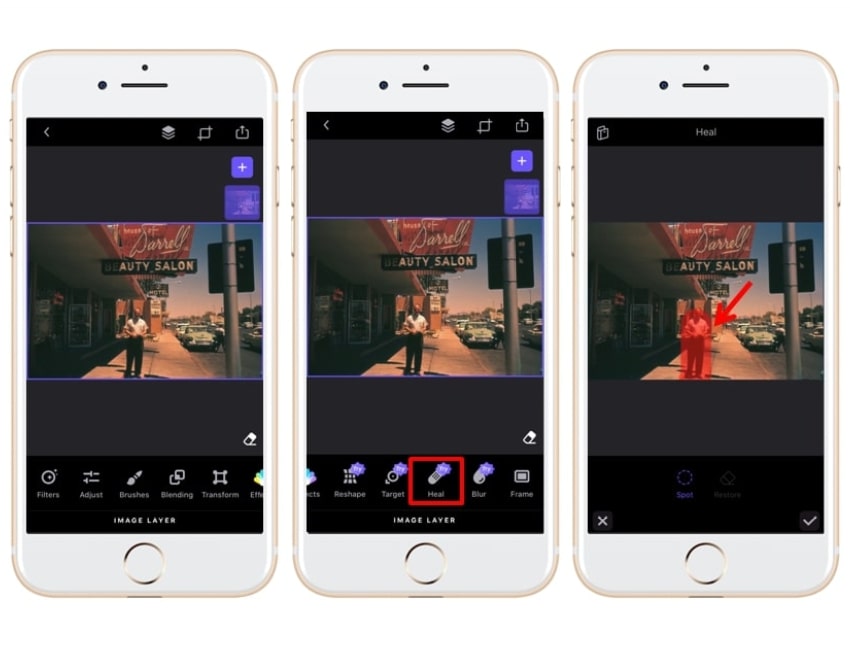 Pros:
It is free and easy to use.
Cons:
You need to purchase to access the other features.
Remove Object
User's rating: 4.5
System requirements: Android 4.1 and up
Size: 5.3 M
The next tool that we advise to use is Remove object, an Android app to remove people from picture easily. With this app, you can remove not only the person, but also any unwanted object from your photo with the given selection tools, including brush, lasso, and eraser.
Import a photo from your gallery, and highlight the person you want to remove, then simply press the process button, and you'll find the photos will be saved to your photo gallery soon.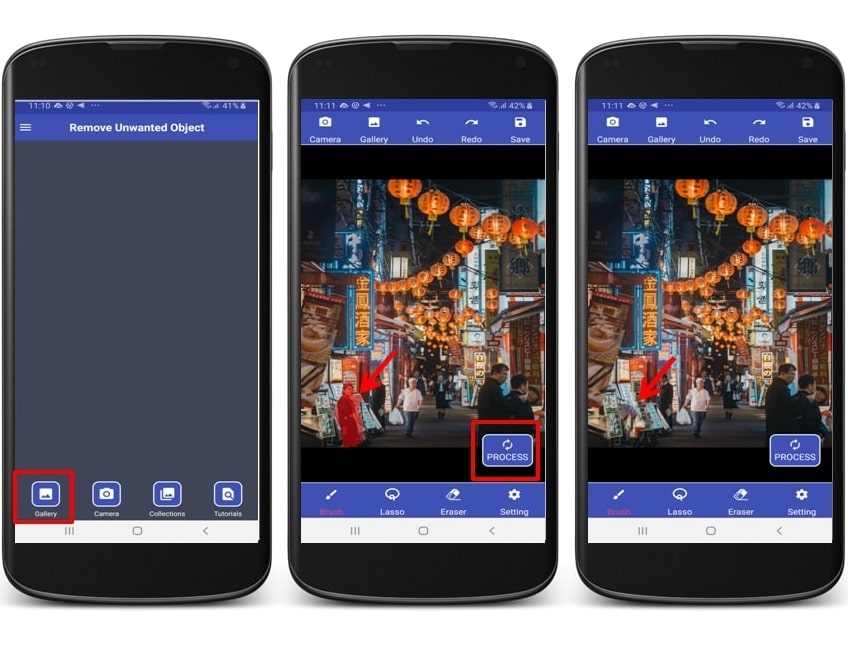 Pros:
It is a free app.
Directly share the photo with your friends.
Cons:
Compromise the original quality of the photo.
It left a trace on the processed area.
Snapseed
User's rating: 4.6
System requirements: Android 4.4 and up & iOS 9.0 or later
Size: 99.5 MB
Another app that can remove people from photos on both iOS and Android devices is Snapseed. This app is one of the famous tools that you may have in terms of photo editing. It has a powerful healing feature that can erase any uninvited person or object in a picture.
Simply select a photo from your gallery, then tap the healing icon to delete the person on your picture. Once done, tap the checkmark icon located at the lower right of the screen.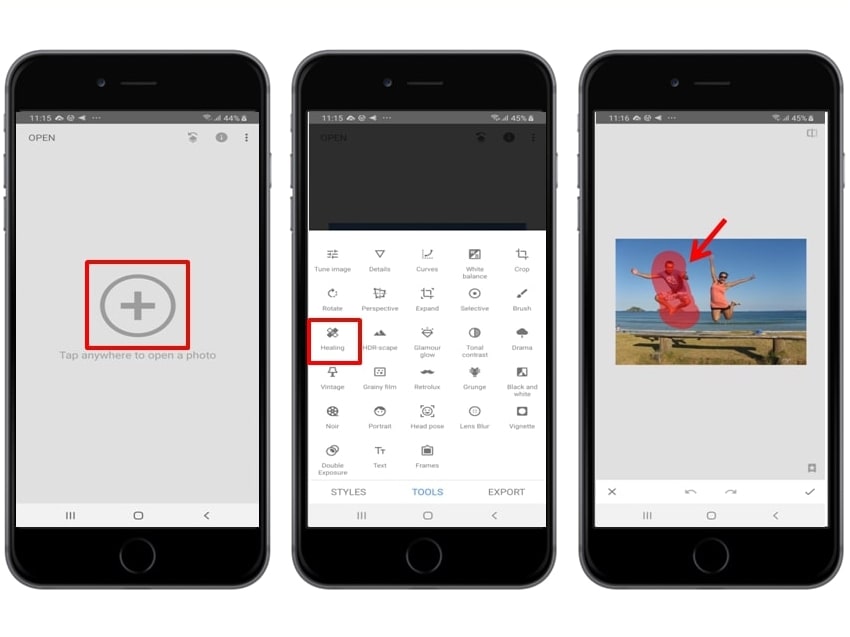 Pros:
The app is free to use.
You can use it for both iOS and Android.
Provides many powerful photo editing and correction features.
Cons:
Not suitable for beginners.
Apowersoft Watermark Remover
User's rating: 4.8
System requirements: Windows
Size: 1.64 MB
If you are looking for a third-party desktop tool that can remove person from photo, you can have Apowersoft Watermark Remover. With the help of this software, you can delete person from photo or any unwanted object just like watermarks, logos, date stamps, wires, emojis, and more. It offers extensive three selection tools known as marquee tool, polygonal lasso tool, and brush tool, which can help you choose any sort of objects accurately and remove them just in one click.
For you to remove person on your photo, simply upload the photo into the software, then choose among the selection tools that you can find at the upper part of the screen. Highlight the person then click the "Convert" button.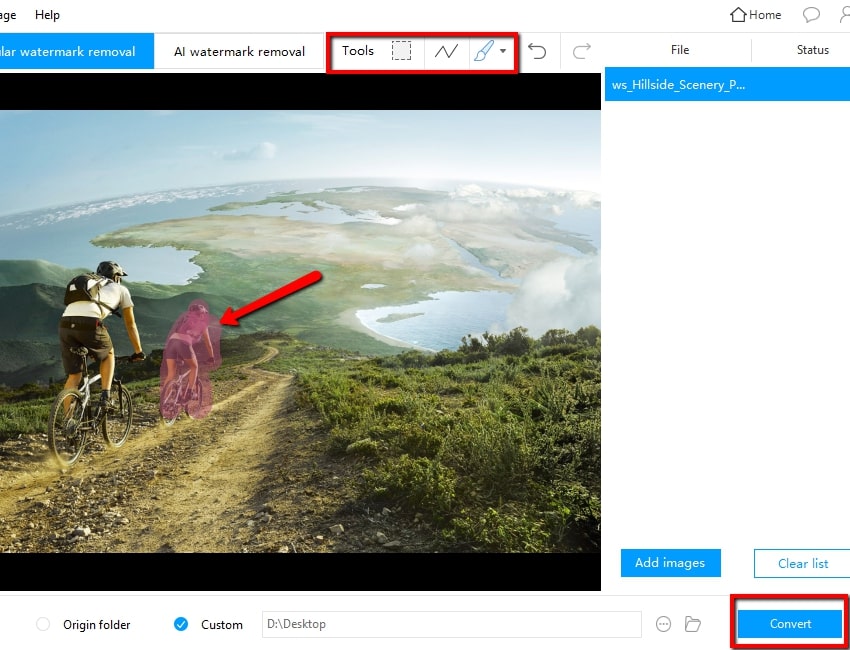 Pros:
Very intuitive to beginners
It has self- explanatory features.
It can do batch processing.
Cons:
Lacks of photo editing features.
Lunapic
User's rating: 4.5
System requirements: Online
Size: —
Lunapic is a photo editing tool that can remove people from photo online. This amazing web tool has a wide variety of features to edit a photo. You can just use one of those features "Remove object or blemish" to get rid of the people in your image easily.
After you upload the picture, you just have to click on the person, object, blemish or any unwanted content on the picture and delete it. If you are unsatisfied with the result, you can to click it repeatedly until it looks good.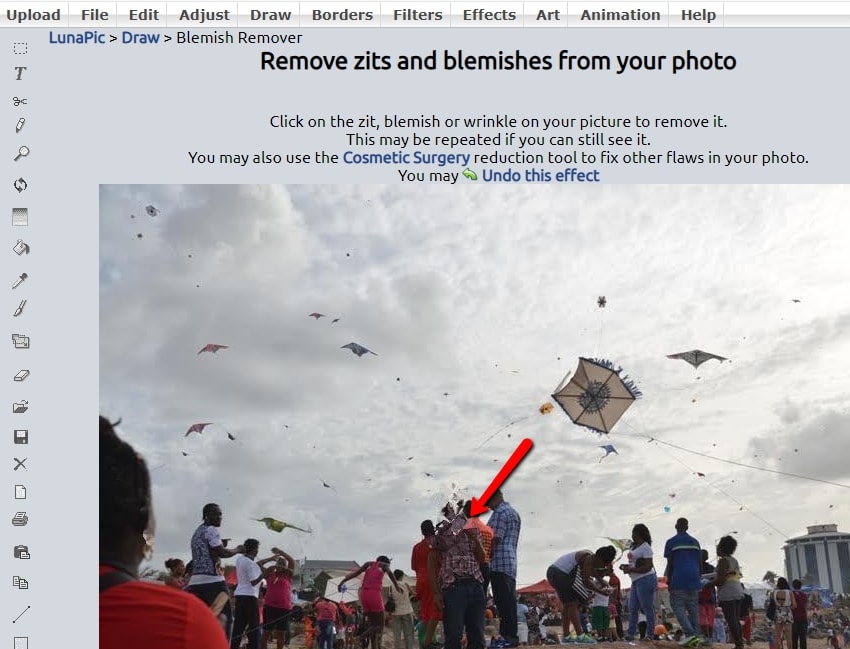 Pros:
It is easy to access online.
Cons:
It takes time to repeatedly choose the unwanted person.
Conclusion
The aforementioned tools above can make your task quicker and easier in removing people from picture. If you have better recommendations, please let us know in the comments.