Grab audio from computer easily
In brief, this tool can grab any audio coming through your computer's sound card and microphone, such as grab DVD audio, grab audio from CD and grab audio from video. And best of all, the output sound quality is exactly the same as the original sound.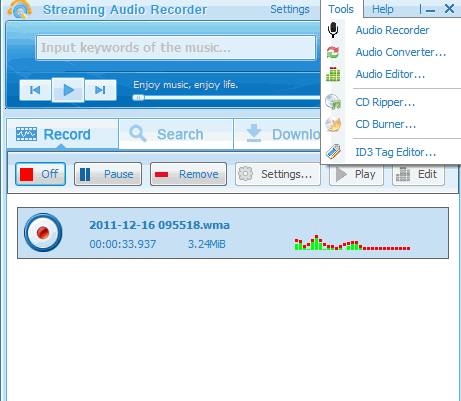 Formats converter
It also supports converting audio into any formats as you like, such as MP3, AAC, WMA, WAV, and OGG etc.
Music downloader
Except for grabbing internet audio, it also can be used as music downloader. All you need to do is to type the songs you want to download into the search box, and then you will get your songs.
CD burner and CD grabber
CD burner allows you to burn music or audio to CDs so that you can play it at home or in your car. You can also grab audio from CD with its built-in CD grabber tool.
Audio editor
The software program can edit the audio you grabbed by cutting, pasting, deleting, overwriting, mixing and applying various sound effects based on your likes.
ID3 tag editor
The ID3 tag editor enables you to write information of audio you grab, such as title, artist, album, year and genre etc.
Silence detection supporter
If you don't like the pauses of the audio and want to skip the silence passages, you can set silence detection to make it.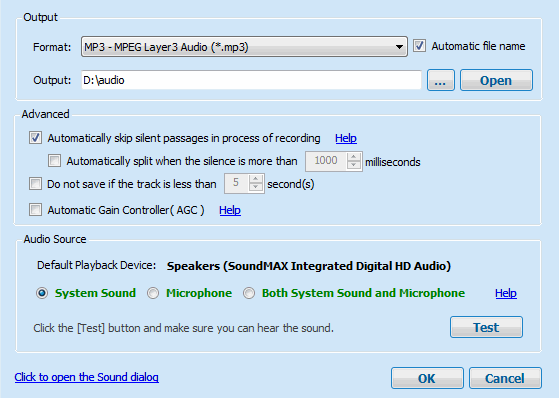 Create schedule task
Isn't troublesome to grab online audio by manual control? Well, it won't happen if you create schedule task. Just type the task name or set start time and duration time, it will start grabbing automatically.
How to Grab Audio
Follow simple steps here: After installation, you can grab online audio by clicking "on" button, and then begin playing the audio. Once the audio finished, you will successfully get things done by hitting "off" button.
All in all, Audio Grabber is a kind of effective software to grab streaming audio from internet through your computer's sound card. In view of its multifunction, I'm sure you're gonna love it.