Nowadays, the smartphone is becoming actually the PC for entertainment, a great number of users watch videos, listen to music, browser the webpage, play games directly on their phones instead of sitting still near computer. To be fair, a smartphone is not a complete replacement of a PC, but it's an absolute necessity of daily living. Among those popular smartphones, android phone like Samsung Galaxy series, Motorola, HTC had reasonable success because of its capabilities and user-friendliness, it is even doing much the same as Apple's iPhone.
So when you carry around such an android phone, are you wondering how to download online videos, music and games on your android? I just wanna say it is easy to download games and songs directly, what's truly cumbersome is about how to download videos with your android. It definitely requires a third-party program. But no troubles, here's got a free video downloader for Android – video grabber for phone. With this app in hands, the rest is simple.
How-to tricks on free video downloader for Android
Instead of downloading any extra plugins or add-ons, the app that provided here is a kind of web-based service, which facilitates to watch YouTube videos online and process online video download for android.
Specific actualizing steps of using video grabber for phone: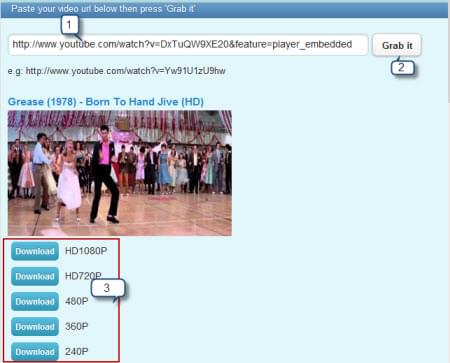 Open the wifi of your android phone
Browser the website of video grabber for phone
Just type your wanted video URL into download box
Quick hit on Grab it
Okay, now it will automatically detect the video file for downloading and video quality options are available for choosing such as 240p, 360p, 480p, 720p and 1080p. Just select one of them that the original video file contains. You see, videograbber.net for mobile can truly be called as android online video downloader. Wow, super easy and pretty cool.
More benefits of video grabber for phone
1. Smart video search engine

Search videos from YouTube, Metacafe, Blip, Dailymotion, Vimeo by inputting the keywords into search area. For example, if you wanna download YouTube videos on android, the related video content will display after searching. You may browse the video to check whether it is the right one for downloading. You're welcomed to vote for Like or Dislike for the video.
2. Download YouTube or more as mp3 on android
Wanna save mp3 from YouTube or more video sharing sites directly? You've come to the right place, the tool supports to grab YouTube as mp3 directly. As soon as you play a video, Download MP3 icon will do the job.
3. Track hot videos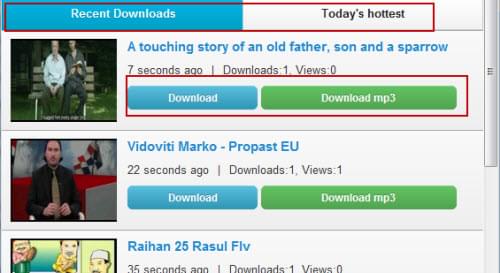 The two tabs Recent downloads and Today's hottest appear as recommendations, it will quickly locate the most popular video items. Most video resources are from YouTube, which avails you to download YouTube videos on android without breaking a sweat.
4.Support a list of video sharing sites
Video grabber for phone cannot only act as free YouTube video downloader for android, but also allows users to grab online video from many other video sharing sites like Vimeo, Dailymotion, Blip TV, Lynda.com etc.
Fantastic topic: Best android phones recommended for using
Since you have possessed android online video downloader, what follows is to have a flawless experience on your best android phones. Here singles out the best and hottest android phones of 2012 on the market: Samsung Galaxy S3, HTC Rezound, Motorala Droid RAZR MAXX, Motorola Atrix, HTC Amaze, LG Nitro, Samsung Galaxy Nexus etc. Action now, just keep one of them in your pocket. Enjoy fast online video downloads on an android phone.