I want to create a personalize video that has a background music which I prefer using iMovie. However, the problem is I don't have an idea on how to add audio to iMovie in a certain clip only. Can you help me this concern? I really need to finish this project ASAP. Please help, thank you.
Adding audio to iMovie
There are various reasons why individuals like to add music to iMovie project. The most common one is to add a personal touch to a video project that is being created and at the same time makes it look unique and professional. Just like in homemade videos where in the background audio maybe too dull, and one way of putting life into it is by adding a music track that will serve as its background. I bet there are some of you that know how to put background music using iMovie, but there are still many that do not. What seems to be confusing is the way on how to add a song in a specific part of the video. So to avoid confusion a detailed elaboration of the steps is shown below.
1
Select audio you want to add
To begin with the steps, you must first prepare or arrange your project. Then, you can start with the process of adding audio to iMovie by opening your iMovie project and click the Music and Sound Effects button which is located at the iMovie toolbar and a browser will pop out.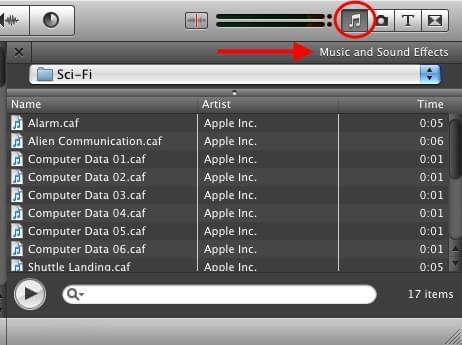 Now select all of the songs that you will need in your project. The next step is to drag and drop the mp3 track into your project, drag it just a little bit below the video timeline and wait for the green Add(+) symbol to appear before releasing it. Once added the music background will be showed in green color and it automatically fits in with the video clip.
2
Select specific area you want to add
However, to add music background in a specific part of the project, simply click or select the audio file that is located on the music timeline and its border will then turn yellows. This is when you can move along the music background to the certain portion of the video clip by dragging the slider until it fits in the certain portion of the clip that you wish. Just be sure to save your project to finalize your project.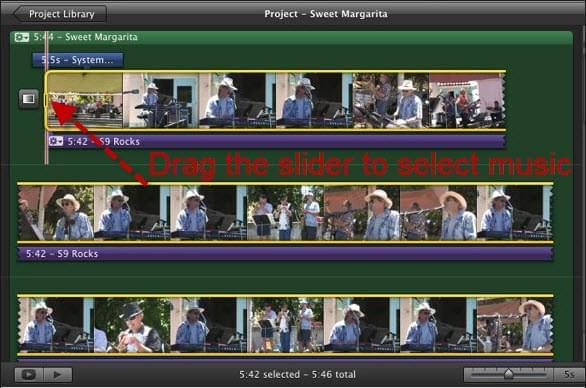 Tips: For those that want to delete music background on iMovie, simply go to the music timeline select the audio background until its border turn yellow and press the Delete tab on the keyboard or you can go to Edit > Delete Selection.
Adding background music using iMovie alternative
Another way on how to add background music in a certain video clip is by using the best iMovie alternative that we can get. They are considered to be alternative but at the same time they do perform well with the task such as this. Here are two reliable iMovie alternatives that we can use.
iMovie alternative for windows
If you are using a Windows OS, then the best thing for you to do is to utilize the built in video editor that you have which is the Windows Live Movie Maker. Many people are using this program since it is easy to use and it can also handle video and audio editing. Adding music background is very easy and fun to do just like adding audio to iMovie. Their steps are barely similar but their platform is different from each other.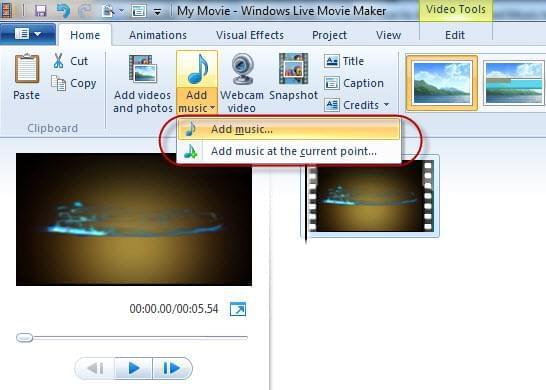 iMotion HD
This is another great iMovie alternative for Mac users. However, it runs on Mac portable devices such as iPad, iPod touch, and iPhone. It almost has the basic editing features that you can find on iMovie. The only concern about this program is that fact that the interface is different and it may be different for others to use especially those that have big fingertips.