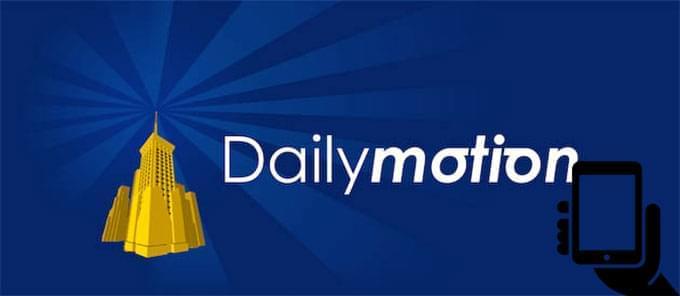 Today, watching videos has never been more convenient and easier. If from before you need to rent tapes and go to movie houses to entertain yourself, nowadays all you need is a reliable internet connection and a capable device. Along with this, a great video hosting site will keep you busy for hours. Dailymotion is one of the biggest video platforms in the world. Currently, it has millions of videos from full length films to TV shows, funny clips, DIY tutorials and others.
Streaming videos with Dailymotion is very easy, all you need to do is to literally "search and click". By using your Android device and good internet connection, you can watch as many videos as you want totally free of charge. But if you don't want to pay huge prices on data plans, there's a better way to enjoy countless of videos on your mobile device. Use a reliable Dailymotion downloader for Android to save whatever you like, discover more about it after the jump.
How to download Dailymotion on Android
Video Download Capture
Video Downloader Capture is one of the best video downloading tools, which allows you to download any videos playing on the internet to your android device. This powerful and easy-to-use video downloader is equipped with a built-in web browser and smart video detector. Aside from downloading function, this program also comes with additional practical features, such as video converting, editing and screen recording. With the help of this tool, you can change meida file formats to make the media file compatible with most of media player.
The downloading steps are extremely easy, just:
Click the button below to download and install Video Download Capture on your PC.
After installation, launch the program and then enter "Detect" tab.To specifically download Dailymotion for Android, input the web address on the blank URL bar and play the video with the built-in browser
The program will add video to download automatically soon.
During video download, you can preview the video.

Tips: If you just need the audio section, you may drop down the menu and then choose "Audio" option before downloading. It's quite easy to grab music from Dailymotion.

This Android Dailymotion downloader can further help you export downloaded video to your Android devices. Firstly, you need to connect your phone to PC via USB cable. And then, go to "Completed" tab. Next, right click the item that you wish to export and then choose "Add to" > "Add to mobile". The video will be exported to your mobile within several seconds.


Dailymotion for Android

Now if you want a more native app straight from Dailymotion, there's a mobile program specifically made for Android handsets. Simply called "Dailymotion", it is freely available on Google Play Store. With Dailymotion's Android app, you can watch videos straight from your phone, be updated on newly added clips, follow the channels you enjoy, create your own playlists, watch clips in HD, and more.

The next big question would definitely be "can this program really download Dailymotion for Android?" The answer is yes, but you need to know the trick on how to do it.

Make sure to install the official "Dailymotion" app. You can head on to its website and click "extras" then "mobile". Choose Android platform and follow the download link.
It will lead you to Google Playstore and simply install the app on your device.
Launch the program and search the video you want to grab.
Play it and you will notice a "Downward" arrow on top.

This is the hidden way to save files using Dailymotion downloader for Android. Instead of obviously saying you can grab clips from the site, it is concealed between the feature "sync videos to watch them offline later".

Clear enough, how to download Dailymotion on Android is indeed possible. Comparing the two programs mentioned above, using the Video Downloader Free is definitely easier not to mention packed with tons of features. With this tool there are several things you can do such as perform bulk downloading, choose the appropriate video quality, grab videos from different sites such as Vimeo, YouTube, Vevo, Vube, Blip, etc. which are clearly impossible to do on the Dailymotion app.

It's also feasible to download Dailymotion video to your Android phone with PC program. Check below to learn more details.

Using Video Grabber

Video Grabber is a free online video downloading program that supports most of video hosting sites including YouTube, Vimeo, Dailymotion and many more. It is capable of downloading online streams with original quality through the URL you provide. Also, it offers additional tools like screen recorder and video converter, you will find them practical when you need to capture screen activity or make format conversion. In order to optimize using experience, this program is quite easy to use. You may refer to the instructions below.

Go to the site of Video Grabber.
Open the page of Dailymotion video that you wish to download and then copy the URL.
Paste URL on address blank and then click "Download" button. (You need to download and install a component called Launcher at the first time)
Choose preferred format for the target video.

The Launcher is totally safe that won't harm your computer. Also, it's extreme small which just takes little disk space.

When the downloading completes, you can use AirMore to export video to your Android mobile. AirMore is a free web-based application which can help people transfer data between PC and mobile quickly and safely. You can download AirMore app on your mobile firstly by clicking the button below.

Secondly, go to the site of web.airmore.com on your PC browser. Next, open AirMore app and then scan the QR code to connect your PC and phone. Last, go to Videos tab and then click "Import" > "Import Files" to browse downloaded video.