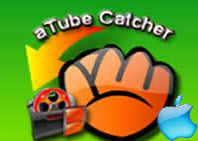 The internet of today is filled with good quality movies, educational clips, funny videos and all other interesting stuffs that you could watch as easy as counting 1-2-3. Thanks to video streaming websites, they can be freely accessed with the help of the internet. But what if you want to save videos for latter playback? How about transferring clips on your device for convenient playing? Gladly, there's a freeware called aTube Catcher.
aTube Catcher is a pretty neat grabbing tool that can download videos from popular streaming sites like YouTube, Dailymotion, Metacafe, Spike, Yahoo, Globo and all others. Likewise, it offers various media formats such as 3GP, AVI, XVID, MP4, MP3, WMA, GIF, FLAC, PSP, MPG, VOG, OGG, MOV, AVI and many more, so you can conveniently transfer videos to your portable media gadgets. But sadly, there is no aTube Catcher on Mac.
Despite its premium-like features, Mac fanatics on the other hand should look for alternatives or wait until the developer releases one for Apple. If you can't wait for an exclusive Apple compatible aTube Catcher, no need to worry because there are great aTube Catcher for Mac alternative available out there.
aTube Catcher for Mac alternatives
For those mac users who prefer a quick workaround without working through a software installed on computer, but still desires the amazing features of aTube Catcher, VideoGrabber.net offers a pretty amazing solution. VideoGrabber is a web-based application that does everything via the publisher's service; it means no installation needed on your PC. Moreover, this website offers a 100% free downloading service. You don't need to sign-up, create accounts, pay membership fees or all others; right out of the box you can use it instantly.
A bit different to aTube Catcher, this web-based app can grab online videos from popular streaming sites very efficiently. It supports more than 1,000 websites including Blip, 5min, Break and all others. Best of all, VideoGrabber is compatible with both Windows and Mac operating system. Using this great aTube mac is easy.
Copy the URL of the website containing vid.
Paste it on the blank search bar and click "Grab it".
Allow the java notification pop-up.
Select video quality and resolution from available choices
Download the video and save it on your PC.
Here's a lightweight version of video grabber which is readily to use from below:



It's really that easy and you can now enjoy watching videos as well as full length clips offline.
Though the online app can solve your problems instantly, it does not feature multi-thread processing like aTube and similar software. If you don't mind taking a short while to work through a software, here's a solution specially designed for Mac and even better than aTube.
The Apowersoft Video Downloader for Mac is a specially designed video grabbing software that is fully compatible with Apple PCs running OS versions 10.9 Mavericks or lower. You can use it to download contents from YouTube, Vimeo, Hulu, Veoh, Facebook, Blip, Metacafe and all others. Variety of output formats such as wmv, flv, 3gp, webm and more are equally being offered, so you are not limited to the normal mov or mp4 formats available on other mac downloaders. Please download it and have a quick look.
What makes this application than the aTube Catcher is that it supports true HD videos with up to 1080p resolution or even higher. You can also download clips simultaneously in one session and batch convert them to desired format. And just like aTube Catcher, this wonderful alternative features an efficient screen recorder that can grab anything from PC screen tutorials to live streams.
There are three ways to conduct online video download, see below:
1
The easiest way is to use the program's copy and paste function. All you need to do is to copy the URL of the clip, click "Paste URL" button.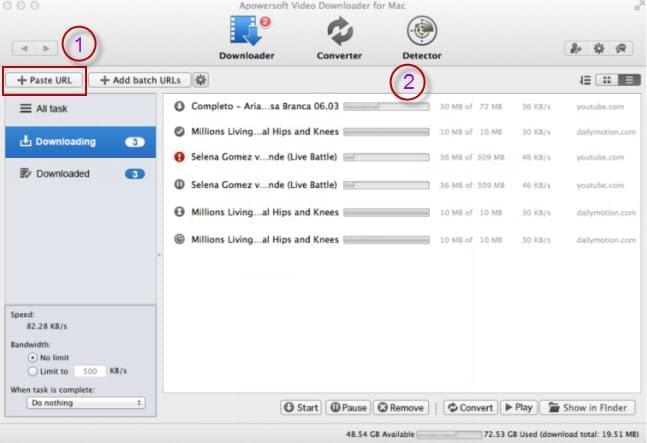 2
Also, you can drag and drop the video URL into the main interface and the program will start to download. Make sure to check "exclude media file type" into the settings to avoid unwanted ads getting into the clip. You can find your video file in the specify foloder.
3
For recording videos that streamed through RTMP like Yahoo video, Viki, MySpace, etc, first customize the input source from the settings and play the video that needs to be grabbed. Hit the "record" button on the interface and stop or pause when done recording.
After grabbing the videos, you have an option to convert them into different formats and transfer it on your portable device or add visually appealing effects using the smart video editing tool.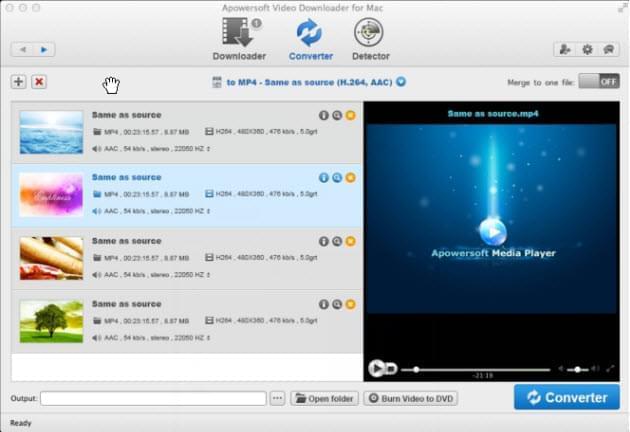 Even though the original aTube Catcher doesn't have an Apple version of their software yet, you can still enjoy similar features by getting yourself a good alternative aTube Catcher on Mac. Most of the time, these tools are even better than the original since they entail additional functions not available on the former software.