When I capture photos, I need to have the best shots. That's why I focus on the most important part which is the eyes. However, there are times that I find my photos with glowing red eyes. Can you please help me to find any tools that I can use to remove red eyes from the photos?
Yes, there are several free red eye remover that you can install on your mobile devices as well as from your desktop. Aside from being red eye remover, these tools also enclosed with other editing functions that can help you edit your photos. Below are the options that we would like to share with you.
Best Red Eye Remover 2019
Eye Color Studio (Android)
User's Rating: 4.1
System Requirements: 4.0.3 and up
File size: 28M
If you are looking for an app that can help you remove red eye effect from your photo on Android devices, you can use Eye Color Studio which can be got from Google Play Store. With the help of this free red eye remover app, you can not only remove the red eye with natural eye colors, but also use other pre-made 150 eye color effects as well as the shape. This best part of it is it can automatically recognize and adjust the eyes on your picture.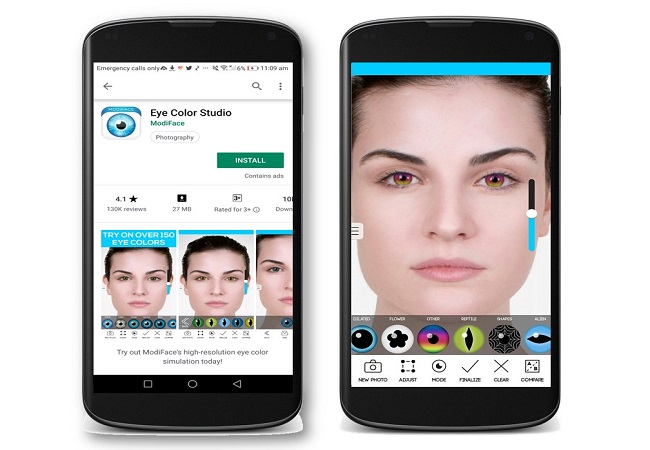 Pros:
It is an easy-to-use app.
150+ eye colors available.
Allows to create own eye color.
Supports to adjust the opacity of the eye color.
Cons:
Limited functions for free use.
Adobe Photoshop Express (iOS)
User's Rating: 4.8
System Requirements: iOS 11.2 or later.
File size: 217.4 MB
Adobe Photoshop Express is one of the best free red eye remover apps for iOS users because of the amazing functions it offers to edit photos. Red eye removal is just a small feature of it. With it, you can have full editing on your photos, including adjust the contrast, exposure, and white balance, apply photo filters and effects, add borders and text, etc.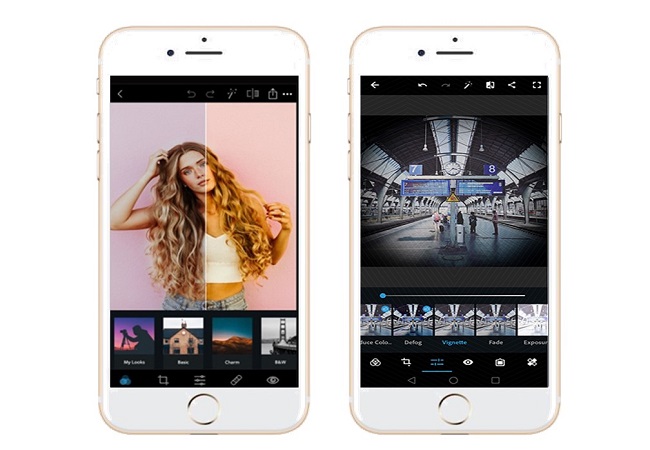 Pros:
Completely free to use.
Offers a good set of tools for photo editing.
Cons:
Like other Adobe software, it takes time to navigate all available features.
Fotor (Online)
Fotor is an online photo editing site that also provides free red eye remover service. In just simple steps, you can fix the red eye blemish for your photo on it. As a completely online tool, you don't need to download or install anything to use it. Just open it in your browser, and you can import photos from your computer, Dropbox, Facebook or Fotor cloud. Not all features are free to use actually, but the tools for red eye removal, eye shadow, eyeliner, and eyebrow pencil are totally free. You'll not get a watermark on the final photo.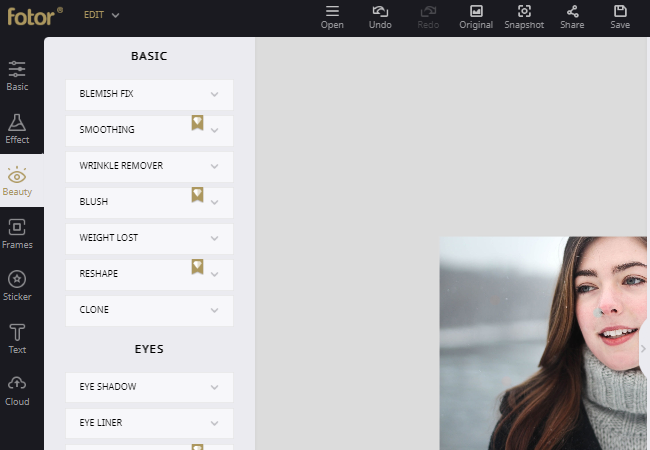 Pros:
A user-friendly interface.
Offers filters, stickers, text and HDR features.
Cons:
Limited features for free use.
PaintShop Pro (Desktop)
PaintShop Pro is a desktop program that has an excellent photo editing function and can also be used as the best red eye remover on PC. By making use of the red eye tool, size of red-eye control, and other related tools, you can easily change the red eye into natural look. Aside from removing annoying red eye effect, you can have its other amazing features to create a beautiful image, including color variation, size, zoom, and many more.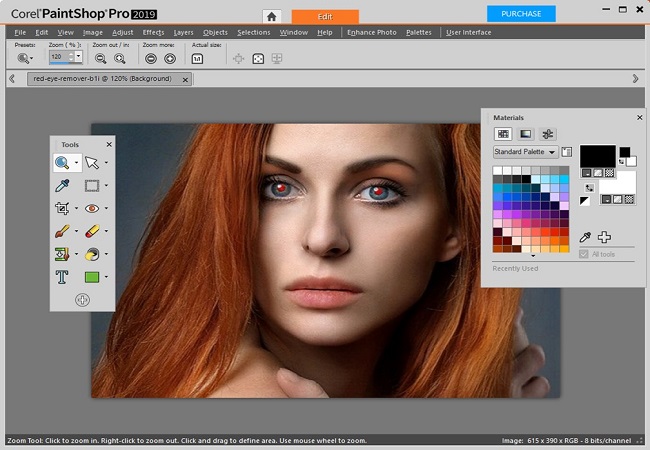 Pros:
Offers powerful effects and editing tools.
Beginners can watch tutorials using this software.
Cons:
It works only on Windows.
Conclusion
All of the aforementioned tools offer basic editing features, aside from removing red eye effect. Give them a try and see which is suitable for you. Let us know in the comments if we miss your favorite best red eye remover.