Audio compression is the process of compressing audio files in order to make their size smaller with regards to the bytes contained. Compressing audio files uses lossy compression in which sound that is not heard by the human ear is removed from the file so the size will decrease without affecting the output. People will still hear the same sound that they heard before the compression as they were not able to hear parts that were removed in the first place.
There are several reasons why you may want to compress your audio files. As mentioned, a compressed audio file has a smaller size, which can save space on your computer or whatever device you are saving it to. It is also perfect for web use as it would be easier to stream the file online. If you wish to send it to another individual, this can be easily done by attaching it to an e-mail.
Top formats that you can choose to compress audio
You can reduce the size of an audio file by compressing it into different formats depending on your preference. However, mp3 is the best format as this is the standard audio format supported by most media players and devices. Another compression format that you can use is MP3PRO, which makes audio files even smaller and can be played on mp3 players.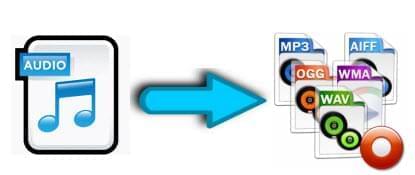 ACC has a smaller size and better quality than mp3. However, this is not commonly used as only a few players support it. WMA is another format that you can use to compress audio. It has lower bitrates, which is good for online streaming. ACS format can be played on different electronics such as cable TV and high definition TV.
Factors related to audio file size
There are different factors that are related to the size of an audio file. This includes codec and audio settings such as bit rate, channels and sample rate. Codec is the way that an audio file is compressed. This determines how small the size of the audio file is. The bit rate is the quality of an audio file. A higher bit rate means better quality. However, this also means a bigger size. So if you want to reduce audio file size, one way is to lower the bit rate.
The channel determines how audio travels from the source to the destination. For instance, a stereo source has two channels, while a mono source only has one channel. The sample rate refers to the number of samples of audios carried every second. The lower sample rate decreases size. 22.05 kHz is popularly used for mp3 files.
How to Compress Audio File
i
Audacity is a popular open-source and cross-platform application used for recording and editing sounds. This can also be used for compressing audio, here are the concrete steps: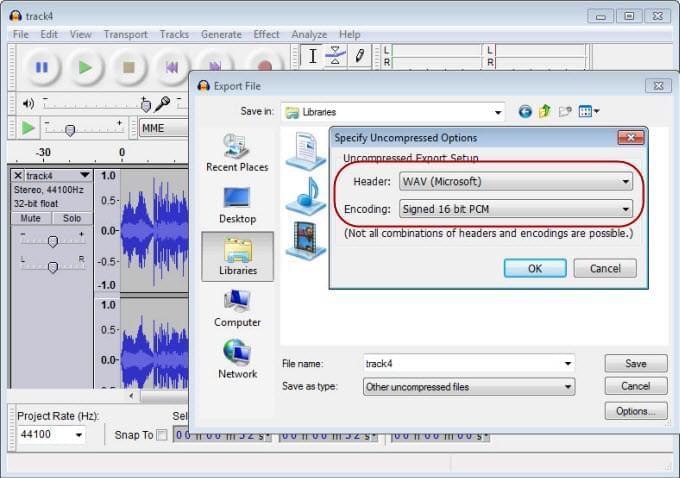 Download and install Audacity.
Click Edit, Open, choose the file to compress and click OK.
Click Project Rate and choose a lower value.
Click the drop-down arrow next to the name of the audio file and select Split Stereo Track, select Mono by clicking on the drop-down next to the two tracks.
Select flat parts on the waveform and hit the delete key to remove silences on the file.
Click Edit, Select and All.
Click Effects, Change Tempo and move slider to the right. Increasing tempo lowers the size of the file. Click Preview to check and OK if satisfied.
Click File and select Export as mp3.
ii
Apowersoft Free Audio Converter
Apowersoft Free Audio Converter is another program that facilitates to reduce audio file size. This is a browser-based tool so you need to be connected to the Internet in order to use it. Go to Apowersoft audio converter homepage, browse on the file that you wish to compress and choose the appropriate settings. Choose the right settings to lower the size without sacrificing the quality.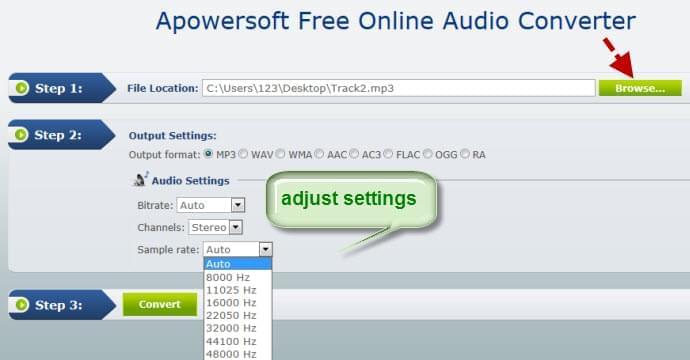 iii
Video Converter Studio
Video Converter Studio is a professional converter software that is able to compress audio as well as video to a certain file size you want. There is no need to change settings of the codec, bitrate, sample rate and channel of the audio if unfortunately, you do not know about them, all you need to do is to enter a number between the size range for the output file. The software will automatically assign parameters that influence the file size for you to get the best quality and reasonable file size.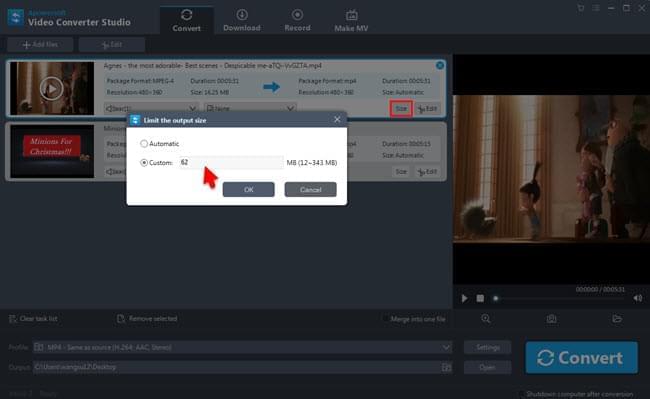 Compressing audio files can decrease their size, thus making it easier to stream and send online. You can choose the right settings so you can still enjoy quality sounds. While Audacity is a good tool for audio compression, if you find it complicated to use, you can use Apowersoft Free Audio Converter instead.