YouTube is the most popular video sharing site on the Internet. Millions of users access the site everyday to watch various kinds of videos including personal videos, music videos, tutorial, vlogs and movies. The site also serves as a platform for businesses and talents to connect to their target audience and build their names. You don't need to be a member of the site to view these videos. However, you need to have a YouTube account if you want to upload a video or leave a comment.
Adobe Flash Player plug-in must be installed on the browser in order to view these videos. But those who have HTML5 trial version of the site, can play some of the videos without installing the said plug-in but not all. The default format of videos downloaded from YouTube is .FLV, which is only supported by few media players. The good news is that there are many tools that can be used to free convert YouTube to MP4 and other formats. As we all know MP4 is the ideal format which supported by majority of media players, you may wish to learn the knacks to convert YouTube videos to MP4 media type.
Best Ways to Convert YouTube Video to MP4 Online
Clipconverter.cc and Zamzar are two of the most popular online converters. However, there are currently some issues when using them on YouTube. Moreover, they are not compatible with Mac. Luckily, we got other tools for converting videos to mp4. This includes Video Grabber and Apowersoft YouTube Downloader Suite, which let you convert YouTube to mp4 on Mac, as well as on Windows.
This online converter lets you convert videos from YouTube and other video sites to mp4 and other video formats. This is convenient to use as it does not require downloading the software or signing up for a membership. Now, let's see how to convert YouTube video to MP4 online using Video Grabber.
Go to videograbber.net. Copy the URL of the YouTube video you wish to download and convert. Next, paste the URL on the blank field next to the green Grab It button. Enable Java applet, various download options will appear, click the Download button next to mp4. Finally, choose target folder and wait for the download to finish. The video is automatically converted to MP4 format.
To get a better understanding, I suggest you to watch the short demo.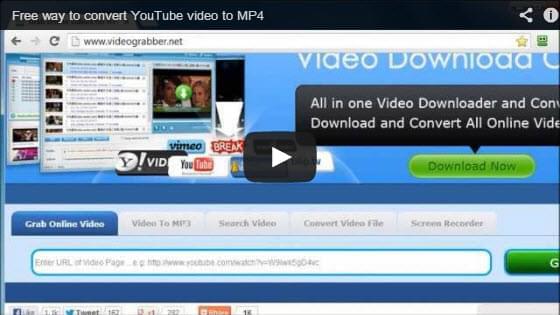 Apowersoft YouTube Downloader Suite
This is another free YouTube to MP4 converter. You may download the free trial to take advantage of free video conversion. It is more convenient to use as it allows batch download and conversion of videos.
Install software to start using the software.
On the left side of the interface, click Search Videos.
On the right side, search for the video that you wish to download by entering your keyword on the search field.
Click the Search button.
Click the Video to download and click mp4 on the format selection window, then you free convert YouTube to MP4.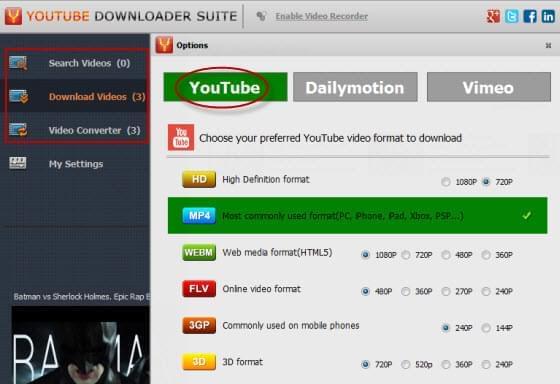 All right, you can send MP4 videos to iPhone, Blackberry playbook, Android, PSP and other digital players directly. Enjoy the cool videos whenever you want.
There is no need to worry about privacy concerns as long as the downloaded videos are for personal and not for commercial use.