People always say that laughter is the best medicine, and indeed, this is true in today's very challenging world. In the past days, you need to go to bars and clubs just to watch comedy shows, but now the internet makes things more convenient. Now, all you need to do is to stream comedy shows online and laugh till your heart drop without even spending a dime. Watching comedy shows online gives you many advantages such as, you don't need to pay bar entrance fees, spend on beers and chips, you can watch comedy shows anytime you want, stream videos right at the comfort of your own home, pause and resume shows as needed. Best of all, you can download free comedy videos straightly on your hard drive. Grabbing comedy videos and saving them on your PC allows future playback. Or you can share those happiest moments with your friends and all others.
True that you can download comedy videos but where to watch them is yet another thing you need to deal with. Bear in mind that although the internet is filled with tons of comedy videos, finding a free website that offers great quality videos isn't easy.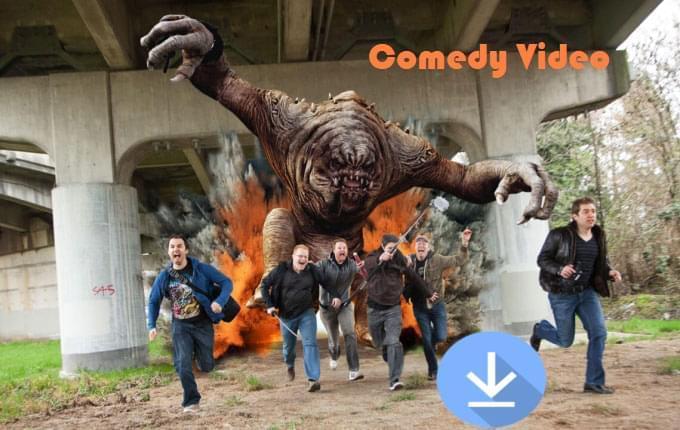 Where to Watch Comedy Videos?
Break

Known for its very comical, amazing parody and funny edited videos, Break is the site to visit if you want countless of comedy videos. The website is easy to navigate, all categories and channels are neatly organized on the tabs located above. Video players are embedded in the site and streaming clips don't require account log-ins or signups.
Funny or Die

Polished, beautiful layout, smooth animations and organized categories are the things you could get with Funny or Die. You can browse or download comedy videos on this site by using the search function or categories tab. Furthermore, there is a dedicated Funny or Die app for iOS and Android users. Video players of Funny or Die are all embedded, easy to stream and always high quality.
Video Bash

What makes Video Bash very different from other comedy streaming sites is that it offers user-submitted clips rather than homemade parody videos. From caught-on-cam videos to satirical spoofs, Video Bash has them all. This website doesn't only offer comedy videos – pictures, games and different channels are likewise available.

Fans of comedy bars would really appreciate watching videos at Comedy Central. Full-length comedy episodes are available on this site together with stand-up comedy shows, full studio-made shows, TV comedy series and many more. The schedule of each show is listed on the site so you can catch your favorite gang just on time.
How to Download Free Comedy Videos
Method 1: Video Grabber
To grab videos from Break, Funny or Die and Video Bash, you can use the online software Video Grabber. Being an online video downloading app, it does not need to be installed. All you need is a reliable internet connection and Java present on your PC. It is 100% free to use with no registrations, memberships or sign-ups required. Furthermore, you can use it to search for videos, convert clips, extract MP3 from videos, and record screen activity.
To download comedy video mp4 or other formats using the online app, all you need to do is:
Copy the URL of the website containing a video clip.
Paste it into the download field.
Hit the "Grab it" button and allow the java notification pop up.
Choose your desired format and resolution.
Right-click the file and hit "save link as".
You may also spare a few minutes to watch this demo:
The comedy video download will then be automatically saved on your hard drive. This tool can also be used on 1000+ different video streaming websites from YouTube to MetaCafe. Get a quick start from below:
Method 2: Video Download Capture
For a successful comedy video download from Comedy Central website – cc.com, use Video Download Capture. With this software, you can grab almost all the videos being played. Besides, the program can likewise download videos in bulk, convert files into different formats, record live videos, webcam chats, edit video files and directly play clips with its built-in video player.
Check out the specific steps below to download from Comedy Central:
1
The auto-detect function which is enabled by default, you can use it to download video clips playing online. Just play the video like you would normally do and the tool will automatically detect and download it straight on your PC.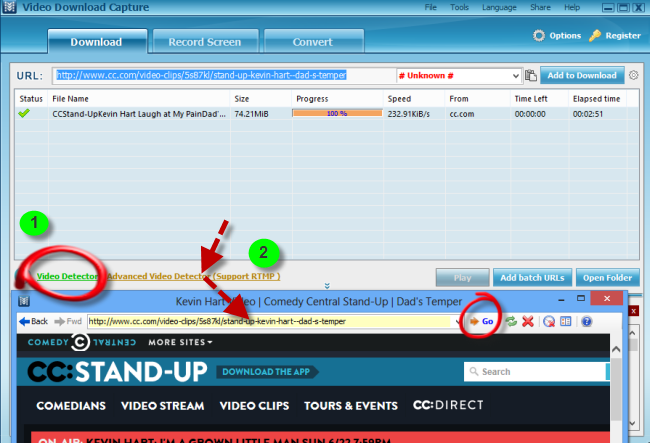 2
For downloading the full-length episodes from cc.com, click "Advance video recorder" and use the software's built-in browser to locate as well as play the video file. Click "Go" and the intelligent sniffer will immediately grab the clip. The video will then be added to the download list.
Method 3: Apowersoft Video Downloader for Mac
For Apple users, you can also download comedy video MP4 or MOV using the Apowersoft Video Downloader for Mac. This software works with the latest OS Mavericks 10.9.3 and features automatic video detector, video converter, video editor, file manager, bulk downloader and other convenient multimedia options. With Video Downloader for Mac, tons of formats, as well as resolutions, are available from super high-quality 4K to compressed 360p clips.
Regarding the steps, you simply copy the URL of the site containing clip and click "Paste URL". After this, choose your desired quality and format. The video will be downloaded in an instant.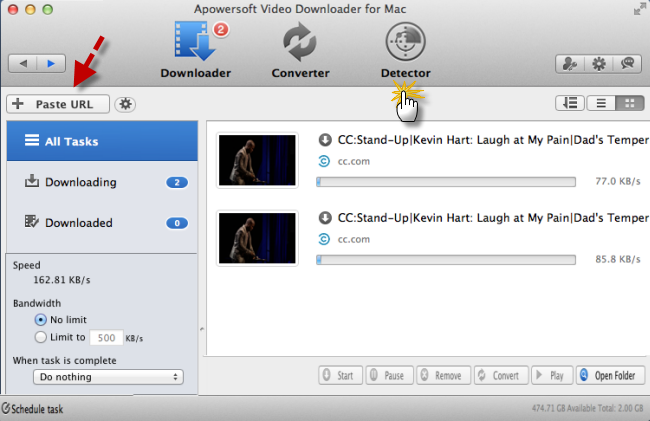 Really that easy to find and download funny videos? Okay, let's spare a few minutes to get what you want.
Enhance Comedy Videos after Downloading
After downloading a funny or interesting comedy video, probably you have a desire to enhance it for sharing on other popular video sharing sites. BeeCut is the right tool for you. With it, you can add professional and awesome effects like filters, overlays, elements, etc to your video and output a file with high quality instantly! It also allows you to edit a video by splitting, trimming, cropping, rotating, flipping, zooming, adding mosaic, texts and more. Overall, it is an all-in-one easy video editor that supports 16:9, 9:16, 3:4, 1:1, and 4:3 aspect ratios.