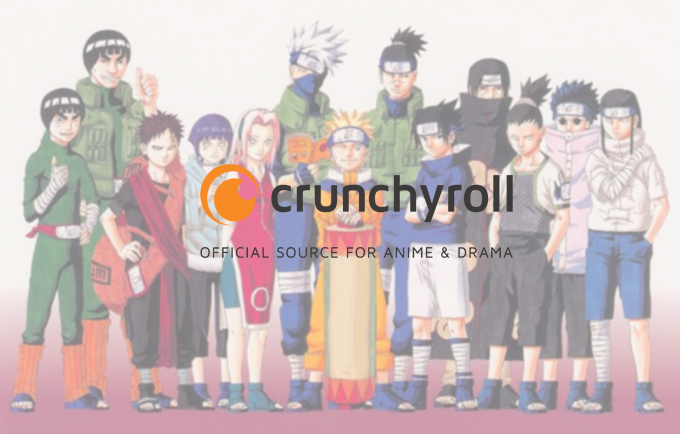 Crunchyroll is a international video sharing community focused on video streaming media including anime, manga, drama, music, electronic entertainment, auto racing content, etc. But when you want to download videos from Crunchyroll for offline playback, some of you may get frustrated by endless buffering or get out of patient to wait for the video to broadcast with frequent ads, which for sure causes some puzzles and inconveniences. Want to find a fast yet easy way to solve your problem? Here we will take a look at some of the most effective ways to download Crunchyroll videos without unnecessarily spending too much money on your bandwidth expenses. Stick around and keep reading until the end of the article.
Two ways to download Crunchyroll videos
Video Grabber
If you want to download videos without any fees, maybe Video Grabber – a free yet powerful online video downloader can make your dream come true. It grants you the ability to download videos from 1,000+ video sites like YouTube, Vimeo, Dailymotion, Tubechop and other online video sites, but it's not yet possible for you to download Crunchyroll videos directly, therefore alternative function "Record Screen" can help you enjoy your preferred video clips for offline playback. Now let's talk about the detailed steps about how to record Crunchyroll videos.
Step 1: Visit videograbber.net through browsers like Google Chrome, Firefox, IE, Safari, etc. Then click "Start Recording" to activate this online recorder.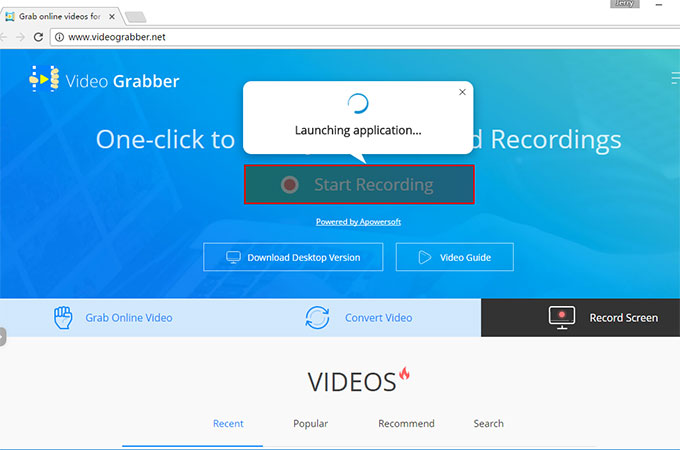 Step 2: Do some settings according to your own needs like customizing the recording mode and region. Then start recording.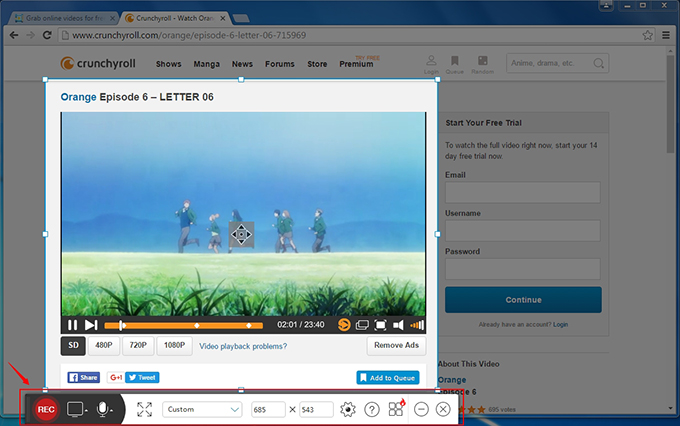 Step 3: Save the video to local disk or upload it to ShowMore, YouTube, etc. Then you can easily share it to your friends or colleagues.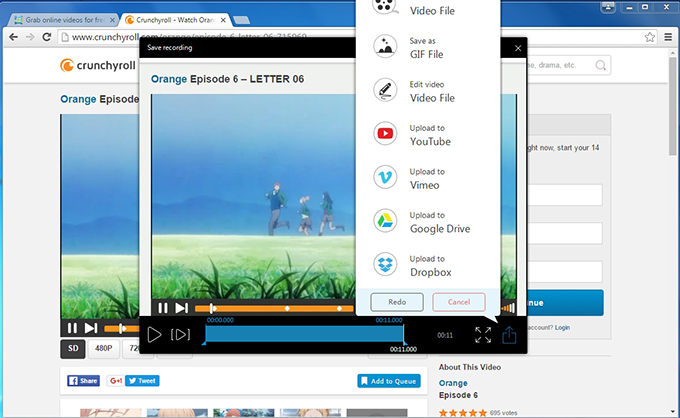 Pros:
Simple and easy to use
Compatible with any web browsers and fully support for Windows and Mac OS
Cons:
Unable to download videos from some specific sites
Need to wait for a long time to complete the whole recording process
Tips:
Even though this online free download tool can help you record streaming videos from Crunchyroll, you may still feel it inconvenient and would still prefer to use a more amazing tool to download it directly.
Video Download Capture
In case that not all Crunchyroll videos are available for users to download with specific restrictions and some videos may require users to have access to Crunchyroll premium which may cost you a large sum of money in long-term consideration, therefore you may turn to the amazing Video Download Capture which deserves your attention. It is a wonderful and excellent app that grants you the ability to download videos of all kinds from various different online sharing sites including Crunchyroll and also supports HD videos. In addition, it can bring great convenience especially for anime fans to download anime videos in an easy yet quick way. Next we're going to introduce how to use this tool by the app's built-in internal detection and external detection.
Option 1 – Internal Detection
Video Download Capture comes with an in-built video detector and browser with which you can directly search, view and download your preferred videos there. Next we will share step-by-step guide with you.
Step one: Simply hit the "Detect" tab from the app interface. Then copy the Crunchyroll video URL from site and paste it in the address bar of the app's in-built browser and press "Enter".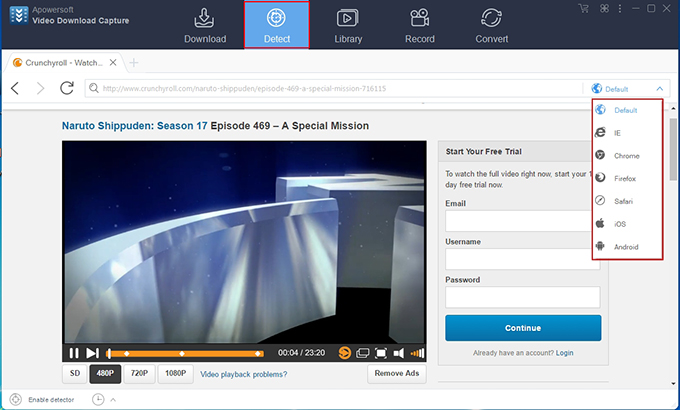 Step two: The moment you play the video, the program will automatically detect the streaming video and a pop-up window will appear to inform you that the video has been added to download queue.
Tips:
Developers embed and support some popular browsers in this tool like Chrome, Firefox, Safari, etc. Therefore, when you play a video adopted RTMP, HTTP, HTTPS protocol on Detecting tab, this software will detect the very video file automatically and start to download it immediately.
Option 2 – External Detection
When you play a streaming video clip from Crunchyroll online or other encrypted sites, enable external detection at lower left side of the app's interface. Then this handy tool will detect the video file automatically and download it promptly, which will definitely help you save much precious time.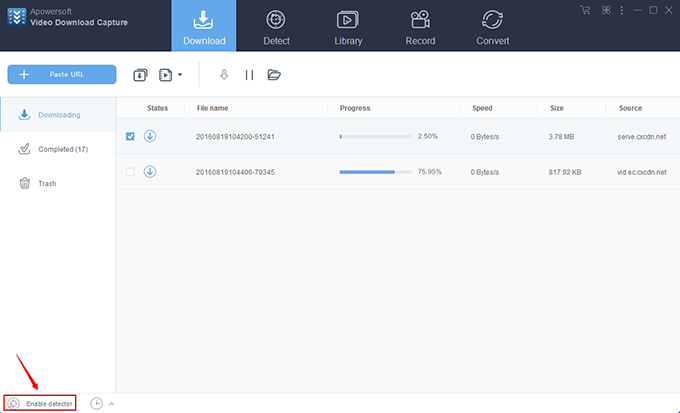 Tips:
If necessary, you can hit "Add to mobile" or "Add to iTunes" tab to transfer your downloaded video/audio files there and then freely sync files to your Phone.
What's more, to have a deep understanding, it is necessary for us to learn some basic features about this tool.
Key features:
Easy to use and works with almost all popular video sharing sites
Directly downloads audio file
Automatically detects the copied link for online videos and starts the download
Supports batch download of multiple online videos at a time
Allows you to record, convert and edit videos as well
Comes with an in-built player
Conclusion
Compared with the above mentioned methods and taking everything into account, Video Download Capture should be at the top priority that can help you learn how to download Crunchyroll video directly. It will make downloading Crunchyroll videos become a piece of cake and allow you to enjoy them freely with delight.