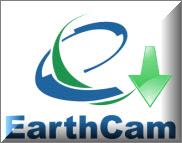 Owned, founded, and released by Brian Cury in 1996, EarthCam quickly became a top website with millions of visitors every day. Known for its tagline "Where the World Watches the World", EarthCam is a webcam network that provides scenic views of popular places all across the globe. It offers a completely searchable database of interesting destinations in over 192 countries.
Though it seems to be easy to stream anime, there're many restrictions on it. This might be the reason that you need to download EarthCam videos. First off, let us not forget that EarthCam offers live video feeds which mean they cannot replay again after a certain time. What if you want to recall the colorful New Year's Eve celebration happening in Times Square New York or Great Wall in China? How about capturing the magnificent view of Tower Bridge in London for latter playback? See something interesting on EarthCam? Whatever reasons you got, you can always watch anime in better way by saving a copy for them. With so many video downloaders available on the web, bear in mind that not all of them can grab live videos. Many of them can only download clips on YouTube, Veoh or Vevo, but not workable for EarthCam sites like which provide videos in real time. Here we have tested and evaluated the program that have proven successful to handle.
Ways to Download Video from EarthCam.com
Method 1: Video Download Capture
One of the best tools you could use to grab EarthCam videos is the Video Download Capture. Unlike other downloaders, it can auto-detect streaming clips, record PC screen, download videos from RTMP protocols, convert files to different formats, edit videos and perform batch downloading. It is packed with different features that users will truly enjoy.
EarthCam stream videos through RTMP and not all downloaders can grab clips with this media streaming protocol. Luckily, Video Download Capture is one of the few programs that support RTMP protocol. It is very easy to use Video Download Capture as an EarthCam downloader, see below:
1
Open this program and click the "Advance Video Detector" link located at the bottom part of the interface. It also provides other methods to download videos but they only work for common videos.
2
Go to EarthCam.com and copy the URL or the website link of the live video feed. Head back to the program and paste the link on the address bar of the built-in browser. Do not forget to click the "go" button situated on the left side.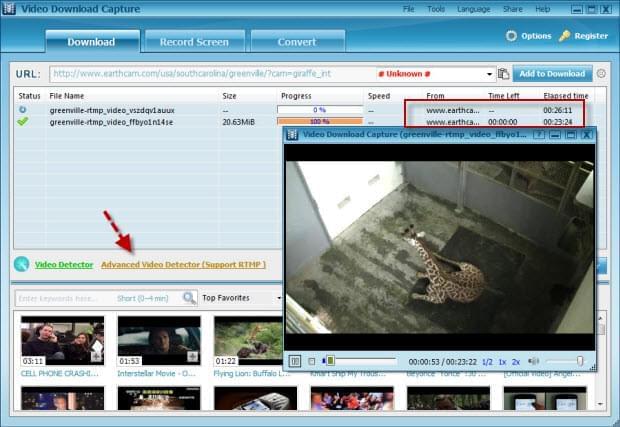 3
The video will be automatically detected and downloaded. You can check its progress by heading to the download list on the main interface. When your download completes, you just right click the downloaded item to edit the clip, preview the video using the built-in player, or convert it into different formats.
If you don't want to use the "Advance Video Detector" of Video Download Capture or you find the whole process a bit complicated, there's an alternative way to grab EarthCam clips. Equipped with screen recording capability, this amazing EarthCam video downloader lets you record the video playing on browser directly. All you need to do is to hit the "Record Screen" button and select which part of the screen should be recorded. Tap the stop button to finish the process then you're done. Really that easy and you can now enjoy stunning EarthCam recorded clips saved on your hard drive.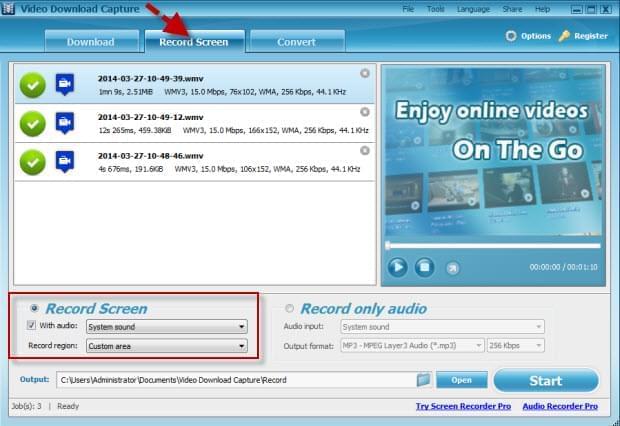 For Mac users, finding a great downloader is indeed a big challenge. Most software available online only supports Windows, should there be Mac programs expect to pay a premium price. Good news is that there is a Video Download Capture counterpart that comes fully compatible to all versions of Mac.
With Apowersoft Video Downloader for Mac, you can use it as your best tool to download EarthCam videos. Same as the above, just use the screen recording capability of Mac Screen Recorder and in minutes you'll have your EarthCam video saved on your hard drive. You can even schedule to record a future video that may go live during your absence, so that you won't miss any programs that interest you.
Another program that can download video from EarthCam.com is the Orbit Downloader. You can use it to grab clips from YouTube, Pandora, MySpace, Imeem, etc. Orbit Downloader supports RTMP streaming protocols. To process video downloading, see this quick guide below:
After downloading, run the Orbit Downloader Module by hitting "tools" or "tray icon" then "grab++". The built-in browser will pop up.
Visit EarthCam and select/play the live video feed you want to download.
Head back to the Grab interface of Orbit Downloader and find the right video code.
Tick the box and hit "download". It will finish downloading with great speed.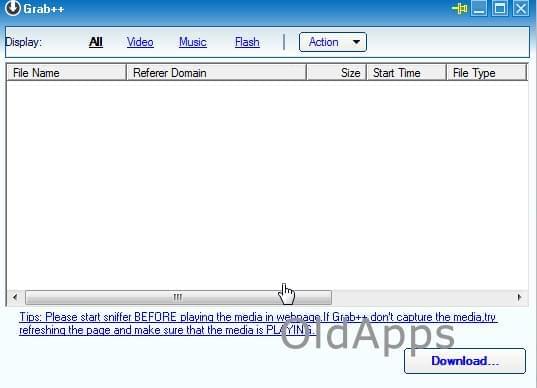 Although it's free and small in size, be warned that there are reports from people who found unknown third-party programs installed to their computer when initializing Orbit Downloader. The very common amongst all are browser toolbars and advertisements. Also, video grabbing errors such as blank files, wrong clips and unsuccessful attempts are prevalent with this alternative solution for downloading.
If you really want a premier live video downloader, the Apowersoft Video Download Capture is your best choice. It offers different downloading modes plus there are tons of useful features available in one piece of software.