Hi there! I learned your site from a Facebook message about downloading online video issues. Therefore, I come here to seek some solutions for downloading MUBI video. The films on MUBI are so wonderful, and I want to save them on my computer and mobile phone. Could you please give me some effective methods to do this job? Many thanks!
MUBI is known as a global film website that integrates a video-on-demand service, a database and an online magazine. Upon this site, users can enjoy HD movies and even some classic films decades ago. Also, MUBI is available in over territories in the world, therefore it enjoys various fans and viewers all over the world. Presently, there're many downloading programs that can finely download MUBI video. In the following parts, I'd like to share some extraordinary programs and basic operation.
Online solutions to save MUBI video
Video Grabber
Using online application may be the most convenient way to do this job. Fortunately, there's a free web-based application called Video Grabber performs nicely in downloading online streams. Presently, most of video hosting sites like YouTube, Vimeo, Dailymotion as well as MUBI are supported by this tool. Also, it will offer some options for you to choose preferred format and resolution along with downloading. Plus, it comes with some other practical tools, such as screen recorder and video converter. Both of them are quite effective in capturing screen activity and converting media file format. To learn how to download MUBI video, you may refer to the instructions below.
Open a MUBI video and then copy the link.
Visit the site of Video Grabber and then paste the URL on address bar.
Click "Download" button on pop-up webpage.
Choose desired format and resolution to start downloading.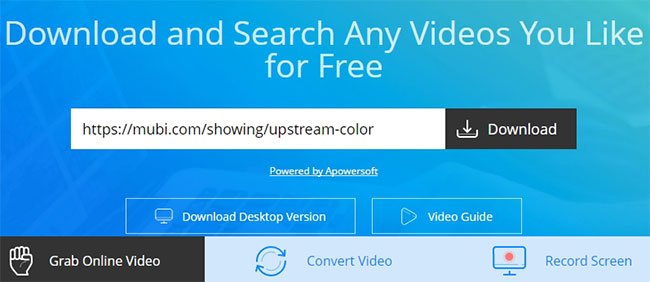 Note that, you will be required to download and install Launcher at the first time, which make the downloading process more stable and quicker. Absolutely, this component is totally safe and small. It won't harm your computer or occupy too much space on your disk. Simply follow the hints on pop-up page is okay.
Import downloaded video to portable devices
Importing video to portable is a nice idea for those people who love enjoying video offline on the go. It's also feasible to transfer the video to your iPhone, Android mobile or other portable devices in an online way. There's a free online application called AirMore that features the function of connecting your device to PC and transfer data between them. If you have finished downloading MUBI video, you can follow the steps below to do this job.
Install and open AirMore app on your phone.
Visit the site of web.airmore.com on your computer browser.
Scan the QR code with your phone to connect mobile and PC.
Click video icon and then go to "Import" > "Import Files" and then browse downloaded MUBI video.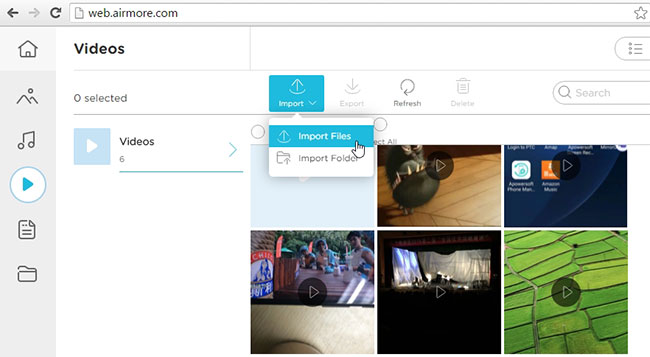 Aside from the online applications suggested above, desktop program also performs nicely in saving online video from MUBI. Furthermore, desktop tool generally comes with more advanced functions.
Desktop tool to download video from MUBI
Video Download Capture
As the name indicates, Video Download Capture is professional program designed for online streams downloading. It can analyze and detect video from most of video hosting sites including YouTube, Vimeo, Dailymotion, MUBI, etc. In the meanwhile, it is equipped with a video detector that can detect and download online video automatically. In addition, it is capable of downloading audio section only. This feature would come into handy in grabbing music and voice memo from video clips. Below are the basic operations about using this MUBI video downloader.
Copy the link of MUBI video.
Click the button below to download and install Video Download Capture.
Launch the program and then click the button of "Paste URL".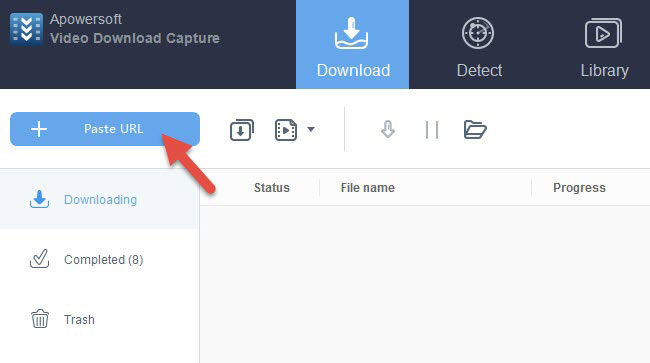 Tips: During downloading, you can right click the item and click "Play" to preview the video along with downloading.
Practical tricks
Auto-downloading: Enable the video detector to perform auto downloading. You can go to the tab of "Detect" and then visit the site of MUBI with the built-in browser. Next, play a video that you wish to download. The video will start being downloaded soon when the program detect the video successfully.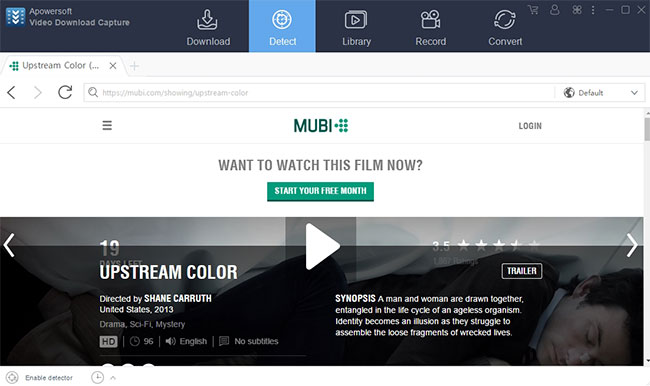 Screen recording: Downloading process cannot perform normally for some encrypted protocols. For this case, you can try to record the screen to save target video. Enter the tab of "Record" and then drop down the menu and choose "Region". Drag a recording region on video and then click "OK" button to start recording.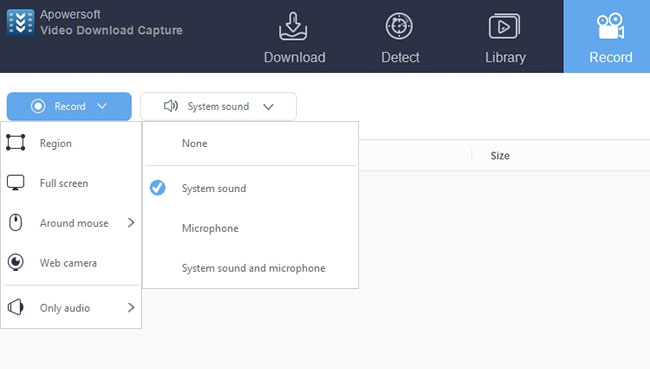 Video Converting: Benefiting from the built-in video converter, the program enables users to change media file format. Hit "Convert" tab to activate video converter. Drag video into the program, click "Profile" to select needed output format. Next, click "Convert" button to start conversion.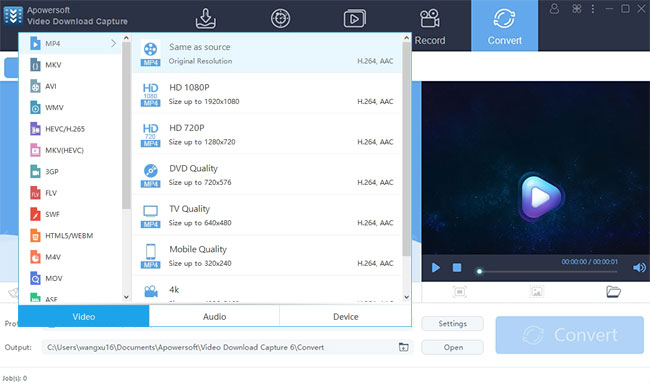 Above are two simple and effective solutions to download MUBI video. Hope they are helpful to you.