SchoolTube is a video site which is designed for sharing video resources between teachers, students and schools. Uploading videos become available when they checked by moderators, so all the contents on SchoolTube are safe and clean. For this reason, the site is supported by influential education associations.
On schooltube.com, you will find some schools record exclusive videos and put them on their own channels. Of course, you also can watch videos which are uploaded by your school. Have you ever thought of saving them for offline playback? If so, you should download SchoolTube video to computer. After that, it is convenient to enjoy videos even when you couldn't get into network connection.
Quickest method of downloading SchoolTube video
In fact, it is not easy to get a copy of SchoolTube video. You have to register on the site, submit a request and waiting for the reply from site's staff. If your request is approved by SchoolTube, you will have power to download videos from SchoolTube. You see, it is quite time-consuming. Thus, would you like to try a quicker way? With videograbber, you are capable of finishing this job with simple operations.
Navigate to SchoolTube, play any video as you like.
Copy the webpage URL and put it into videograbber's download area, hit Grab it button to detect the video.
Right-click on download option and download SchoolTube video to target folder.
Watch this demo to understand the whole process better.
It's done here. Downloaded video will appear in the local disk, you can watch it with media player.
Videograbber is an easy-to-use online video downloader, it is also good at saving videos from Metacafe, Break, Blip.tv and more. Furthermore, the site embedded a small video search engine. By searching keywords or titles, you can find your wanted videos and download them off with a click.
How to download SchoolTube videos for iPhone, iPad
If you hope to enjoy SchoolTube videos on the go, the best bet is to import videos to your iPhone, iPad and iPod touch. However, the format of downloaded video may not be compatible with your gadgets. To solve this problem, it is necessary to convert videos to suitable formats. Although videograbber doesn't has a convert function currently, the advanced tool—videograbber pro, can meet your need. Without difficulties, this tool can download videos from SchoolTube for Apple products smoothly.
Launch the video downloader after installing. Click Options icon to specify an output directory. When you open a SchoolTube video, the tool will discovery its actual url and start to download it without delay. After download process completes, browse download list and right-click on video file name. A menu will show up, select Add to iTunes option. The video will be converted to iPhone format automatically. At the same time, you can sync videos in iTunes library. The last important thing is to connect your iPhone to pc, updating the newest data.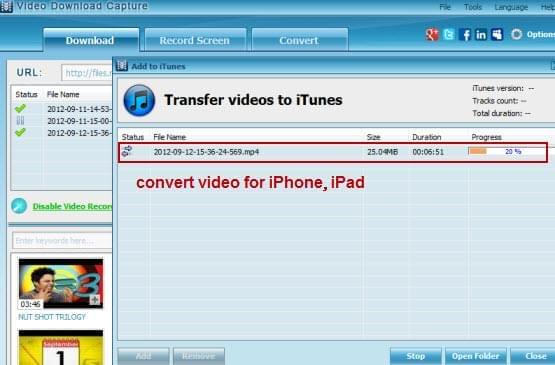 The method are so understandable, do you think videograbber pro is a great SchoolTube video downloader?
What you can do on SchoolTube except of watching videos
Join. Register on the site and make friends with students in your region.
Upload. Make creative videos and upload them to SchoolTube, let more people enjoy them.
Tweet. Press Tweet button beside the video, then your followers can watch SchoolTube videos on Twitter.
Share. Embed SchoolTube video in your personal blog or campus BBS. In video playing page, you can see embed code.