There are plenty of video downloaders out here such as Realplayer, Orbit downloader, Keepvid, Vixy, some of them are professional software programs while others are great web services. Bad news for users, neither of them proves to be workable for downloading Livestream video. Yep, it can be a little tricky to execute though, the appropriate tools are always possible. Now we are going to introduce Video Download Capture to clear away all those puzzles.
A multitude of users has the best experience on Livestream.com, for instance, we are entitled to broadcasting and watching live featured events on the site, but sometimes many of you missed live events due to busy schedule. At this time, you might want to store the videos for local backups, later viewing, sharing or other purposes. Whatever the reasons, it could be a pain to do a survey about the solutions to download video from Livestream.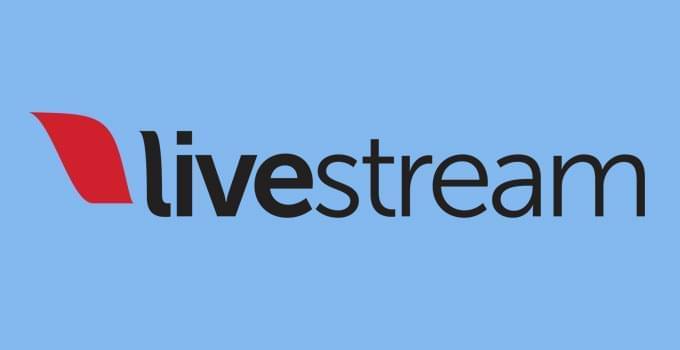 Hassle-free way to download Livestream videos
What sets Video Download Capture apart from other apps is its compatibility and ease of use. It not only downloads nearly 100% web videos but also makes downloading a breeze. You will be told how to conduct video downloads in two cases.
One-click to download videos from livestream.com
Registered as a member of Livestream.com, you'll notice this site contains realtime and non-realtime live broadcast. In this sense, you can download non-realtime live video content in the following steps: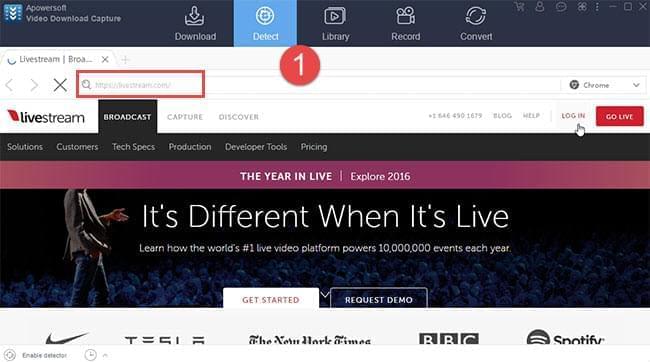 Launch Video Download Capture and go to the tab of "Detect".
Input the URL in the address bar with the built-in browser.
Log in your Livestream account and then open a video that you wish to download.
Play a Livestream video and then the program will download video automatically.
There's a video tutorial below that may offer you more details.
Download video from LiveStream with screen recorder
As mentioned above, Livestream also contains a part of realtime live broadcast, that's to say, it is impossible to download videos directly for those live events that cannot give its specific video URL. And in this case, the best bet is to record realtime video through some screen recording tools. You will be light on how it works below.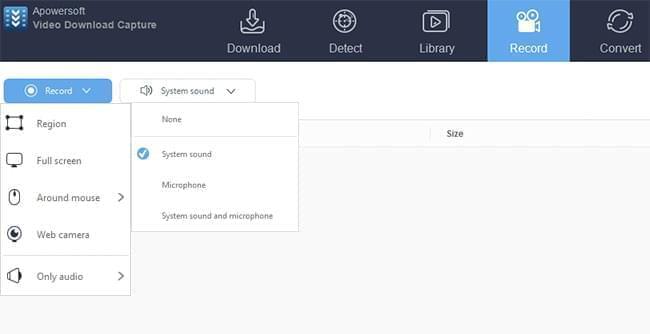 Navigate to a video that is live now
Tab Record on Video Download Capture
Customize input audio source and Record region
Click Start to record Livestream
Tips: In order to better control your recordings, it is advised to minimize the app to tray during recording and enable keyboard shortcuts for operation.
Another better option to download LiveStream Videos
Considering that free tools are more catering to users' tastes, we'd recommend you to go with VLC media player. Besides being a media player for all common audio-video formats, it can be a free recorder to capture live internet stream. Complete instructions as follows.
After running VLC on your system, you just click Open Network Stream under the Media menu. Next to do is to paste the Livestream URL into the address box, then you need to do some settings such as specifying destination directory and selecting the output format from Stream Output. Once all settings were saved, you may start playing the stream. Note here, the Record button will pop up right away. Just start recording what you are watching on livestream.com.

The chief drawback of using VLC to record LiveStream reflects in its compatibility. You'd better figure out the right output format for your downloaded live video stream, or it will cause playback issues after recording. It's not that easy to manipulate for a newbie.