I found some hd episodes on gemonline.tv, but that's too weird, I only see some screenshots and photo gallery but not the full-length video in it. So I am just wondering if there's any way that I can watch and download videos from gemonline.tv. Plz help, thanks in advance. — Jerry
How-to tips to download video from gemonline.tv
Hi man, is it frustrating enough to deal with it? Never mind, the following guide will put forward to solve the above question. The answers will be divided into two parts, the former one will be devoted to the directions for watching episodes on gemonline.tv, and the second part aims at teaching you how to download episodes from gemonline.tv.
Part one: watch high definition video on gemonline.tv
When you navigate to the website gemonline.tv, a wide of media selections will drift into view including high quality TV episodes, TV shows, Movies, Teen Series, Live TV programs, Animation series etc. In response to Jerry's feedback, it is easy to tell why it leads to a failure to watch episodes. Since you can visit the site, then the problem is to the point of being a GEM Member. You mustn't have noticed this instruction. Well, just sign up with your E-mail and activate account. Then you can sign in to watch any stuff you like.

It's worth mentioning that, another factor will affect your normal playback for Gem TV episodes. Though Gemonline.tv deliver media video convent to millions of viewers around the world, still Gem TV is not available to a part of countries due to its IP address. And in that case you should use VPN services in order to access this foreign site in your home country.
Part two: download episodes from gemonline.tv
Now that you are capable of watching great videos on this site, I bet you won't strike out this time to save gemonline.tv HD episodes for offline entertainment. This will be a piece of cake when you grab HD videos from YouTube, dozens of apps or plugins have been proposed to solve problems such as firefox downloaderhelper, Keepvid, Videograbber etc. However, Gemonline.tv is a great exception because the site is streamed as RTMP protocol to encrypt their home media content.
It seems a bit tricky, but things will be readily solved with the right tool. Now we are going to introduce Video Download Capture to download videos from gemonline.tv on your desktop and convert them to your device format.
Install and launch your software
Browse to the episodes you wanna download
Click Advance Video Recorder
Copy and paste the url into built-in browser
Click Go to detect videos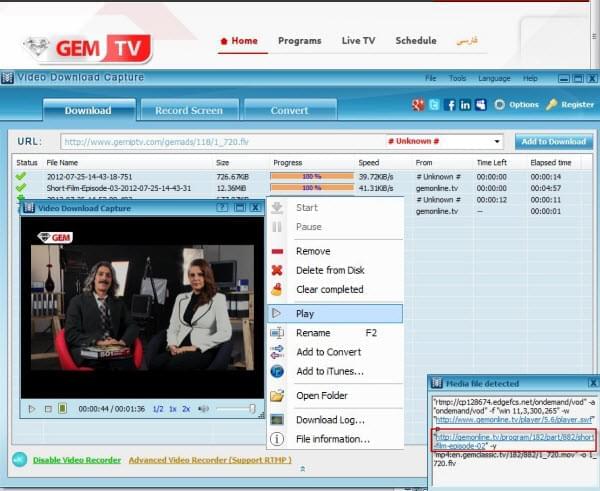 A few seconds later, your video will be added into download list. But notice here, if you cannot play the video in built-in browser, it won't have an impact on your normal downloads. You just need directly right-click Play to view videos while downloading. After downloading, convert them to the right formats for your devices.
How to download Live TV from Gem TV
We've just mentioned that Gemonline.tv features live tv shows, assuming that you need to download them for later playback and even hope to burn those videos into DVDs for collections. Just do it like this: as live video stream does not have real video address, you should record video instead of downloading it directly. Click Record Screen tab on Video download capture and choose Record region. Okay, start recording now.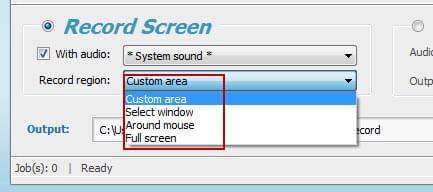 As for burning videos for DVDs, the recommended free tool is Windows DVD maker. Just download Windows Live Essentials from official site that includes a complete set of tools such as movie maker, media player etc.
All these steps will tell you how to download video from gemonline.tv, what do you think of?