I find lots of exciting videos about snowboard on mpora.com and want to download them. Can you share me an easy way to download MPORA video? I'm not a computer geek, so please explain your idea clearly. Thank you!
Guide to download action sports videos from mpora.com
MPORA is the world's largest extreme sports network platform. The professional team travels around the Europe and America to gather the first-hand information about snowboarding, bicycle motocross, windsurfing, road cycling and wakeboarding. In its video archive, you can find more than 60000 action sports videos. While, how to download videos from MPORA and watch them at your leisure? It is an easy job indeed. Just take the advantage of the workable program-Video Download Capture.
Install Video Download Capture on your computer.
Run the software. Hit Options icon to customize the output folder or make other settings.
Navigate to mpora.com and open a video. The software is able to auto-detect the video and start to download.
Click Open Folder button, the downloaded video is placed there.
You may watch the video tutorial to learn more.
Actually, Video Download Capture is more than an MPORA downloader. It also can download videos from YouTube, Vimeo, 5min, Hulu and more sites. For saving your effort, you can play multiple videos simultaneously and download them in bulk.
Burn MPORA videos to DVD
Most videos on MPORA have very good quality, so don't waste these valuable resources. For example, after you download from MPORA, you can burn videos to DVD disks. Two tips are offered here, I hope them will be helpful.
1. The MPORA interviews are separated into several short video clips, you can manage the videos by joining them into one file. Video Download Capture embeds a basic video editor which allows you to merge videos. Tab Convert, add videos into the software and put them in right order. Tick the box- Merge videos into one file and choose an output format. Well, you can begin to convert and merge the videos immediately.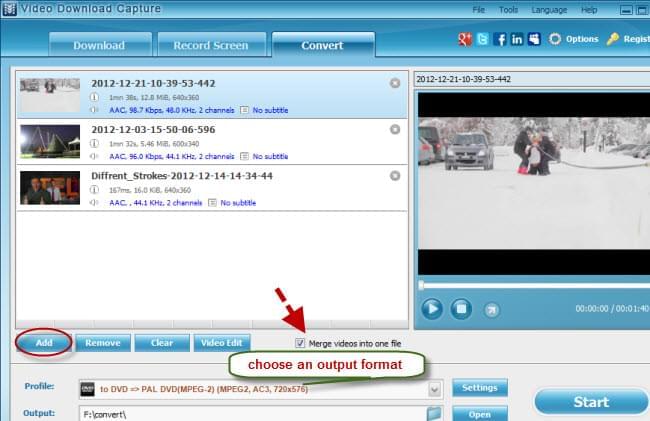 2. There are thousands of DVD burners on the internet, a useful one will facilitates you to convert videos to DVD effectively. Personally, I recommend video to DVD burner and Windows DVD maker.
Good luck! Leave a comment if you meet any trouble.