File conversion is very common seen nowadays with a lot of applications available, allowing people to easily convert a file from one format to another to be played on a specific player or device. There are web based converters and also those that require setup. However, a lot of people prefer to use an online video converter because it does not require installation, which is convenient for those who do not want to undergo the process of downloading and installing a program on their computer. Furthermore, most of these online converters are available at no cost and they usually work on any browser so you can use them both on Windows and on Mac. Here are five of the free online converters that you may check out.
Free online video converter
This is one of the best conversion tools that you can find online. It is free, easy to use and it has a simple user interface. Once you log into the site, you'll find file conversion can be done in quick steps. It supports various video and audio formats and lets you choose your video and audio settings.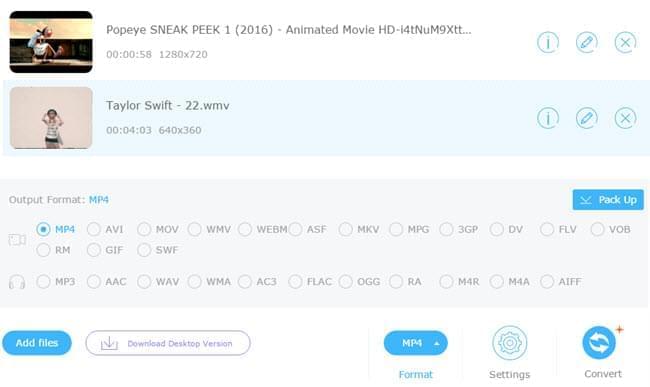 This free online video converter for Mac and Windows can convert any videos you like with no time and size limit. One can convert as many videos as he wants. Free converters often set limits on the length and number of videos you can convert and even charge money when you want to convert larger files beyond the free limit. With Apowersoft Free Online Video Converter, there are no such worries. It's a good option, especially if you have several videos to convert. All you need to do is select the video(s) that you want to convert, choose the preferred output format and customized settings, start the conversion process and you will get the converted video in a few seconds or minutes.
Another online tool that you can use for converting videos to another format like AVI, 3GP, MP4 and AVI is convert.files. You can convert a video that is saved on your computer or a video that is uploaded online. Choose the output format by clicking on the drop down arrow and click the convert button. You also have the option to send a download link to your e-mail in case you wish to download it for a later time. Aside from videos, it also allows conversion of other types of files including documents, presentations, audio, e-books and images. However, conversion takes time as the file is uploaded to the site first before being converted. Once done with the upload and conversion, you will be given a link where you can download the converted file.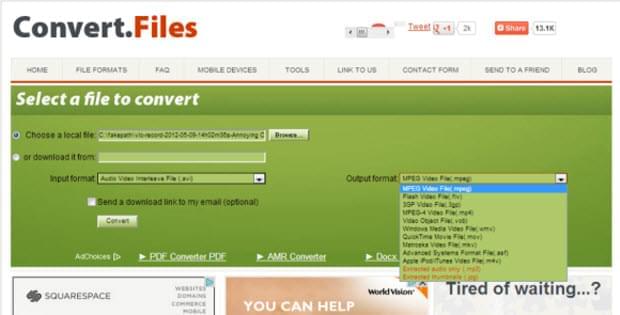 This is a free online video conversion tool that lets you convert videos from links, by browsing YouTube or selecting files saved on the computer. However, there is a limit on the size and number of videos that you can convert. For unlimited number of conversions and higher video size limit, you may need to get a premium account. But if you want it for free, then you will be limited on your video conversions.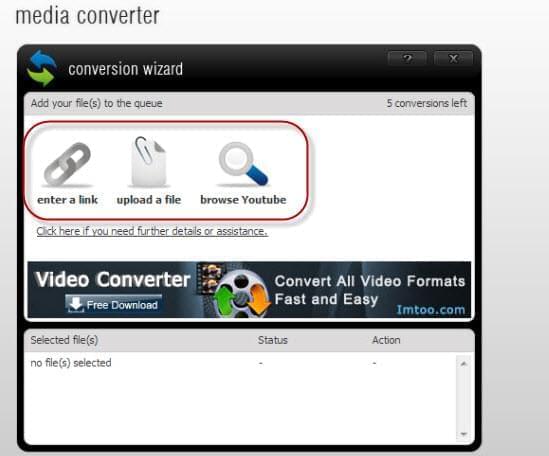 With this web based tool, you are able to download and convert videos from various video sharing sites including YouTube, Daily Motion and Direct Download. Moreover, you can watch your videos on various devices like your computer, laptop, tablet, PSP and mobile device. Copy and paste the URL of the video on the correct field, choose the output format and click Continue. Click the start button to start the conversion process, which could take some time. Another window will open that contains the option to download the converted file. Click the download button and wait for the process to complete.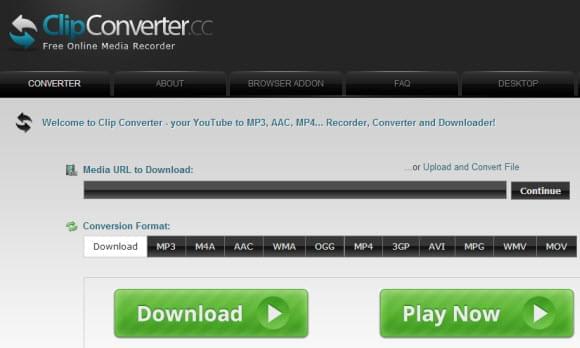 This site allows you to free convert videos online by clicking the right option on the left side of the page based on the format that you prefer. Some of the video formats supported are AVI, FLV, MOV and MP4. There is a separate link for converting videos for each of these formats. For instance, if you wish to convert a video to AVI, then you need to select on the convert to AVI link.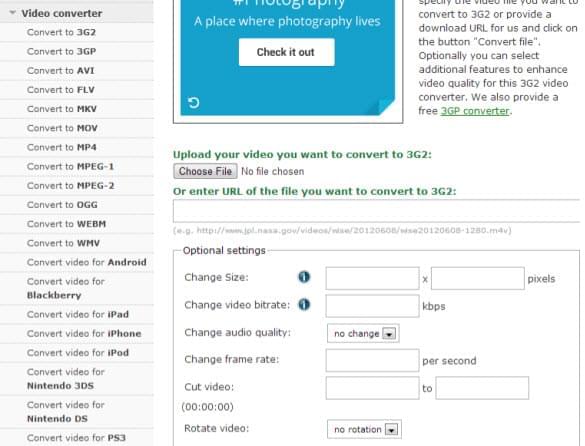 All of these online applications let you convert videos to other formats for free. However, Apowersoft Free Online Video Converter is the best option because it allows faster and unlimited conversions. Other converters set limits on the number and length of videos that you can convert and they often take time because videos are uploaded on the site before being converted.