Hi, I'm a vlog newbie who has shot abundant videos with date stamps on them. I want to remove the watermark without degrading the quality. Can anyone give me some of the reliable free video watermark remover tools that I can use later on? Thank you in advance.
Google will definitely give you hundreds of thousands of tools when you search in it. But it is a reality that not all of them are good to use. And it is a big challenge to find the one that really meets your needs. Here we listed the best 5 tools we picked for you. You can compare them and choose the most suitable one to use. You'll not be let down with the help of them.
Top Free Watermark Remover Tools
Apowersoft Online Watermark Remover (Online)
As its name implies, Apowersoft Online Watermark Remover is an absolutely free watermark remover that helps users to remove watermark from video and photo. Unlike other similar sites, this online tool doesn't require signup or subscription to use. Once you open it in the browser, you can start processing the watermarks.
With it, you can remove watermarks in batch. Not only can you remove watermarks from a single file, but also process multiple photos and videos at once. The interface is very intuitive. In just a few clicks, you can produce a video without a watermark.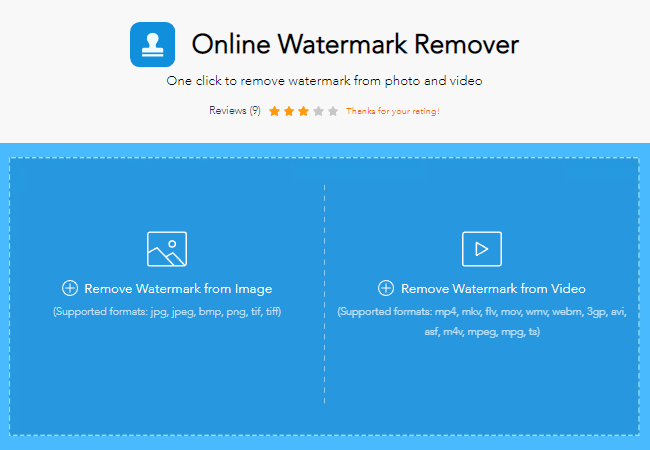 Pros:
Easy to use without any computer skills required.
It supports both image and video file types.
It deletes your file from the server permanently.
Cons:
The processing speed depends on the internet connection.
Kapwing (Online)
Another tool that you can use as an online free watermark remover is Kapwing, the one that offers many video editing features including crop, rotate, trim, resize, reverse, loop, filter, change video speed, add text, add music, and many more.
When it comes to removing a watermark from video, you can use the cropping tool to do it. Just tap the "Crop" button, then move your mouse to where the watermark is located. In just simple clicks, the watermark in your video will be cropped out.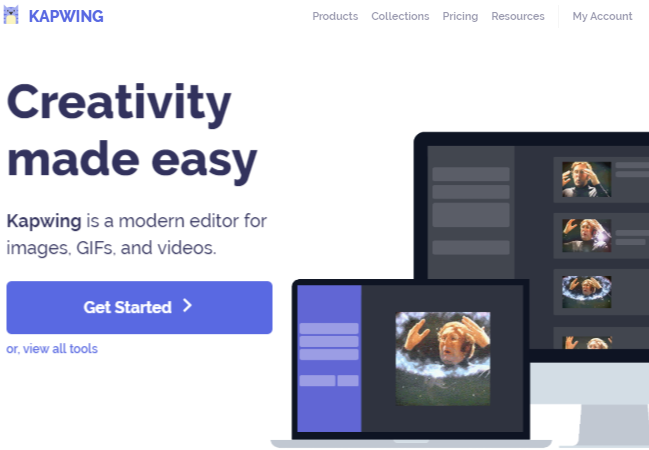 Pros:
It is very easy and convenient to use.
It works on both mobile phone and PC.
No distracting ads.
Cons:
Leaves watermark when you download the processed video without payment.
BeeCut (Desktop)
BeeCut is a professional video editor that can be regarded as a watermark remover freeware. You can crop out the watermark from your video or add a mosaic over it by way of this software.
Additionally, as a video editor, you can render your video after you process the watermark including filters, stickers, special fx, etc. The best of it is it has mobile versions compatible with both iOS and Android systems. The mobile apps are completely free to use without any watermark left on the final file.
Pros:
It is compatible with Windows, Mac, iOS, and Android systems.
It is easy and convenient to use especially for beginners.
It offers all the required tools for editing a video.
Cons:
You cannot share on social media sites directly.
Payment is required for saving the final file without a watermark.
Video Eraser – Remove Logo (iOS)
If are looking for a free video watermark removal tool on your iPhone, you can use Video Eraser – Remove Logo. This app is mainly designed for removing unwanted watermarks, logos, icons and objects from video. In addition to that, you can also use it to add watermarks to video and crop unwanted parts.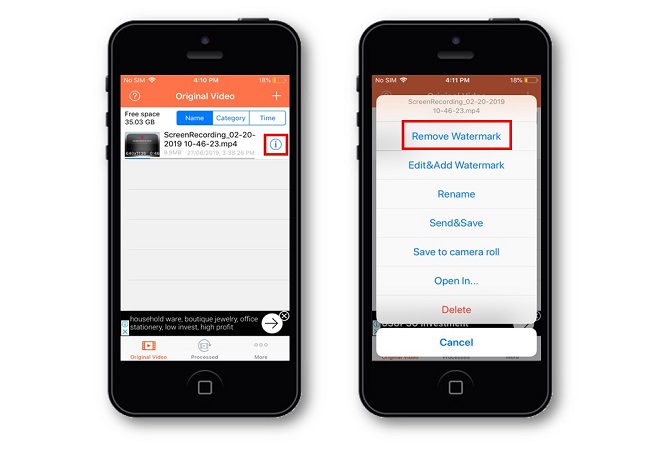 Pros:
It offers a user-friendly interface.
Basic functions work really great.
Cons:
Ads appear many times.
Supports limited video types.
Remove & Add Watermark (Android)
The best free watermark removal tool that you can have on your Android device is Remove & Add Watermark which you can get from your Google Play Store. When it comes to removing watermarks from videos, it offers a lasso tool and rectangle tool to select the area and then replace it with the nearby pixels. Besides that, it also has a cropper to cut out the watermark from your video if it is located in the corner.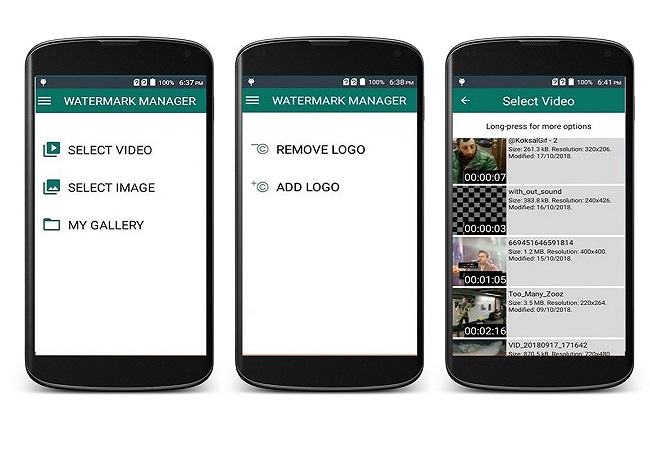 Pros:
It provides two ways to remove the watermark.
Easy to use for non-skilled users.
Cons:
The final effect of the processed videos differ a lot.
Conclusion
Those are the free video watermark removal tools that will be able to delete watermark from video for beginners. Sincerely, they all have their own advantages and disadvantages. Just choose the most appropriate one based on your needs to start. You'll definitely get a good result.