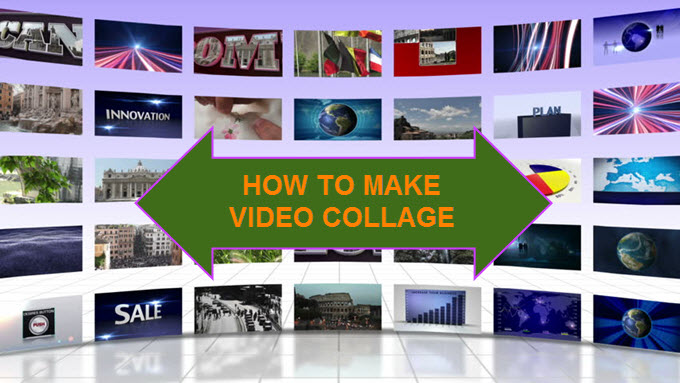 Do you love to take pictures and put them together to create a beautiful video? Or do you have class, business, wedding, or any event that requires a glamorous video presentation? Whatever purpose we have in mind, we all want to make a video collage that will satisfy our viewers. For that reason, we need a collage maker that can give us the output we wish for. And if you are still searching for a good one, you've come to the right place. This article will list three applications that you may use to produce your own video collage. Furthermore, it will provide instructions on how to utilize these apps.
How to Make Video Collage
Use ApowerEdit
The first tool on the list is ApowerEdit. This professional video editor enables you to create stunning videos or photo slideshow. It has a variety of editing features that you can enjoy. This includes basic editing functions like cutting, cropping, rotating, merging files and many more. You may also enhance video by using the transitions, filters, overlays, and stylish texts. Furthermore, it allows you to add music to your presentation. Saying so, this application can be your number one choice if you want to make a video collage. Aside from its editing functions, your outputs can be saved to the formats compatible to different players and devices.
To use this, follow the instruction below:
Download and install ApowerEdit from this site.
Launch the program and choose your aspect ratio. Click "Import" or drag files to the main interface of the program.
Drag and drop the files on the timelines to add them to your project. Double-click on them to adjust its basic settings. Add texts, filters, overlays, and transitions.

Click "Export" and choose your desired format.
Use Slidely
The second tool that you may use is Slidely. Unlike the first app, this is a web-based tool. This free video collage maker helps users produce beautiful slideshow out of photos, videos, and music. Files that can be imported include those stored on your computer, cloud, and connected device. With this app, making collage is extra easy since all you need to do is to choose files and combine them with your desired templates.
To do this, you need to go to their site and make your own account. You can use your email or Facebook if you have one. Click "Create" and add the media files you want to include.
You may organize them by dragging and dropping the files in the order you want. After that, select the music and theme for your video.
You may adjust the transition speed and audio volume by moving the slide bar. If you are done, click on "Save my slidely". You may now share it via Facebook and Twitter.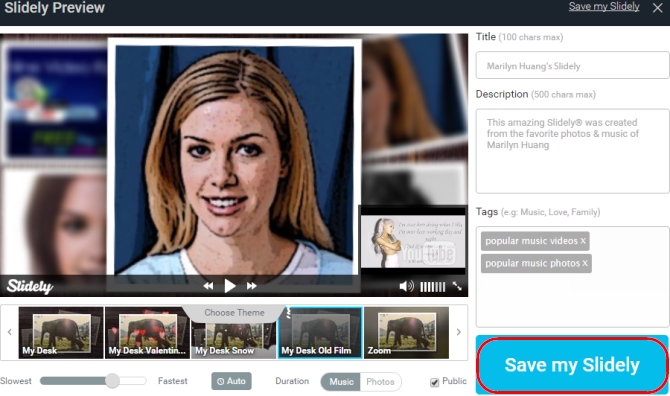 If you are a fan of fast and easy process, this one is recommendable for you to create video collage. However, take note of the following downsides of using the application.
First, you can't edit media files with this. Hence, if you want a more detailed video, you may opt to find another one.
Second, you won't be able to choose your own transitions.
Third, you will need a stable and fast internet connection to upload your files.
And lastly, you cannot save your output on your computer. It will only be stored on the web.
Use Kizoa
Another online tool is Kizoa. This is a cloud-based application that allows one to make an outstanding video collage. You may directly add media files stored on your Facebook account or computer. You may also add transition, effects, text, music and animations. There's also a built-in photo editor in the app unlike other collage maker.
And this is how to make video collage using Kizoa:
You need to go to their site and register for a free account. Upload photos from your Facebook or computer then click "Collage Maker".

Choose the templates for your video and add the effects you want. Once done, click on "Save" or the download icon to publish the file.
You may choose whether to send it to your email, post it on Facebook, Twitter, YouTube, or directly download it to PC.
Although this one is a good online tool, take note of some issues you may face along the way. Like Slidely, you will need a stable internet connection. Since it is an online app, the process of uploading and downloading your files will take a while especially if it is large in size. Some users are complaining about the difficulty in downloading their output file to their computer. Since it has a premium version, the free version is limited to 1 minute long and has a watermark on it.
Comparison
You will now be able to produce a fascinating video collage with the help of these three applications – each having their own advantages and disadvantages. Nevertheless, ApowerEdit should be your first choice if you are looking for a professional tool. Unlike the two, it can function without internet connection, hence importing and exporting won't be a problem. Also, your output will be directly saved to your computer without having to download it. Moreover, its outstanding features will let you create an astonishing presentation.
However, If you don't mind the disadvantages of using the last two applications such as output with watermark, no vivid templates for beautifying your file, etc, you can choose between Slidely and Kizoa to make a video collage.