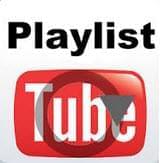 YouTube is one of the most viewed websites on earth, where you can watch live TV shows, replay events, sports match, funny clips, interesting videos, and even full movies. Figuratively, millions of videos are accessible on YouTube. To this end, it is not impossible to find hundreds of videos that you might take interest of. Though, searching and playing them one by one is a different story for the reason that it consumes much of your time as well as effort. The answer to this pressing dilemma is to create YouTube playlist.
YouTube playlist is a very neat feature of YouTube that is practical, convenient, handy, and most of all time-saving. YouTube playlist is basically a list or group of your favorite videos. You can customize it according to your desires while you can add as many videos as you want. With this expedient tool, you don't need to search every video you want every time you open YouTube. Additionally, it can loop video in playlist. There are many reasons why one would need to make YouTube playlist. Some of which are but not limited to:
It is accessible and convenient.
Videos can be grouped according to subject, theme, length, etc.
You can assemble related videos such as TV shows or series all in one place.
It automatically play videos in the list which is very handy for music lovers.
You can sort, organize, add and delete clips.
Playlists that you create are automatically saved on your account.
It increases popularity and traffic for video creators.
How to make playlist on YouTube
There are two ways of making playlist, one is to make your own playlists while the other is to create playlists for other viewers' videos.
Create your own playlists on YouTube
Make sure that you have a valid YouTube account.
Open YouTube webpage and sign-in to your account.
Collect all the songs or videos you want to group together.
Start playing the clip and hit the "add to" button located underneath the video.
Create and name your YouTube Channel.
Edit your YouTube channel settings.
Repeat these steps for all the videos you want to add on your playlist.
To check if the videos have been added, a green notification bar should appear.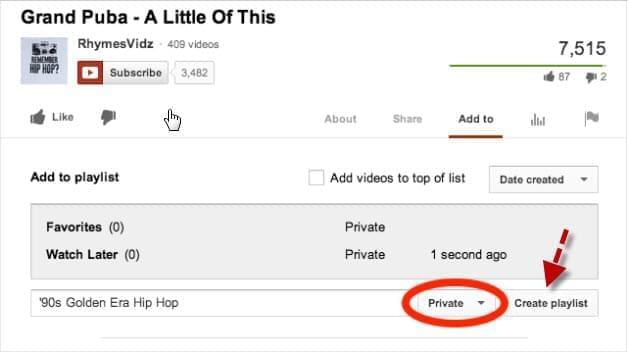 Make Playlist on YouTube for other viewer's videos
Sign-in to your YouTube account.
Go to "my videos" page.
Click the playlists "+new" button on the left pane of the navigation bar.
Edit your playlist name, add description and appropriate tags.
Hit the "create playlist" icon to save your playlist.
Start adding videos by visiting the clips you like.
Play the video and hit the "+add to" box situated just below the clip.
A playlist drop-down list will appear and choose where you want to save it.
Go to your account and click "playlist" to check if the new video has been added.

How to edit videos in a YouTube playlist
Now that you know how to create YouTube playlist, there will come a time that you will want to edit, delete, and organize videos included on that playlist page. You can easily do it by:
Go to your YouTube account and click the playlist you want to edit.
Change the order of videos by clicking the numbered boxed next to it.
Tick the checkboxes if you want to move, delete or queue single as well as multiple videos.
Delete the whole playlist by clicking "delete playlist" on top of the screen.
Change the privacy setting of your playlist by going to "privacy" tab.
You can also share your playlist to friends and families by hitting the "share" button.

How to embed YouTube Playlist into your blog or web
How to make YouTube playlist might look easy but to embed it on your webpage or blog is yet another story. There are two possible ways on how you could easily embed YouTube playlist.
Via iFRAME
Log-in to your YouTube account and find the playlist you want to embed
Hit the share button situated just below the clip
A text window box will appear and copy the contents of it
Paste the codes on your webpage
With iFRAME you can adjust the video frame according to your wants. Just edit the values set on the "width="xxx" and "height ="xxx". The other way to embed videos on your site is through the use of HTML5 which is the old embedding code of YouTube. You can use both ways and they are known to successfully insert YouTube playlist on most sites.
With the above instructions, how to make your own playlist on YouTube nonetheless becomes easy. Albeit, some people uses YouTube playlist maker which are applications meant to automatically group your videos. Though, most of the time you wouldn't need things like this because creating one is deemed to be stress-free. What you need are desktop tools such as Video Download Capture because you can never tell when an uploader will delete his clips. Just get free trial version by clicking download button below.
With it, you can save all the videos in your playlist directly on your hard drive. Now you don't need to worry if the original uploader suddenly removes his videos because you have a backup copy readily saved on your PC. Finally, this software is very easy to use and tons of features are included aside from the ability to download YouTube playlist videos.
Top5 Tips for creating a successful channel
The conception of creating YouTube playlists has enjoyed prestige among the users. Instead of uploading an individual video on YouTube, more and more users are willing to create video channels for their own benefit. The major advantage of creating one channel would be the ability to focus on potential subscribers. Actually, quite a number of advertisers create an online community on YouTube to engage their targeted customers. But how can you make a successful YouTube channel to gain more traffic and get more subscribers? Now I'll introduce top tips for growing a successful YouTube channel.
Deliver great and fresh content
In order to make your channel stand out among other channels, the most important factor is to deliver valuable and popular video content to lure users. You should keep up to date with the latest advance in your specialized areas, and try to come up with something unique.
Make the video content relevant and searchable
While uploading a video, the text you optimize along with your video becomes indispensable. Note that you need to give relevant title, description and tags, which will facilitate you to increase search value. Remember that all the video content must be worthy once users click on to play. But you should not overdo it to ruin your credibility.
Assure production value of video
Some of the videos made by the original uploader indicate problems with production value. That is to say, when you have already gained subscribers to watch your videos, the next step is to figure out how you can attract and keep viewers. You are suggested to add dynamic audio and flashy effect to your videos.
Try to build sincere connections with subscribers
To some extent, we can regard YouTube as a social network platform. As long as you gained a following with other users, you should build relationships with others on your YouTube community. The only way is to interact sincerely. While they are raising questions, you just try to show your sincerity to feed them back promptly.
Make a good video cover
After creating one channel, a beautiful cover will add color to your style. It's your choice to create a picture of your official page. You can also add link pointed to your social networks like Google plus, Facebook, Twitter, etc.