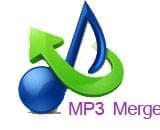 Merging audio tracks together is now being popular due to the good things that it brings to all music enthusiasts. Unlike the traditional single track play which creates a fade away affect after each song, the merged mp3 files can be played continuously even after each song without any interruption. This benefits particularly those that love to play a long music list for hours. The other good thing when you merge mp3 files is that transferring it to other portable device and gadgets is now easier and more convenient, compare to transferring individual track that will take some time to accomplish. These are the basic key point that is why many music lovers tend to put all of their mp3 tracks in one audio file.
Best way to merge mp3 files together
You can't merge mp3 files together without the use of a tool, let's go deep into the various methods that can be utilized in combining multiple mp3 tracks all together.
Method one: how to merge mp3 file with audacity
In the first method that we have we are going to use of a well known audio editor which is Audacity.
1
Load MP3 files into Audacity
To start with its mp3 merger function you need to install it first and launch it. Now on the Audacity's interface hit File > Open and load all of the mp3 tracks that you want to join together.
2
Combine mp3 files
Next is go to the editor and highlight the part of the song that you want to merge then hit the Edit button followed by Copy. After which move to the succeeding track, on the boards editor move the cursor at the end of the track and press Edit>Paste. Repeat this process until all of the mp3 files that you wish to merge for you project is done.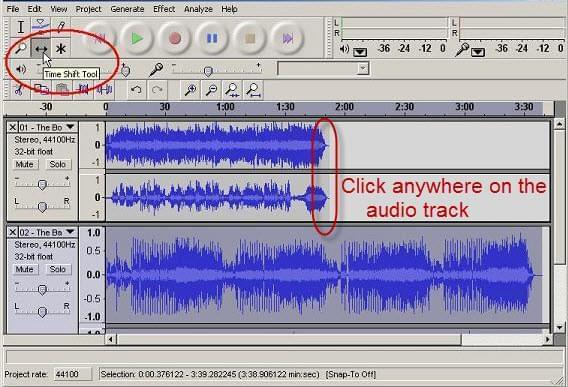 3
Save the final mp3
The last thing that you need to do is to save the file that you just created. What you must do is to hit File>Export>look for the folder where you want to save the file, choose mp3 file format and click Save. Just wait for few seconds and your new mp3 file is ready.
However, many individuals that utilize this audio editor have issues regarding its performance. These concerns include a hard to use user interface that can cause confusion especially for first time users. Since it needs to be installed, issues of lagging and unresponsiveness are also included in this problem.
Method two: Audio editor in Streaming Audio Recorder
The next method that we are going to take advantage is a multi-functional program that can handle audio recording and audio editing as well. This program that I'm referring to is the Streaming Audio Recorder.
By using the audio editing function of this program you can easily join mp3 files in one audio track without any hassle and trouble. From here, simply go to the audio editor's platform and hit the tab that says Load an audio file to edit. So your first mp3 track is now at the editor's timeline. Now to merge the succeeding mp3 tracks go to the Tools menu > Insert sound file, this will automatically combine the two tracks together. To add more mp3 file, just repeat this steps until all of the audio tracks are added. For more editing needs, you can also make use of this tool to cut, split, mix, overwrite with sound file, cut and paste parts of MP3 files.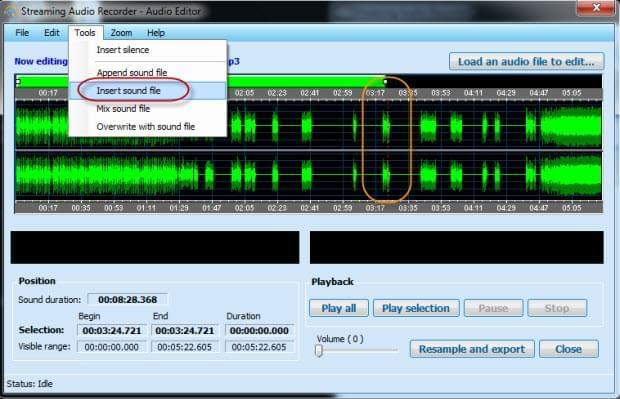 Edit your audio files professionally
On the other hand, if you want to have a professional mp3 file merger, then Apowersoft Video Editor is the tool that you can rely on. This outstanding video editor can provide you with all of the video and audio editing needs that you have.
To begin with the mp3 file merging, the first thing is to click the Import button and select all your mp3 files. Once all of your audio tracks are imported, drag them one by one on the Music timeline which is located below. Just make it sure that you drag them at the end of each mp3 track; repeat this steps to add more audio tracks. When all of the files are combined, you can now save them by clicking the Create icon, and a window will pop out, now hit the Format tab select mp3 format, put in the your desire name for the project and click Create icon once again to start saving you file. Moreover, the other advantage of using this program is that you can add image to your newly created mp3 file which can be done by simply dragging the preferred image on the picture timeline below.