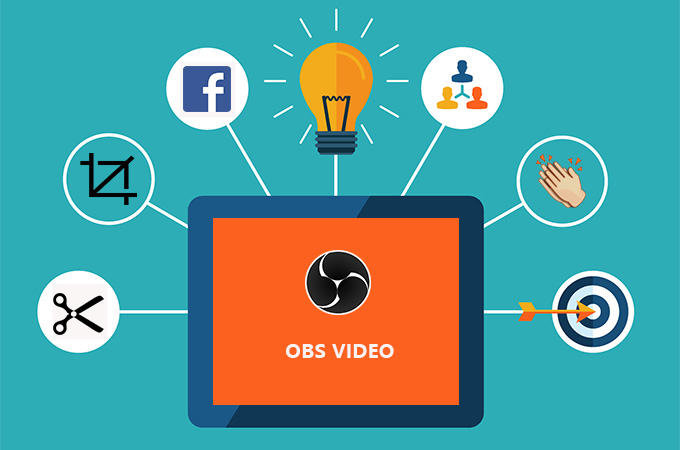 OBS or Open Broadcast Software is a free and open source program for Windows, Mac, and Linux computers. It is designed for video recording and live streaming of games, art, and other entertainment options. Due to its flawless recording function, it has been the choice of many people, especially gamers, who want to capture their gameplay. The only problem, however, is that you won't be able to edit your videos extensively. So, in case you capture any unnecessary graphics or want to place a text or something for emphasis, you'll need an editor to complete the operations. Read along and find out why an OBS video editor is perfect for you.
Best OBS Video Editing Software
ApowerEdit
When it comes to enhancing your video, ApowerEdit is unquestionably one of the best software to use. This editor has various editing tools that work perfectly on any Windows. It supports different format including your recorded file in OBS. With the help of this one, you can cut, merge files, crop, and perform other editing. Also, you may add emojis, trendy texts, filters, transitions, and other media graphics you desire. To use this as your OBS editing software, follow the instructions below:
Download and install ApowerEdit by clicking on the button below.
Launch the program and select the proper aspect ratio between 4:3 and 16:9 for your file.
On the main interface of the program, add your recorded files. You may drag and drop them or hit the "Import" button.

Once added, right-click on your files and choose "Add to project" to place it on your timeline.
Just above your video track, click on the pencil-like icon to open the editing tools. From there, you can adjust the speed, color tone, orientation, volume, fade in, and fade out.

To cut files, hit the scissor button to split your file and the delete button to remove it on your timeline. You may also press the Crop, Zoom, and Mosaic buttons and apply them to your video.

If you want to add texts, proceed to the Text tab from the side menu. Select the style you want to use and drag it to your timeline. Hit the Edit button to modify the font style, size, colors, and other aspects of your text.

For filters, transitions, overlays, and elements, simply proceed to their respective tabs and drag your choices to the timeline.
Once you're done editing your file, click on the Export icon and select your output format.
Windows Movie Maker
Windows Movie Maker is another easy-to-use the app for editing. It is a desktop program that helps users edit their videos and save them for offline/online sharing. Like the first one, it is capable of cutting, merging, and deleting clips as well as inserting texts, transitions, and filters. Users may also add voice-over or narrations alongside their video. Start off by opening your Movie Maker on your computer. If you don't have one, you can download it for free on the web. Next, press "Add videos or pictures" then choose the files you want to edit. After your files are inserted to your timeline, you can now easily apply changes using the editing tools within the app. Sadly, the app does not support the format of the video output produced by OBS. So, before you do your editing, you need to convert your files first.
VLC media player
If you think it's a hassle to convert your file, you also have the option to use VLC. This media player is available for download on Windows and Mac. It comes with some tools that can be used for OBS video editing. In fact, its video editor is capable of cropping files, cutting and merging videos, rotating clips, and adjusting audios. Additionally, you may use this when you want to place text and logos on your output. In order to open its editor, click on Tools > Effects and Filters. From there, go to Audio Effects if you want to modify your music or to Video Effects to crop, rotate, and add text or overlay logo. Aside from its editor, VLC has a built-in converter that allows you to change audio and video formats to another type. This might seem a good alternative but it can be limiting as compared to professional editors.
iMovie
The last tool that can serve as your video editor is iMovie. If you own any Mac or iOS gadgets, then you've probably used this once in your life. Its editor has powerful tools that excellently turn your clips into a beautiful project. You can use the preset templates and themes to create Hollywood-like videos. Also, you may add text, narrations, transitions, and other media files. Begin by downloading and installing iMovie on your computer. Next, hit File > New Project > Create. Now, add your saved files by clicking on the Import button. Once your files have been added, place it on your timeline then press the Edit button to begin editing your file. You may now split, crop, and merge videos and add text, commentary, filters, and other effects. In all honesty, iMovie is really a good alternative to other pro editors. However, most of the times, the timeline gets unresponsive and laggy.
Conclusion
With the help of the above OBS editor, you can make a more stunning video presentation. To conclude, VLC and Movie Maker only offer basic editing tools. Thus, if you only need to cut or rotate your clips, you may use either of the two. Meanwhile, for more advanced features, you should rather rely on ApowerEdit as this program can provide you tools that can edit your videos professionally.