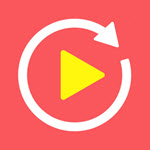 You must have shot videos with your smartphone or camera to record valuable moments you want to remember, only to find the videos are vertical displayed instead of horizontal, when you play them back in your computer or the smartphone itself. You cannot view them in full screen mode and watching them with a wry neck is a very bad experience, isn't it? This is very embarrassing. Is there no way to let us watch the videos properly before we strain our neck? Don't worry. Here is going to show you 4 amazing tools that can help us do video rotation job simply.
4 Amazing tools that make video rotation easy
Video Grabber
The Video Grabber is a great way to not only rotate video online but also flip video if you would not like to install anything on your computer. As a web-based application, it is able to rotate the video in a very straightforward way as long as the file is imported. Without signup, you can free enjoy all services it provides: grab online video, extract video to mp3, record video and convert video. It is a fast, versatile tool compared to the same kind apps. You can use it on Windows, Mac and Linux.
Guide to Use:
Log into the official site of the Video Grabber first.
Click "Convert Video" tab then, and import the files by pressing "Browse".
Select an output format for the video and choose the number of degrees you want from the "Rotate Video" option in the "Advanced Settings" section.
Hit "Convert" to start to rotate video.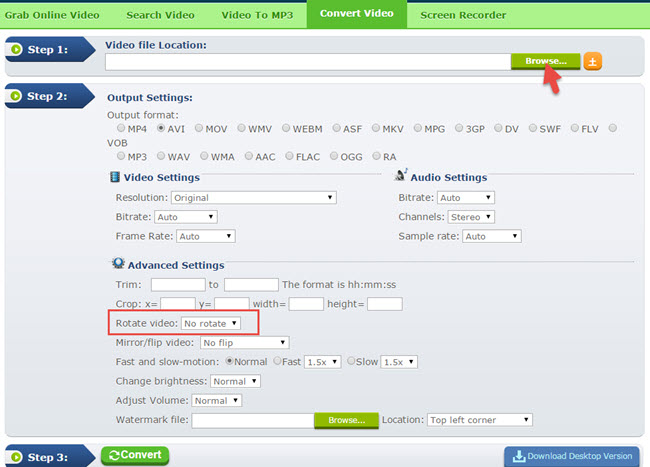 Windows Movie Maker
Windows Movie Maker is a full-featured tool ready to edit and create video with your own videos, project and pictures. Videos you've created can be distributed to YouTube, Facebook, Vimeo, Flickr and OneDrive without any limit. It's pretty simple to make video rotation with Windows Movie Maker.
Guide to Use:
Upload your video file or, drag and drop it into the right blank area of the program.
After all videos are fully loaded, press "Rotate left" or "Rotate right" button under the "Home" tab to turn your video to the direction that you want.
Click the Play icon to preview the video you've adjusted is proper or not.
Press "Save Movie" button from the drop-down menu of the "Movie Maker" icon on the left corner and select the option you wish the video to be saved.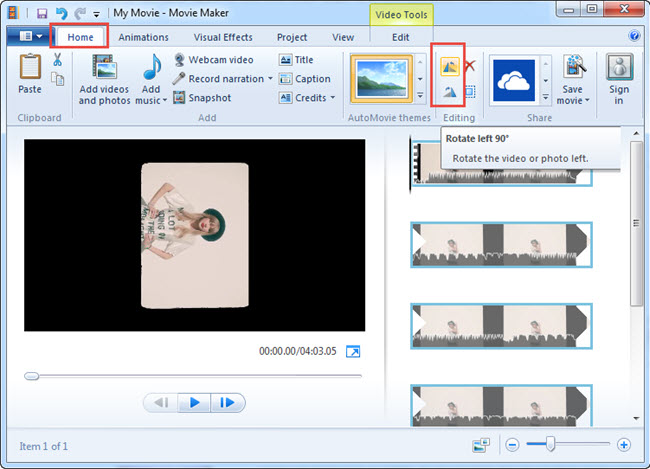 VLC Media Player
VLC is well known as a multimedia player because it supports a multitude of codecs. That most video or audio formats on the world can be easily recognized and played attracts a broad range of people to use it for watching movies. But a less known feature of it is it can work as video rotator software. So if you prepare to turn video left or right and you are ready to use VLC to do the job, follow the steps below to go.
Guide to Use:
Download and install VLC to your computer first if you do not have one.
Run VLC and import video that is going to be rotated by clicking "Open file" option in the "Media" drop-down menu.
Choose "Tools" > "Effects and Filters" and a "Adjustments and Effects" window will pop up, then select "Video Effects" > "Geometry".
Enable "Transform" under the tab and you are allowed to rotate video to the orientation now.
Now you can enjoy the revised video in correct angle.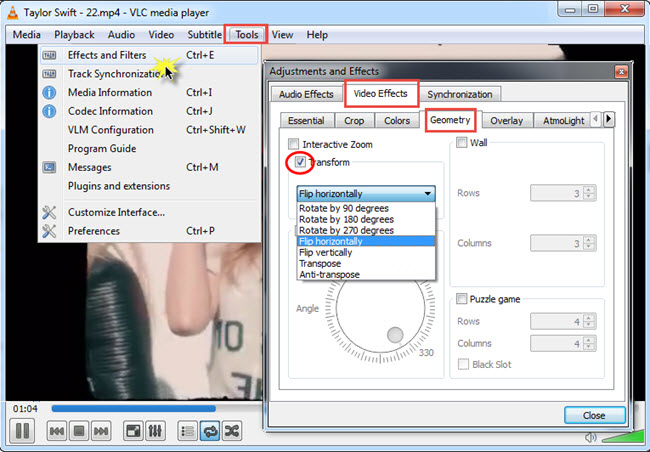 Video Converter Studio
As its name implies, the Video Converter Studio is a converter tool which integrates video editor, video downloader, video recorder and video creator into one program. The built-in video editor is able to trim, split, crop, rotate, enhance effect, add watermark and subtitle for the video. It has a variety of video format options for the output file, which differ it from the common video rotator software. To share it to social networks that have limits for video file types will not be a hard thing any longer. Its bulk mode makes it easy to handle multiple video files and you will never need to rotate videos one after another.
Guide to Use:
Download and install the software to your Windows computer.
Open it and then drag or drop the video files into the program.
Select the file you wish to rotate and press "Edit" button.
Go to the "Adjust" tab in the "Edit" window, then rotate the video.
Press "OK" and choose a proper format for the output file in the main interface.
Hit "Convert" button to make the adjustment work.