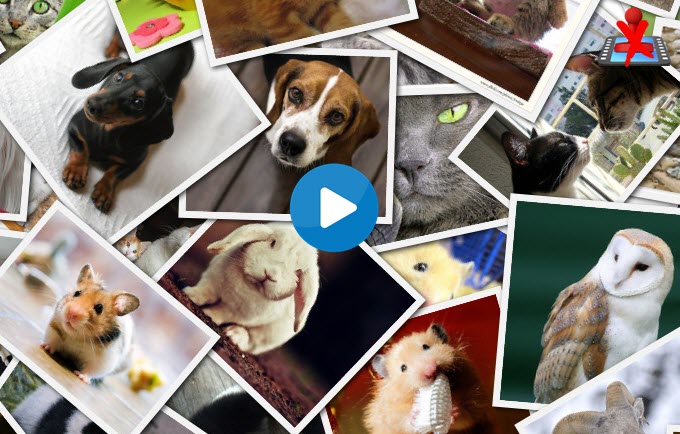 Nowadays, video maker software are getting more and more popular because of the ever growing interest in the cyber world. Although most of them are free, some leave a watermark on your output videos and others require subscription, which can be serious drawbacks in some cases. Since most people use social media to share their thoughts and experience with their family members and friends through videos, it might come into your mind that making such fancy videos requires a lot of skills and efforts. What if I tell you that you just need the right software? In case you got interested, just continue as we are going to introduce 5 slideshow makers without watermark in the article to you.
5 Free slideshow Makers without Watermark
LightMV
LightMV can be described as a free online service which has the ability to create slideshows by using your photos. This website delivers dozens of very fashionable and creative themes to you, so you can create funny videos which your friends have never seen before. Moreover, each of the themes comes with sweet background music included. It is therefore a very simple yet powerful application which you can use to create entertaining video quickly.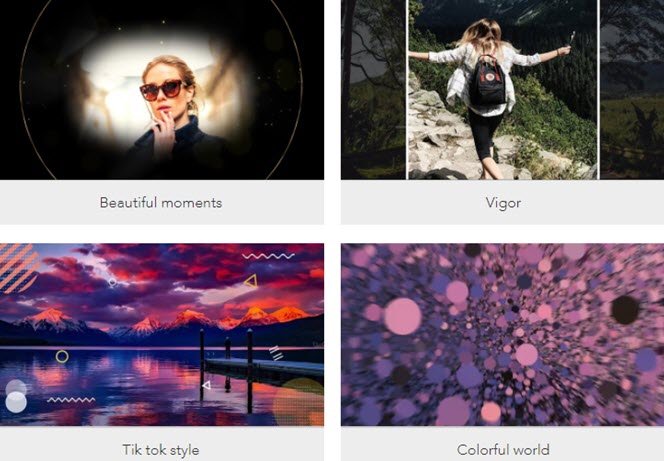 Pros:
Totally free to use and you can use it without any watermark.
Includes many kinds of beautiful theme templates.
Can be launched directly from your browser without the need of installation.
Supports sharing the output video with your friends by just one click.
Cons:
Can only add texts to the first and last photos.
It doesn't offer many customizable options like filters, texts, etc.
Free Photo Slideshow Maker
Create a dynamic slideshow out of your beloved and memorable photos using this slideshow creator without watermark. Afterwards, you can share it on your social media accounts and surprise your family and friends with your professional skills. You can save file in different formats like AVI, MP4, MP3, HTML5, FLV, MKV, 3GP and MPEG. In addition, you can also use the slideshow on your iPad, iPhone, iPad, PSP and other devices.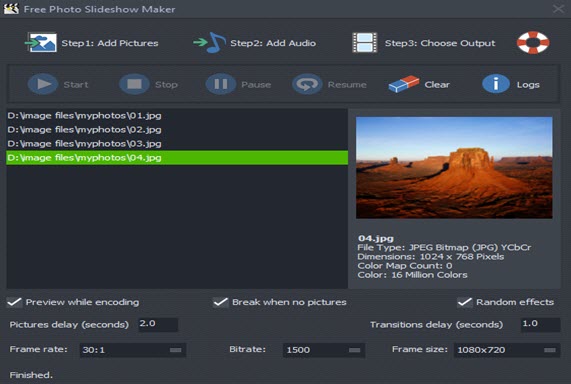 Pros:
Includes 60+ animated transition effects.
You can add music to your photo slideshow.
Transition time can be freely customized.
Comes with a very intuitive interface.
Transforms your text to audio files in an instant.
Safe to use.
Cons:
This app is only compatible with Windows.
It doesn't offer many customizable options like filters, texts, etc.
Note: This tool is compatible with Windows 10, 8, 7 Vista and XP only.
Icecream Slideshow Maker
Slideshow Maker developed by Icecream is another free slideshow maker without watermark on the market. Just like the previous applications mentioned above, this tool can help you create a slideshow out of your photos from your memorable trips and gatherings. To know more about the app, here are some facts about it.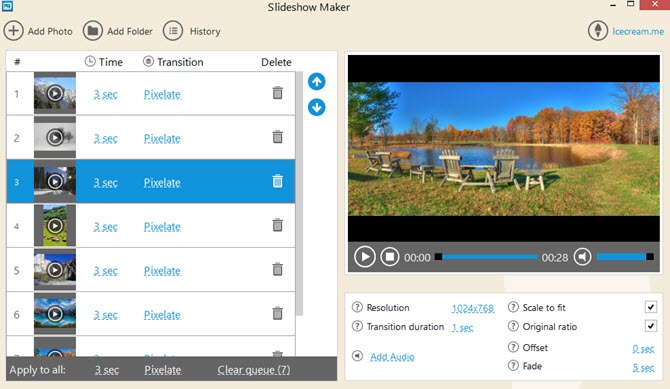 Pros:
Contains a vast variety of effects, such as zoom in and zoom out function, and so on.
You can add background music according to your preference.
You can also create personalized text and even change its font colors to match your video.
Support 4K quality slideshow with 3840 x 2160 resolutions.
Support burning the video to DVD.
Share videos on your social network site accounts.
This program supports 45 languages from all around the world.
Cons:
This app is not compatible with Mac systems.
PhotoStage Slideshow Producer
PhotoStage Slideshow Producer is an additional flexible slideshow maker developed by NCH software. This tool is compatible with Windows and Mac systems that comes as a big advantage. Furthermore, when using this app, you don't have to be a techie due to its user friendly interface. You can get your video done with only a few clicks instantly.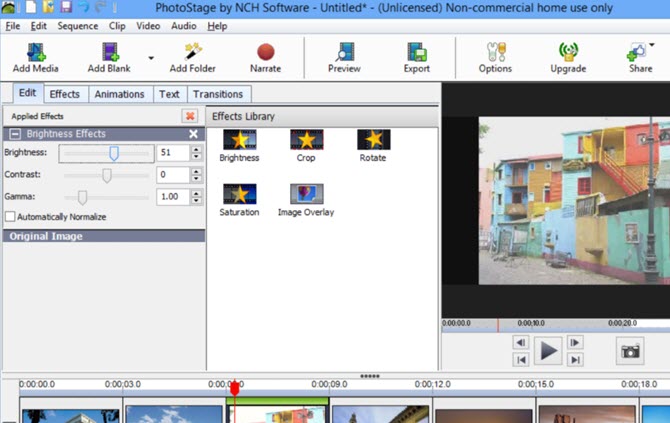 Pros:
It is easy to use.
You can easily upload video to social network sites.
You can save your videos in various formats.
Cons:
You cannot drag thumbnail edges and change the duration of the video to your preference.
Slideful
Last but not least, a great slideshow maker no watermark is Slideful. This application can be utilized by anyone most especially educators who like making funny and simple educational slideshows. Just like the other mentioned tools above, this application can create videos using photos taken directly from your recent memorable trip.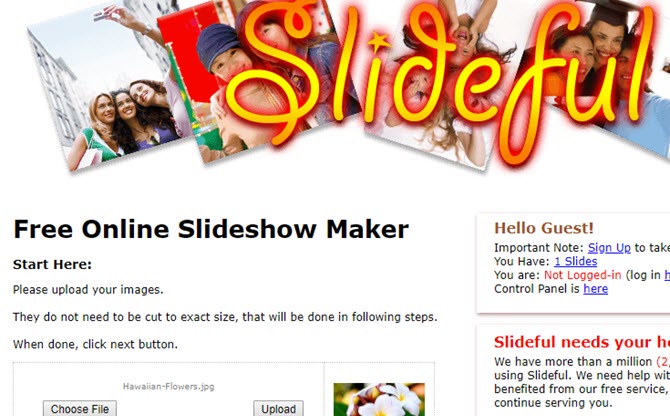 Pros:
Slide design is colorful.
Can be used for education purposes.
You can access the created video online for free.
You can upload your slideshow to different social network sites.
User-friendly application.
Cons:
Since it is used online, you need internet to use it.
Slow uploading if the file is big.
25 photos limit when uploading.
Conclusion
To sum it up, all of these tools mentioned are easy-to-use slideshow makers without watermark for your video collections. You don't need special skills or paid software just to make one. By fully maximizing these applications, you can now brag about recent wedding prenup photos, trips or memorable life events.