Nowadays, an increasing number of viewers enjoy watching streaming video and streaming audio online. Sometimes, part of them want to save those videos or audios on computer or else. However, they never thought about what streaming video and streaming audio is.
When you start digging into this matter, it makes you easier to grab streaming video and audio as long as you like. In order to help you better figure out what streaming video and streaming audio is, I have made a clear conclusion on this question.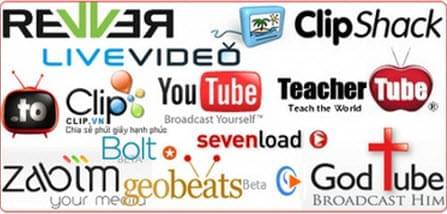 Both streaming video and streaming audio belong to a streaming media, which enables you to surf the web at a high speed. Usually, streaming video and streaming audio is transferred through a protocol. The common protocols we often use are HTTP and RTMP, while RTSP, PNM/PNA and MMS are rare to use.
Basically, the five protocols welcomed on the Internet can be summarized into two categories.
Transmission forms of streaming video and streaming audio
HTTP and RTMP protocol developed by Adobe
The first one is Adobe, which includes all the flash video. As we all know, almost all videos on the web is flash video, so protocols like HTTP, RTMP, RTMPE etc is developed by Adobe to deliver flash video.

Therefore, it makes sense that you are asked to install Adobe Flash Player if you want to watch youtube videos, because youtube videos are transferred through HTTP protocol. Except from youtube, other video-sharing websites like Dailymotion, Metacafe, Vimeo etc are also delivered through HTTP.
In fact, it is the easiest to grab HTTP videos since HTTP video will be cached on local as a file. You just find the video link and download it at ease. Many online video grabber aims at such videos, like Video Grabber, Savevid and Keepvid etc. It's the same principle to grab streaming audio.

On the contrary, RTMP is a superior protocol of Adobe, as it likes water, non-stop streaming, so it's hard to grab the video URL. The typical RTMP video-sharing websites are Hulu, Mpspace, Yahoo! Video, ABC etc.
Although it's tough to grab the video URL, it doesn't mean you have no way to deal with it. Video Grabber Pro is an amazing streaming video grabber to grab both HTTP video and RTMP video. Its Advanced Video Recorder just likes a container that can grab streaming into the container to form a file.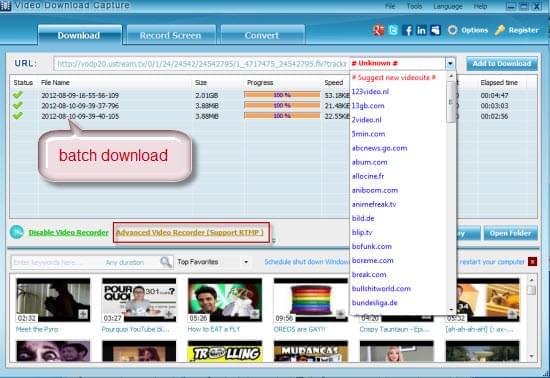 As regard to streaming audio, a useful streaming audio grabber is necessary. Streaming audio recorder is going to be a good helper to you as it has the ability to record any sound from computer. And it ensures the audio quality as the original one.
RTSP and MMS protocol supported by Windows
The second category of protocols is used by Windows, its transmission form is RTSP and MMS, which is rare to use on the Internet now. If you want to play RTSP or MMS video, you have to use Windows Media Player to watch video smoothly.

RTSP, short for Real Time Streaming Protocol, is a streaming protocol used to control audio or video, just like you can real-time control VCR play and pause. On MMS, it stands for Microsoft Media Server Protocol, which is used to visit the unicast data issued by Windows Media.
With the development of network, a new popular video format turns up, it's called HTML5. HTML5, a standard protocol, supports to play streaming video with browser directly, that is, the browser becomes so powerful that it enables you to play videos without installing Adobe or plug-ins.

The format of standard HTML5 is webm, and it ends with the extension of webm. Some people maybe wonder now that the browser plays all videos directly, why do we convert video to HTML5 format? The reason is simple, some formats like avi and wmv are not supported by the browser.
Providing that you desire to grab streaming video or streaming audio in RTSP, MMS or HTML5 protocol, the only feasible solution is recording screen as the video can neither grab the URL nor grab the streaming to form a file. Just google it and you will find a screen recorder program.
In a word, only when you are towards to the right direction, you can grab any streaming video or streaming audio you like.