The term anime was derived from the word animation. Anime are Japanese animated productions featuring hand-drawn or computer-generated characters. Japanese-style anime has greatly associated with the world by its colorful graphics, vibrant characters as well as fantastic themes. Today, most people in all parts of the world have become a huge fan of these Japanese animated series and films.
From the historical Naruto, Dragonball Z, Ghostfigther and other highly acclaimed anime series, watching them couldn't be easier than streaming online. This way grants you the utmost freedom as well as convenience than watching it from DVDs or local TV stations. If you don't want to watch them with ads on TV or need to watch the full episodes, all you need is a good internet connection and top anime sites, then you're good to go. Along with the rapid growth of internet entertainment, surely tons of anime streaming websites are sprouting like mushrooms in the wild. You may search the name of your favorite cartoon on Google, and you will be stunned with so many source videos. To save both your time and energy, we have compiled the top 9 free anime sites you could openly visit online. See them all after the jump.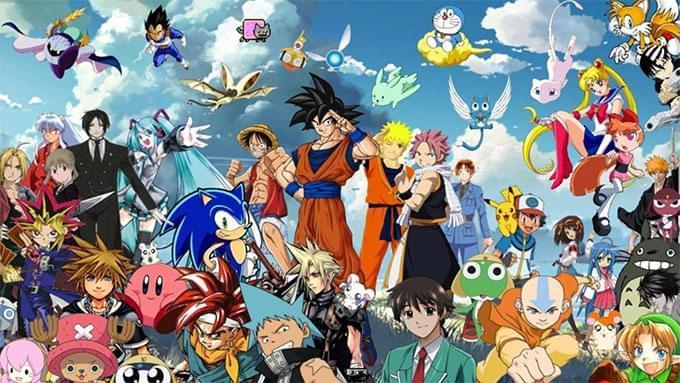 A Careful Selection of Anime Video Sites
1
known for its high-quality videos and wide selection of anime films as well as series, Hulu is the best website to go if you want to stream anime contents. However, bear in mind that Hulu is not yet available in all parts of the world. But if you live in the US, UK, Europe and some parts of Asia, Hulu should be easily accessed. You may watch Hulu out of US by using VPN services.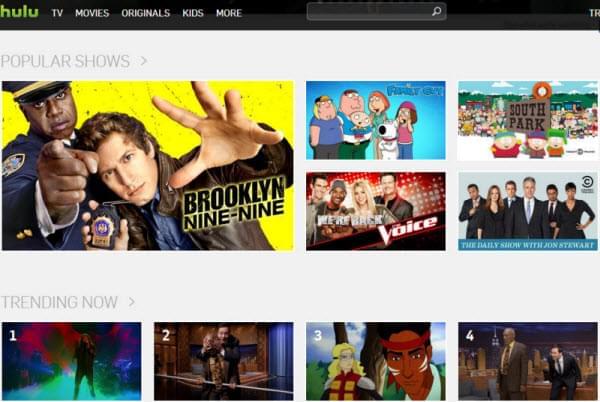 2
Unlike Hulu that is geographically limited, GoGoAnime is available worldwide. Moreover, it is a dedicated website for all anime lovers featuring tons of content from the Manga series to anime movies. There are also dubbed anime and cartoon clips available to stream in English. Android app for you to stream this site on mobiles is likewise available on Google Play.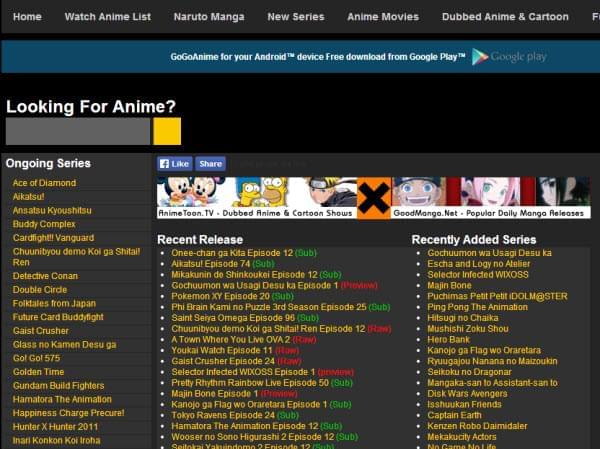 3
Anime Freak's website might look a bit disorganized and unpolished but behold for its anime power because the latest episodes, as well as exclusive contents, can be seen here. Searching your favorite series is simple – you can use the search button or view contents from the archives. Both dubbed and original anime versions are available on this site.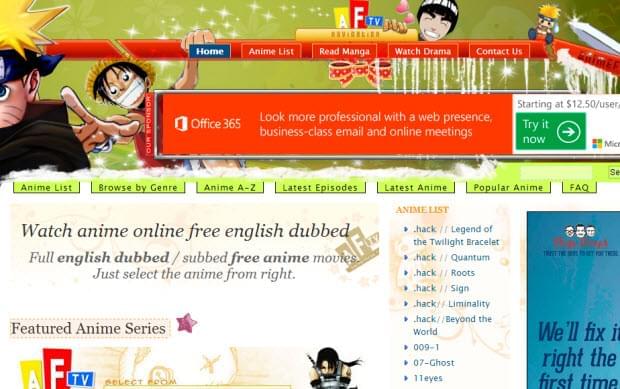 Anime Crazy
Continuing with our best anime sites is Anime Crazy. It offers popular anime series such as Naruto, Wonder Momo, Wake up Girls and all others. Although, be aware that sometimes their servers may lead to inaccessible webpages. In such a case, clearing your DNS cache and re-visiting the Anime Crazy website should solve the problem.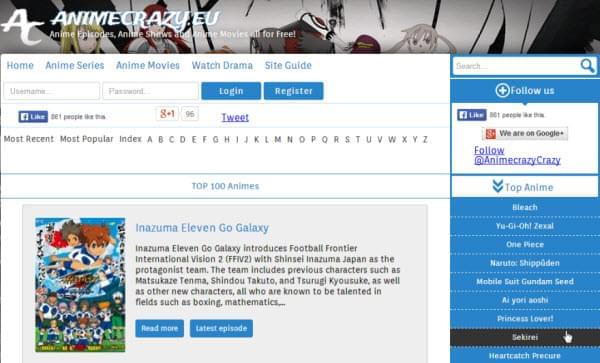 5
AnimeSeason
This site is polished, organized and simple with almost no advertisements. Some of the most popular anime series are from Diamond no Ace to Hunter X Hunter. Their embedded video players let you watch anime episodes with captions and titles on them. On the left pane, you could easily search your favorite show from their archives and category tabs.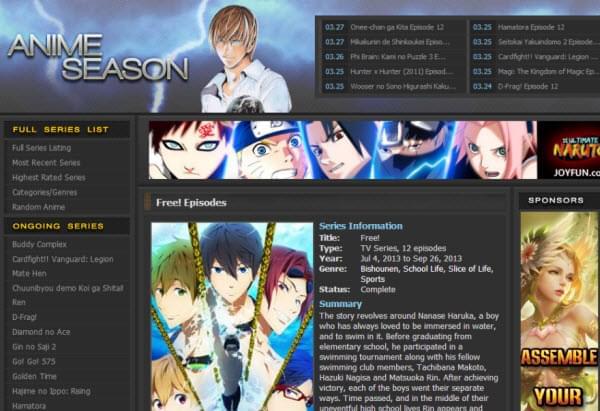 6
AnimeHere
Offering a premium viewing experience, the Anime Here is a must-to-visit website. There are no advertisements while anime series are beautifully organized within categories. Original versions, as well as subbed series, are both available and playing videos requires no more than a single click. This website is free and you don't need to register or create an account just to view clips.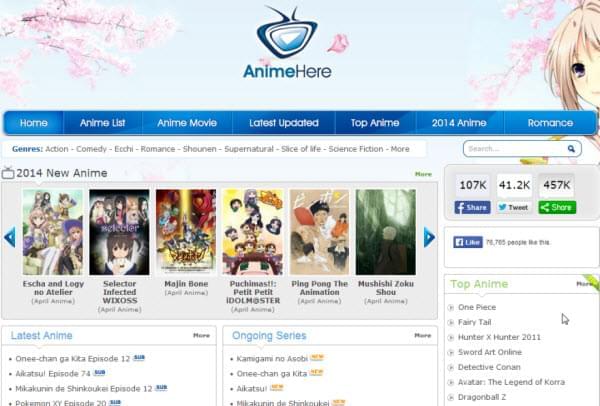 7
Narutoget
The next website included on our top anime sites would not give you colorful backgrounds either a professional-looking interface, but they offer complete Naruto anime series. From the original Naruto Shippuden to English dubbed Naruto, Manga collection and movies, they are all available here. Each episode is correctly labeled with 4 video host sites generally being offered.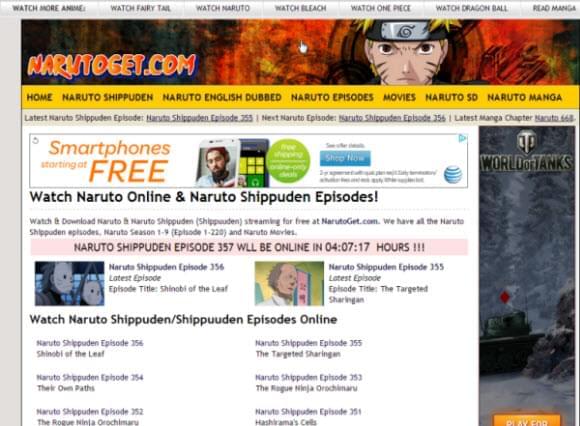 8
If you are looking for a diverse anime series with genres from drama to mythical, you should visit Anime 44. Their website features a nice looking interface with all anime series beautifully organized. Dubbed anime versions are available which are great for those who don't understand Japanese. Daily episodes, manga, cartoons and movies are likewise being shown.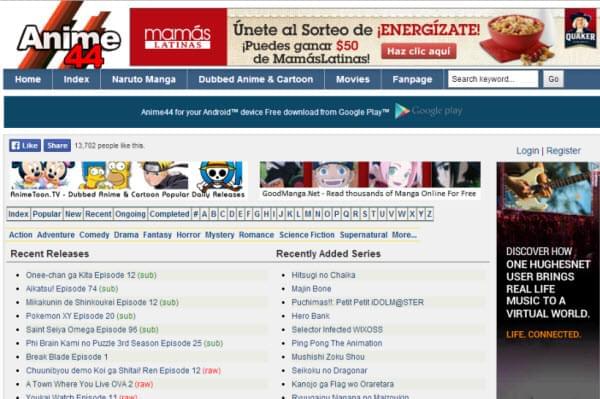 9
The last but not least anime website that offers free shows is the Funimation. However please be guided that you cannot simply visit Funimation's website, you need to enter a captcha log in first to be able to access the main page. Moreover, Funimation requires you to create an account to view contents. What makes this site unique is that it contains high-quality anime episodes.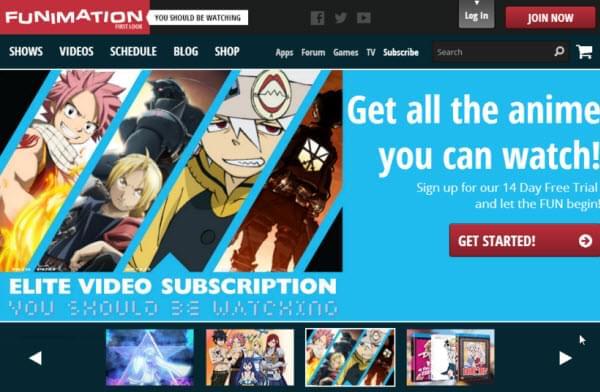 How to Download Anime Videos
If you don't want to visit the sites to stream them every time, there is an option for you to download from these free anime sites. Downloading anime and saving them on your hard drive lets you watch your favorite episodes over and over again even without connecting to the internet. All you need is a great tool like the Video Converter Studio.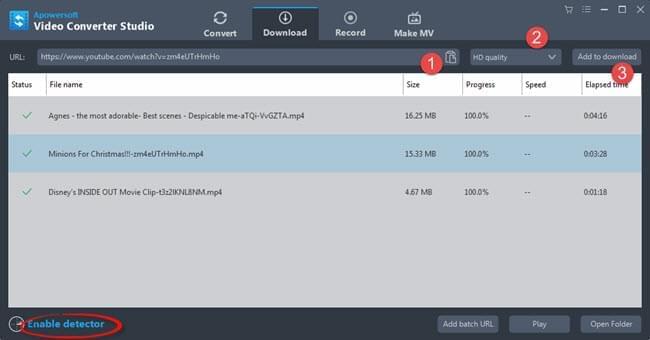 With this tool, you can easily grab all your favorite anime episodes from the above websites easily and efficiently. It offers three methods to download videos while other functions such as converting videos into different formats, recording live screen activity, bulk video grabbing, editing video clips and making music videos are equally presented. Here's how to download online anime episodes:

1
Method 1: Auto-detect Function
This tool features an auto detect function that automatically downloads videos playing on the background. Simply play the anime video from its website, enable the auto-detector tool and then it will automatically start grabbing the clip. You can check the download progress of your download on the interface.
2
Method 2: Copy and Paste of URL
The second method is to copy and paste the URL. Make sure you have disabled the audio recorder. Then just copy the URL of the website containing anime clip, and then paste it on the blank URL bar on the software. Click the "Paste URL" button, select your preferred output resolution and finally click the "Add to download button".
3
Method 3: Screen Recorder
For anime websites supporting live video streams, you can use the video recorder function of the Video Converter Studio to record and save the video to your computer. Visit the anime site and play what you want to download, go to the "Recorder" tab, drop down "Record" > "Region" on the top left corner on the interface, choose the region that you want to record then hit OK to start recording the video.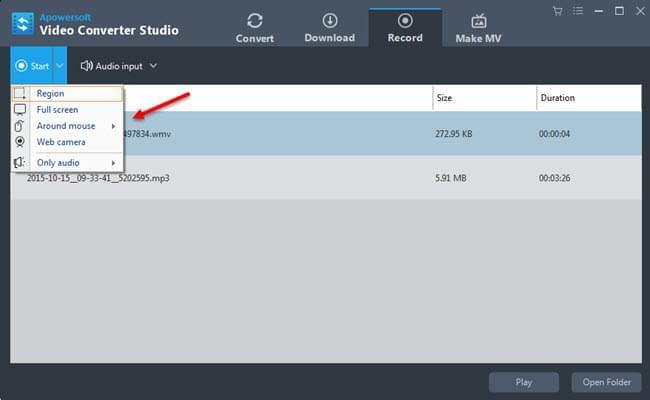 This tool can grab almost all types of anime video clips with great quality with fast speed. Besides, Video Download Capture is also a wonderful tool to download online streams, which can even grab audio section only. It will come into handy if you want to extract the audio section from the anime videos. Fortunately, this anime video downloader also provides the option for transferring the downloaded media file to iTunes.