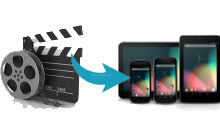 It's common that you would need to convert video on your computer, for entertainment purposes. What about entertainment on the go, though? There are so many songs out, now, but not all of them are available as ringtones, nor are they easy to download onto mobile devices. What about memories that you may want to share with family and friends? How do we convert video to an Android smoothly?
It seems as though Android only supports certain formats, such as MP4 and 3GP. In this case, it would be hard to view or share movies, TV shows, videos, or vacations on your mobile device, especially if they are in MOV, AVI, WMV, or any other format. So, in order to reap the full benefits of having a mobile device, you will need the video to android converter. This will give you the convenience you need to enjoy video playback wherever you go. To avoid this hassle, we will list top rated programs below.
Top 3 video converter for Android
Method 1: Video Grabber
One of the best options for converting video for Android is the Video Grabber. This web-based service works directly on your browser, you do not have to download the program to your computer. What's better is the fact that it has mobile version. You can begin converting at your will.
Video Grabber is available as a free Android video converter. Regarding its operation, simply click on the Convert Video File tab and import your video file. After loading the Java applet, it will prompt you to select the right video format. It will convert the video you choose in a matter of seconds. Finally, you should connect the Android mobile to your PC and start transferring.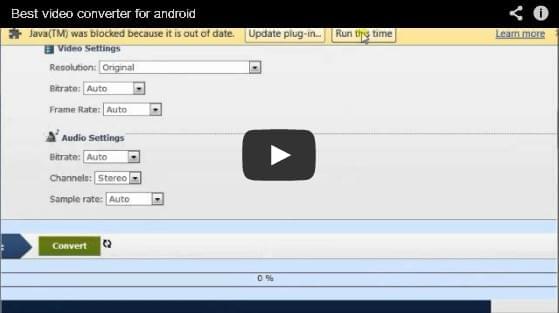 This online app is free and simple to use. You will be able to convert all major video formats into the compatible Android format using both MAC and Windows, if needed.
Method 2: Video Converter Studio
Video Converter Studio caters to the more professional video preference. Though this program has some of the same features as the Video Grabber, its performance is a little more versatile. It supports more output formats for digital devices. Also, the video formats for Android have different resolutions so that you are presented with many choices. Another key benefit is fast speed, it saves you much trouble and time to convert multiple videos during one session. All you need to do is add one or more videos for converting.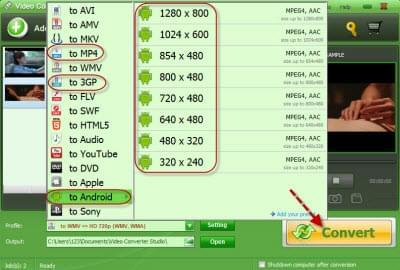 Moreover, this program has the capability to trim, crop and merge, effect, as well as subtitle videos. And, users who want to convert video to android on mac are being capable of using this tool.
Method 3: Android Video Converter from m.appcraft.org
Video Converter from appcraft is an android mobile application, which not only converts video, but rips DVDs to Android as well. Like Video Converter Studio, this program offers professional software for conversions of high quality. In addition, the option to batch videos, trim, capture, and even screenshot, at very fast speeds, are simple components.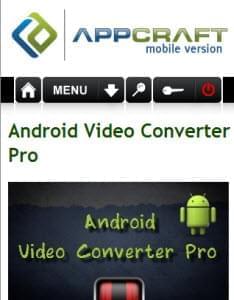 However, Android Video Converter only converts to MP3 and MP4 formats. In this case, you would have to purchase the Pro program, at $29.00, in order to additional compatibility options, as they differ between devices, such as HTC, Moto, and Samsung. Being compared with free mobile version, this pro version is of great compatibility.
Ultimately, the very best way to enjoy your favorite videos on the go would be to utilize the Video Converter Studio, which gives you all of the options necessary with no restrictions. Nevertheless, Video Grabber and Android Video Converter are amongst the best free video converter for android. If you have any other suggestions, welcome your comments and feedback.