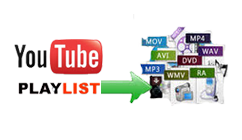 Before we precede any further, you need to know what a YouTube playlist actually is, and why you need it. A playlist is a fantastic feature enabled by YouTube, which allows every user to organize videos in the form of a group or a list. When one video ends, the next in queue automatically starts. And once you have a good set of songs, you can start thinking about saving the playlist to your media drive, you'll need a good YouTube playlist converter to do this. Playlists are usually organized with categories; however, you can also create a playlist of your own, and share it with your friend or just enjoy it on your own.
Besides all wonderful features, the major problem faced by most YouTube users is that they can't download and convert these videos directly to their computers or media device. Because of that, you need to find some means to download. Here are some simple methods you can follow to convert playlist to fit all your devices.
How to convert YouTube playlists on Windows
Method One: Video Download Capture
One of the best YouTube converters in the market today is Video Download Capture. This light and reliable video downloader has now made it far easier to download playlists from YouTube. Now you can enjoy your favorite music and videos with an extended ease. The excellent features offered by Video Download Capture allow you to download plenty of videos in a large number and even to convert YouTube playlist to MP4, 3GP, AVI, WMV, MP3 and any desired formats. Moreover, its high speed enables you to enjoy your favorite videos without having to wait for so long. Below are the steps you can use to get benefit from this software.
1
Download and install video capture
Retrieve the following link to access Video Download Capture in the website. Go to the "Download" button to download the software to your PC. After it is downloaded, complete the process by following the wizard. Follow the instructions to successfully install the software.
Download
2
Find YouTube Playlist
Go to YouTube and in the main search bar enter your search terms, and choose "Search". To narrow your search down to just playlist, hit the "Playlists" option. Find the playlist you want to download, and click on it title. Copy the URL in the "Playlist/URL (Permalink)" box.
3
Download entire YouTube playlist
Paste the URL of your desired playlist into address bar. Hit "Add to Download". Now you will see a list of videos in your playlist. To download all of the videos, check "Select all". To choose from the videos, select only the clips you want to download by checking the boxes in front of them.  And then, choose your preferred video format that suits your player. This will open a pop-up window, where your desired videos will be downloaded.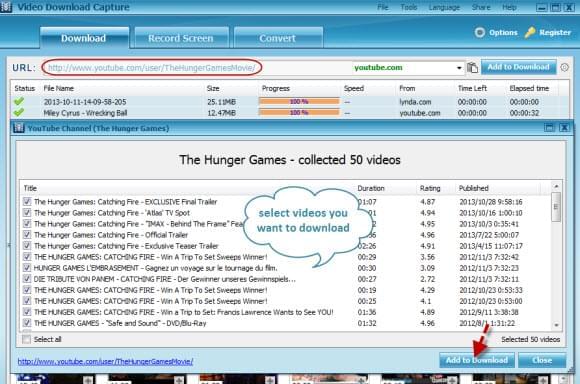 4
Convert YouTube playlist to any desired formats
Select your downloaded videos. Right click to add the selected items for converting . Go with "Profile" button and customize output format (i.e. MP4, AVI, WMV, MOV, 3GP, etc). Press "Convert" to get it done.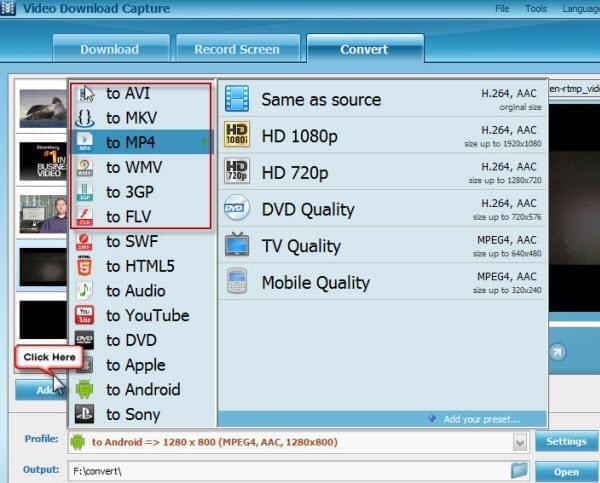 Note: Apple users can also benefit from this software. Convert YouTube playlist to iTunes with Video Download Capture. This software helps you to add your videos directly to iTunes. You can also sync them onto your device later on.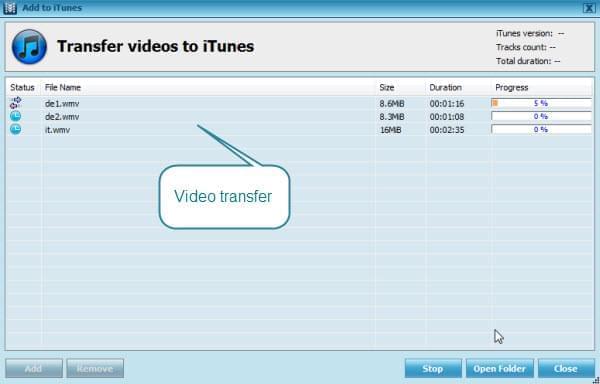 Method Two: Freemake video converter
Another tool that you can fulfill your needs on converting YouTube playlist is Freemake video converter. After installation, you just go to YouTube playlist channel you want to download, and copy the link. Click the button "Paste URL" and a list of videos will appear. Select the ones you want to download. Hit "Only Download" or "Convert" to MP3, AVI or MKV etc. Pick the "Download" option to start the process.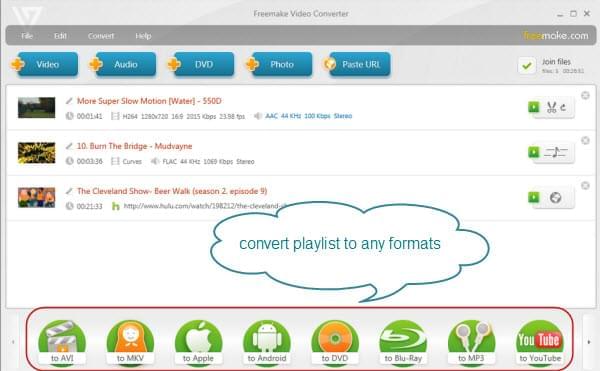 Although Freemake video converter allows you to convert YouTube playlist, it comes with its drawback at the same time. Many users have complaint about the instability of the software, and sometimes its inability to convert videos properly. If that is the case, you are advised to use it only as a second option when, in rare cases, you are unable to work properly with the former.
From the information provided above we can clearly conclude that Video Download Capture is the best available converter for your YouTube playlists. It's user friendly and allows you to do conversion of YouTube playlists and even videos in a very efficient manner. It offers you a wide range of formats to convert your videos to. You can even convert your videos to MP4 now. Even much better, it enables you with an amazing feature to convert YouTube playlist to iTunes. Now it has made offline experience ever better than before. Just follow the simple steps and start enjoying your YouTube playlist.
Hacks to convert YouTube playlists on Mac
The above solution is specially offered for Windows users, as an Apple user, you might seek the help of another video download and convert tool. The AllMyTube Video Downloader for Mac has functions that empower you to download and convert playlist from YouTube within a few clicks. For a single video conversion, you simply left-click the video and the download button will be displayed on the screen's upper left corner once triggering the program. But what if you want to convert the whole YouTube playlist, all you need to do is to select the playlist and find the pop-up "Download All" button on your chosen playlist. As soon as the preferred format and resolution is customized, all the videos in a playlist will be added into the download list. Likewise, you can also drag all the URLs to the program for conversion on the main interface.
That's not all about AllMyTube Video Downloader, this tool can also equally download videos from almost video sites, record screen activities, transfer the video files into iTunes, manage videos in the library, edit videos like trimming, cropping, merging, effecting, and import subtitles. In a nutshell, this Mac Video Downloader is an all-in-one solution to resolve all the issues concerned with video and audio.