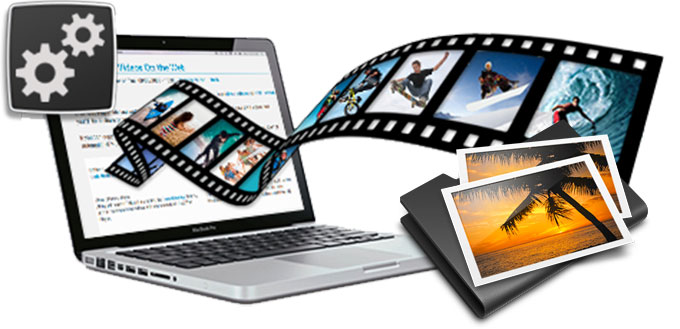 I used to film a video with my new-bought camera. Unfortunately, there're something irrelevant also captured along with the beautiful scenery. I have no idea on how to remove or hide those unwanted objects until one day that I noticed adding picture to video can perfectly fix this drawback. In the followings, I will share my methods to insert image to video and hope you will find it helpful.
Prepare watermark picture
First of all, you need to prepare an image that you want to insert. You can edit the picture according to your preferences, such as stickers, emojis, text, etc.
Effective Tools to Add Image to Video
Apowersoft Watermark Remover (Windows)
By using this software, you can not only remove unwanted objects from your video, but you can also add image or text to hide the irrelevant items. The interface is very intuitive, which you can find all available functions are included in the main interface. When it comes to adding picture to video, you are even allowed to change the size, rotation, location and transparency, etc. If you just want to overlay the image on the video without further cutting or rendering, this one is the best tool you can start with. Here is a simple guide on how to add image to video with it.
Download the software by clicking the button below and then install it on your PC.
Open the software, choose "Add watermark to video" from it and you will be brought to a new window.

Drag and drop videos into the new window, hit the "Add image" button on top right part to import a photo that you want to use. Or you can also hit the "Add text" button to input text on the unwanted objects.

After that, you can change the size, location, transparency and other settings available.
When you're content with the effect, just press the "Convert" button to save your video in your computer.
Video Grabber (Web)
This online tool is generally used to grab online streams. But you will find there're some additional functions available like video converter, editor, and recorder. Its built-in editing function enables users to add picture over video. And you can also change the position of image to top left/right corner, bottom left/right corner and center. Plus, the editing options like trimming, cropping, adding effects are good to use as well. Below are the exact steps about using this it to overlay image on the video to hide the undesired items.
Navigate to the page of Video Grabber and then enter the tab of "Convert Video".
Press "Select files to Convert" button and then load target video file.
Click "Edit" button to activate video editor.
Press "Browse" button to add picture from your local disk.
Check the position for the picture and click "OK" to confirm the configuration and then go back to main interface.
Press "Convert" button to start.
Tips: The page will guide you download and install "Launcher" for the first time. Don't worry about it, it's quite tiny and absolutely safe.
Video Converter Studio
Video Converter Studio is a versatile application that features powerful function in video editing and converting. It comes with multiple editing options that can also help you add picture to video. Also, it supports two types of watermark including picture and text. In addition, it provides some options to customize watermark in the aspects of location, transparency and size. Take reference from the following guidance to add watermark.
Download
Download and install Video Converter Studio and then add target video file.
Click "Edit" button to activate video editor.
Go to the tab of "Watermark" and then click "Add image" option to load prepared picture.
Customize the size, location and transparency for the watermark.
Press "OK" button to complete changing.
Start the task by clicking "Convert" button.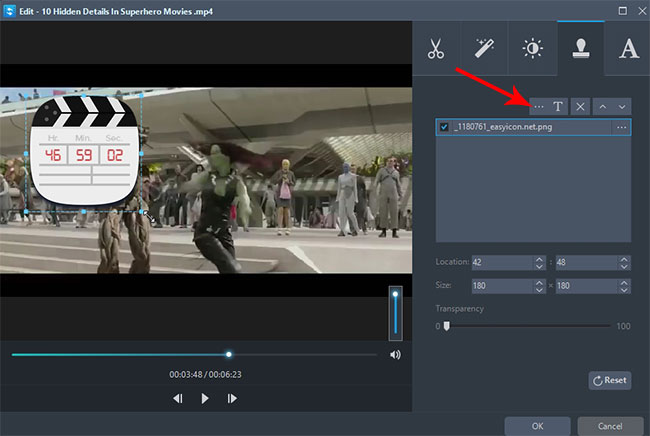 Tips: You can also edit text watermark on the video. To do this job, you can press "Add text" button and then input text.
Smart trick: Define file size for the video
Fortunately, this application offers a considerable option that enables you to define file size for output video. This feature is quite practical to reduce file size. Don't worry about the definition of output video, it won't harm video quality.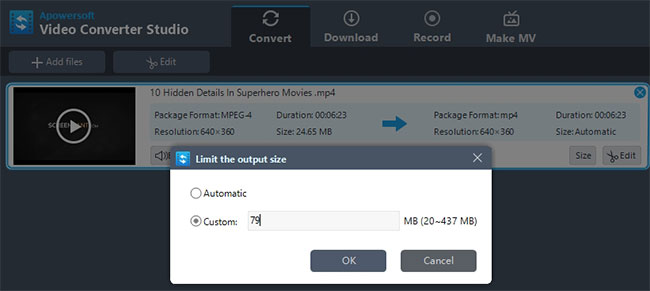 Bottom Line
Above are my solutions in adding picture to video, hope you will find it useful and helpful. If there're any questions about this issue, please post your confusion in comment. Good luck!