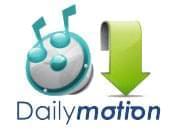 With over 116 million visitors each month, Dailymotion is the second biggest video sharing site online. It is also one of the most visited sites on the Internet. Like YouTube, users can upload and watch different kinds of videos on the site. If you are a music enthusiast, you will enjoy the wide selections of music videos uploaded by different users. A lot of users would like to convert Dailymotion video to MP3 so they can play the audio on their digital devices.
This is actually possible and there are various options on how to do this. If you are one of the many users who would like to convert videos from the site to MP3, you can download the videos on the site then use a separate application for the conversion. This could be a bit time consuming since it involves two procedures. The other two methods are more convenient since they only require one procedure. One is to use online applications that would directly download and convert videos to MP3. Another way is to use a streaming audio recorder.
Convenient Ways to Convert Dailymotion to MP3
Method One: Video Grabber
If you don't want to spend a single dollar for downloading and converting videos from Dailymotion to MP3, you can use this online tool, which you can access by going to this link. This is also a great application if you do not have any background on how to convert dailymotion to MP3 as it is uncomplicated that even kids would learn to use it fast. All it takes for you to get the MP3 format of the video you like is to copy its URL, paste it on the correct field and click the Grab button. You will then be given the option to choose the format that you would like for the output including MP3.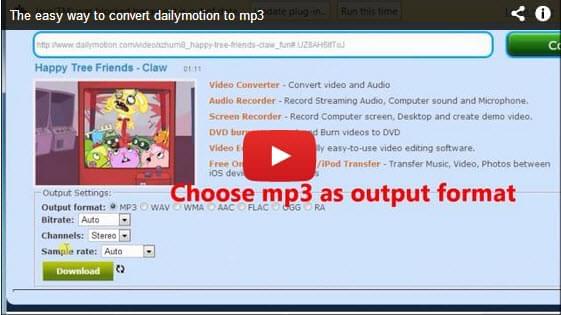 The good news is that you can convert not just Dailymotion videos but almost any videos that you see online as it supports over 1,000 video sites including YouTube, Vimeo, Nationalgeographic.com, Lynda.com, Collegehumor.com, funpop.com and more. It also supports various audio and video formats for the output including WebM, FLV, 3GP and MP4. Since this free application is web based, it doesn't involve any installation or registration. There is also no limit on the number of videos that you can convert, as well as their length.
Tips for using: The Screen Recorder function is also a good way to convert Dailymotion video to mp3. Under its region tab, there is an option to record stream audio online, which you can use for the download and conversion.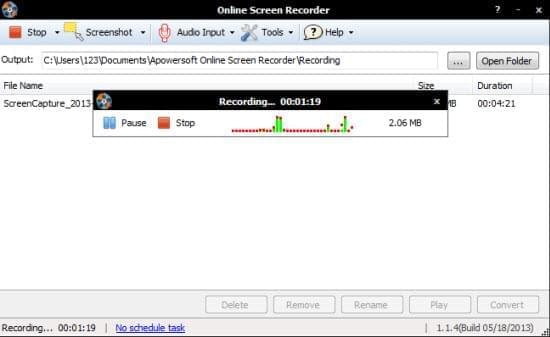 Method Two: Streaming Audio Recorder
This application needs to be installed on your computer so you can start using it. It is available for a cost though the price that you will pay is worth it as it offers great features that you will enjoy. If you want to try using the tool before spending your money on the full version, you can always download the free trial first. This Dailymotion to mp3 converter is powerful yet easy to use. It can record any audio that you play online or on your computer. Play the Dailymotion video that you would like to convert to mp3 and click the red "on" button to start recording. The audio of the video will be captured, which is automatically saved to MP3. It does not just convert Dailymotion to mp3 but to other formats as well like WMA, AAC and OGG as it comes with a convert function.
Aside from converting videos to mp3, it also comes with other fantastic features including its radio feature that allows you to listen to various radio stations streaming online and record the songs you like. It also comes with a free music downloader where you can easily download songs to your computer. You can also use this to burn music to disc in case you wish to save a copy of your music or you would like to give it to someone as a gift.
With all the great applications available for converting videos from Dailymotion or other video sites to MP3, you can listen to the music you love on your digital device anytime, anywhere. Video Grabber and Streaming Audio Recorder are two of the best and convenient Dailymotion to mp3 converter because of their ease of use and quality output.