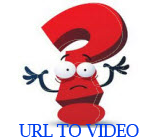 Who the heck doesn't watch a video online? I bet everyone of us watch a video either via social media or via video hosting sites. This is surely one of the favorite pastime for most individuals. However, these days streaming videos online is not only about entertainment but it also provides education, whether they are about academics, lifestyle, hobby, and fitness. That is why downloading some of the videos that we watch is what we crave for. Most of the videos that we watch has a link that is located at the top of most browsers. These links are the one's that can be used to download a various videos. But you cannot download the video clips by just having the links, you must first need to convert url to video. This process is a must because it is the actual process where the video is actually being grabbed for you to download. This article will talk more about converting videos via URLs, and the finest url video converter available.
There are a bunch of tools out on the internet. All of them are claiming to be the best, but the truth is they suck big time! Its either they do limited work or they are not working at all. Without further ado, here are top tools on the World Wide Web.
Free ways to convert url to video
Zamzar not working for YouTube
Zamzar.com is certainly one of the most talked about link video converter. This tool has a very simple site platform, with a step by step instructions that will help you all throughout the process of conversion. All you need to do is to follow the steps 1-4 and your converted file will be sent automatically to your preferred email address. Zamzar can be used for free that is why it is often used by many netizens. Some of its features include: It is simple to use, fast, has different file formats to choose from, supports different video hosting sites and social media webpage. Yet, in spite of its good attributes, now, it removes support from YouTube. You cannot use it to convert YouTube URL to video. For this reason, if you want to find an alternative that supports YouTube, here you go.

It is the most compact online URL video converter that is ever assembled. This video tool has a user friendly interface that is suitable for all users. It supports almost  all video hosting site such as video from Social Media sites, Metacafe, Dailymotion, and the most famous YouTube. It also has various tools such as video converter and screen recorder making it the most complete online tool available. Video Grabber can be used in 3 simple steps.
Copy the URL of the video clip that you want.
Paste the URL in the box provided.
Click the "Grab it" button and your download begin automatically.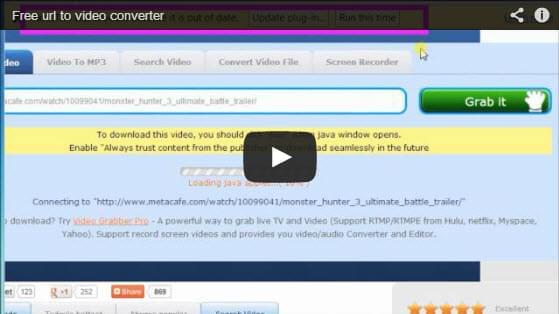 Three simple steps to convert url to video free without installing anything. Below are some Pros that are can be benefited from Video Grabber.
 It is very easy to use.
 No added applications needed.
 You can use it even with Mac products.
Convert url to mp3, mp4, wmv and more
 It covers almost video sites available.
 It is 100% virus free, all video downloads are clean.
These two URL video converting tools have the same purpose of converting links to videos. However, their process of converting is different from each other. First, Zamzar requires an email address before you convert url to video online, unlike Video Grabber which only requires the link. Second, when in terms of conversion, it is clear that Video Grabber has the advantage. Third, Video Grabber saves the converted video links directly to your desktop, while Zamzar saves it first in your email which somewhat annoying. Lastly, Video Grabber supports a lot of video sites even YouTube, which is not supported with Zamzar.
Yes, Zamzar is a good tool, but for overall performance I would rather use Video Grabber because it is a proven safe and clean url to video converter. If you are looking for the reliable one with numerous supported site then go for the Video Grabber.