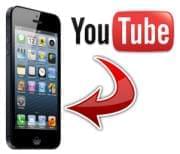 If there is one smartphone that is much favored across the globe, it would be none other than the iPhone. This all-around communication gadget is one of the most wonderful and sought after cellphones of all time. From texting to playing games, listening to music and downloading apps, watching movies as well as online streaming of contents, you can do it all with the iPhone. Along with the popularity of the iPhone, streaming and watching videos has become actually one of the recreational activities. And when it comes to video sites, nothing will equal the fame of YouTube. With YouTube, you can watch all kinds of videos from educational videos to complete TV shows and movies. Though you can only watch YouTube clips online and if you want to download videos on your phone, you need to use a reliable YouTube converter for iPhone.
Bear in mind that the iPhone doesn't have the direct capability to download online streaming videos. You need to be connected to the internet at all times if you want to watch YouTube videos. But for those who don't have unlimited data plans or users with wifi connection, this indeed is a painstaking moment. Regarding such issues, do you want to save certain YouTube clips on your iPhone for later playback? Gladly, there are free tools out there that could really help you most.
1. Easy solution
2. Better solution
3. Mac solution
Easy Hacks to Convert YouTube to iPhone
Method 1: Convert YouTube Video to iPhone Online
If you're the type of people that doesn't want extra programs on your PC, Video Grabber is the right tool for you. With Video Grabber, you can download YouTube videos without the need to install anything on your computer. It is a web-based application that is free to use. It can grab HD videos from YouTube, Vimeo, Daily Motion, Video Jug, Meta Cafe and many more.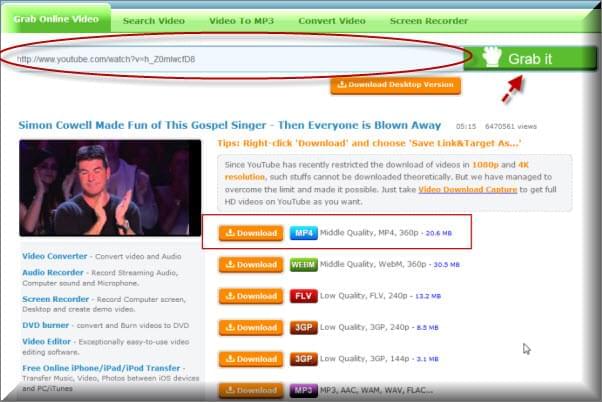 Using Video Grabber to convert YouTube to iPhone 5s and to other media gadgets is very simple, see the steps below:
Copy the URL of the YouTube video and paste it on the site.
Click "Grab it" and allow the java pop out notification.
Choose your desired video output format.
Convert video to the Apple supported format MP4
Hit the download button and it will automatically save the file on your hard drive.