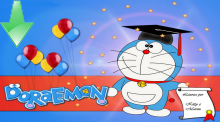 If there is one popular cartoon character all over the world, it would be none other than Doraemon. First appeared in 1969, Doraemon has been long enjoyed by kids, young teens and even older adults young at heart. As a cat-type robot, Doraemon has been known for its comical and values-filled episodes. With its highly embraced storyline, Doraemon hits the world by storm venturing into TV series, movies, Manga, video games, toys and all others.
Even though Doraemon has been airing since 1969, new episodes are still being shown worldwide. From Asia to America, you can catch local episodes of Doraemon through various networks. However, it is still easier to watch Doraemon online. Aside from continuously watching this wonderful anime with no commercial breaks, you could also download Doraemon straightly on your PC. Downloading Doraemon gives you several advantages – you can save them for future playback or as part of the collection. Moreover, you can share with friends or transfer on a portable media device.
Where to watch Doraemon
Before finding ways on how you could grab online streaming anime, first off you need to know where to watch high-quality Doraemon episodes. Note that the internet is filled with thousands of anime streaming websites but not all of them are free and easy-to-use. One website in particular that offers free and high-quality anime streaming is AnimeGet.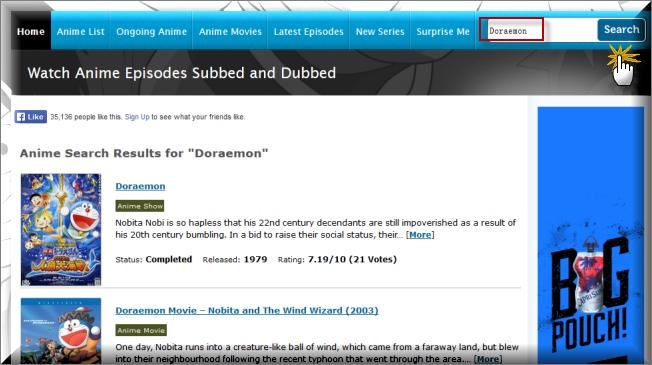 From Doraemon movies to original and dubbed Doraemon episodes, you can find them all on this website. Just type "Doraemon" on the blank search bar located on the top and hit the "Search" button, and then it will bring result pages containing all Doraemon-related stuff. After you have chosen the particular episode or movie you want to stream, different playlists with embedded video players will come out. It's really that easy and you can now stream Doraemon episodes without spending a dime.
How to Download Doraemon episodes
Method 1: Video Download Capture ( for Windows Users)
If you want to download Doraemon episodes and other online videos without much of a hassle, using Video Download Capture will help you most. It features an advance downloading technique that can grab online streaming videos from millions of websites. It can download videos in bulk, convert files into various formats, record live videos and grab video chats. Best of all, this tool offers an extensive video editing function you can use to merge, crop, trim and insert subtitles to all your grabbed clips.
In order to download Doraemon videos from animeget, first download and install the program on your computer.
1
Simply run the program. This software can automatically download playing videos on the background by its video detector automatically enabled by default.
2
Go to AnimeGet and play the Doraemon episode you want to save. After that, the video will be captured automatically, check the download progress in interface.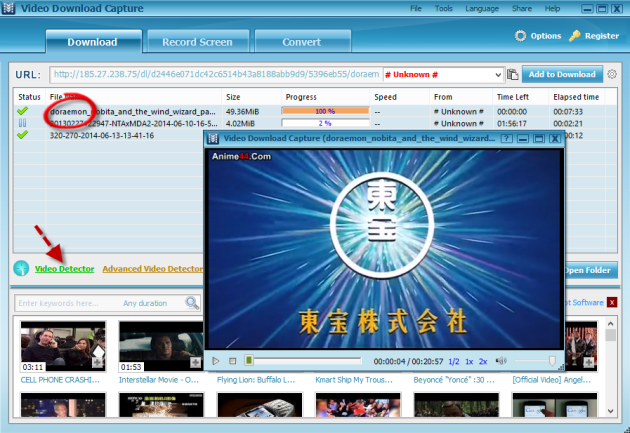 3
When it's completed, you have an option to convert or you can edit the video file depending on your desires.
You may watch this live demo for easy instructions:
Method 2: Apowersoft Video Downloader for Mac
If you are an Apple fanboy looking for easy ways on how to download Doraemon episodes on PC, you should try the Apowersoft Video Downloader for Mac. It works with the newest OS Mavericks 10.9.3 and provides rich multimedia functions such as automatic video detector, video converter, video editor, file manager, screen recorder and more. This software features an easy-to-use interface with polished buttons and upfront instructions.
With Apowersoft Video Downloader for Mac, you can download Doraemon movie, episodes and clips in two ways. Check them out below and depending on how you want to grab your clips.
a. First is by Copy and Paste
Copy the URL of the clip containing the Doraemon episode.
Click the "Paste URL" button and choose your desired format.
The video will then be automatically saved on your hard drive.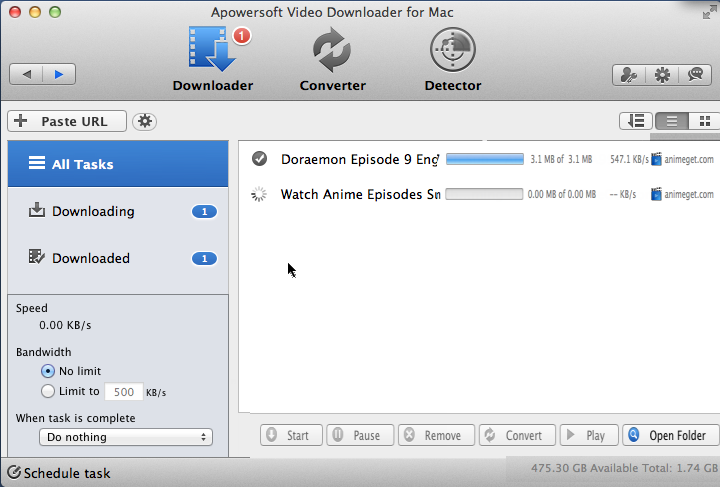 b. Using Built-in video detector
Click the "Detector" icon located on top.
Use the built-in browser to directly stream Doraemon episodes from AnimeGet.
Play the video file and it will automatically grab clips that are being played.
What makes the software a clear cut above the rest is that it can download and convert videos in bulk. It can also fetch a playlist from YouTube and other streaming websites.