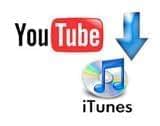 YouTube is one of the most loved website that we have on the World Wide Web, this is not just hearsay but in fact have a basis as it ranks 3rd in the current Alexa ranking for the list of the top websites in the cyber world. Moreover, YouTube is been known as a video sharing site with a 1billion users per month. Just imagine the amount of videos that is been shared at this site, it is surely been massive. Most of these users are music lovers because the greater amount of videos on YouTube's data base is music videos or customize music video with lyrics. However, this service is limited to online use only. This is one of the concerns that many individual has regarding this site, which is on how to play music offline or how to download YouTube music to iTunes?
Download YouTube songs to iTunes in easy ways
You can find some ways on the internet on how to save YouTube music. The problem is that a huge percent of them are just a junk and will simply waste your time. For better downloading experience try only the best tools available such as those that are shown at the methods below.
Method one: Free YouTube to MP3
With the first method to download music from YouTube to iTunes, we are going to make use of Free YouTube to MP3. This program has the ability to grab any YouTube music video which it will then convert to an audio file. Here is how it works.
First you must have installed the tool and open it. Then the next thing is to go to YouTube and open the music video that you want to process. Now copy the URL of the video clip and simply paste it on the URL bar of the downloader and hit Start, this will instantly grab and convert your selected video into a MP3 file.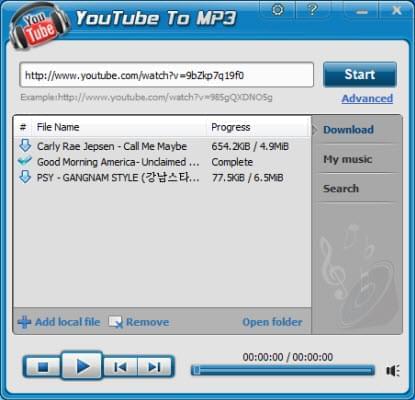 In case that you still don't have an idea to which music video to get. It's suggested to search for a certain song using the search bar that is located at the bottom part of this downloader. Just key in a song title or artist and the entire related list will be provided.
Add the downloaded YouTube music into iTunes manually
Once the downloading process is done, then the next step is to transfer this downloaded YouTube music to iTunes. This can be done manually by opening iTunes and click the Music tab, now go the folder where your downloaded songs are saved, simply drag and drop them to the iTunes library. After dropping them each song will be imported and be included in the iTunes data base. Other way is by hitting the following step, click File > Add File to Library or Folder > highlight the mp3 file that will import and press Open, this way will also add your downloader mp3 to iTunes.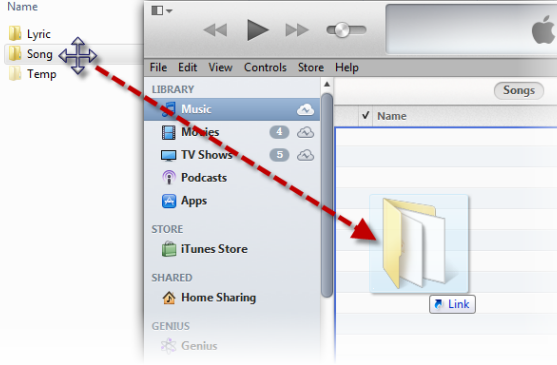 Method two: Streaming Audio Recorder
In the second method, we are going to download YouTube songs to iTunes by means of recording. For this, we are going to utilize an outstanding program which is the Streaming Audio Recorder. This program is equipped with various functions that are perfect for grabbing any audio stream. To begin all you need is to launch the video and open the YouTube music video that you wish to have, and click the Start button on the recorder first before playing the video. Just make sure that the video had buffered completely to avoid interruption of the recording. And the interesting thing with this recorder is its ability to directly add grabbed music to iTunes and it enables automatic identification of the music track details which is great.