Grooveshark, one of the most promising music service platforms, announced that it would shut down forever on April 30th, 2015. During nearly ten years, it has attempted to build a catalogue of music form that users can upload their favorite songs regardless of securing licenses for the music from rights holders, which led to its demise. A group of major record labels sued it for copyright infringement back in 2011, and last week a New York federal judge ruled that Grooveshark should be liable for more than $700 million in damages. In the end, it shut down completely and deleted all music tracks from its servers for good.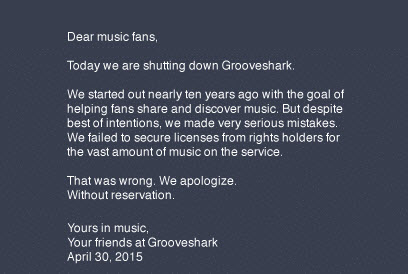 Many Grooveshark users are panic when hearing this shocked news. And those playlist owners feel upset for their deleted songs. In that case, here this article will sort out some brilliant Grooveshark alternatives, considering the strong desire of another workable music streaming site to take place of this dead site.
Top 6 Music Websites like Grooveshark
Last.fm
This site is the most similar site like Grooveshark that holds almost the same mode of streaming and sharing music tracks. And it has a distinguished characteristic that it will give you some personalized recommendations according to the music you listen to. More than that, Last.fm also has figured out some charts like "Best of 2015", "Ten Years of Scrobbling" and "Valentine's Day 2015", etc. And you can scan the latest event in music field to get to know the information that attracts you.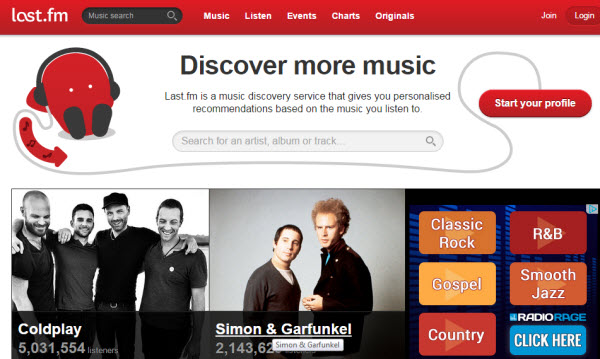 Pandora
Pandora is another great website like Grooveshark that is worth to try for its concise webpage and users-friendly music streaming mode. It is a new kind of streaming music service that classifies those songs into different stations based on artist, genre and composer. If you are a registered user, you are able to create your own stations and add preferable music tracks as you like. Some recommendation lists also can give you hints for reference such as "Today's Hits", "Today's Country", "Today's R&B and Pop Hits", etc.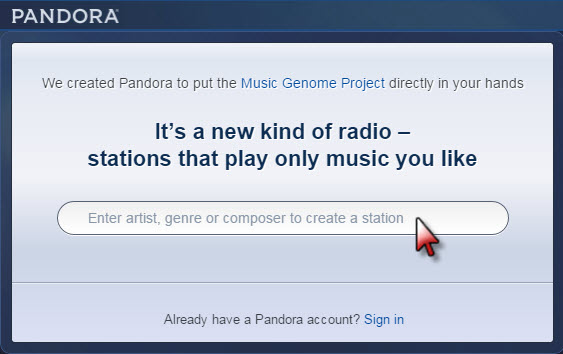 Deezer
Classified those music sources into three columns including "Track", "Albums" and "Artists", this music streaming platform is one of the nicest sites like Grooveshark for enjoyment. You can register on this site for free or sign up with your Facebook/Google+ account to add your own playlist, albums and artists for listening online or sharing with others. It has a web-based media player that enables you to enjoy the enchanted music with ease. With the "Skip" and "Back" and "Pause" icon, it is feasible for you to control the listening process at your will.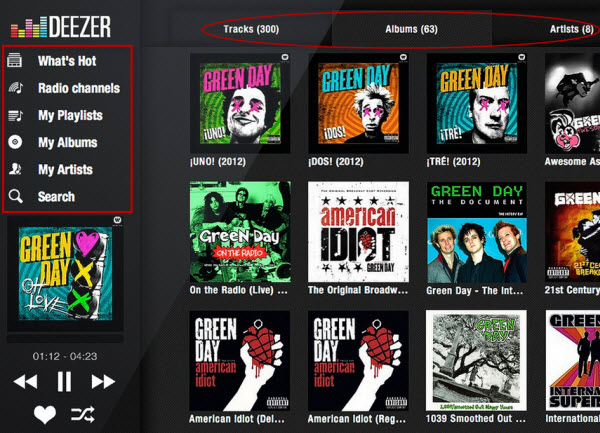 8tracks
As one of the most recommendable alternatives to Grooveshark, 8tracks is indeed an awesome one which is holding a direct and vivid exploring system and nearly 2 million playlists for streaming freely. It majorly uses genre to categorize those playlists – all kinds of popular genres like "chill", "indie", "pop" to figure out what you are going to listen. And this site has a fans-to-fans service that means you can follow other playlist owners and also can be followed by others if they like your playlist. Comments are available under each playlist lives on this platform.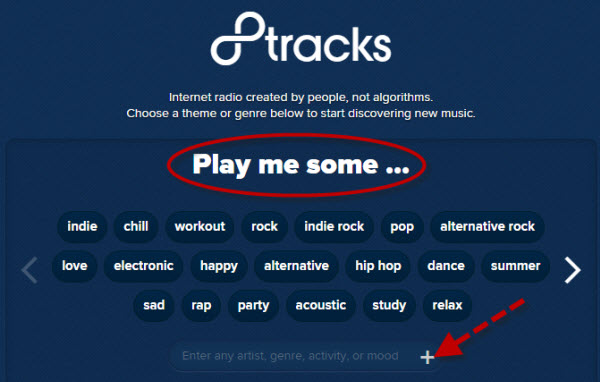 Songza
Songza is a special music service site among those Grooveshark alternatives, which will change the color of its background along with the time. And it will provide you with various playlists based on what you are doing now to select the suitable category for entertainment. It mainly refers to Weather, mood and business on hand as the important factors to cultivate. Other than the role of online webpage platform, it also has mobile terminal application for streaming the melodic music on portable devices effectively.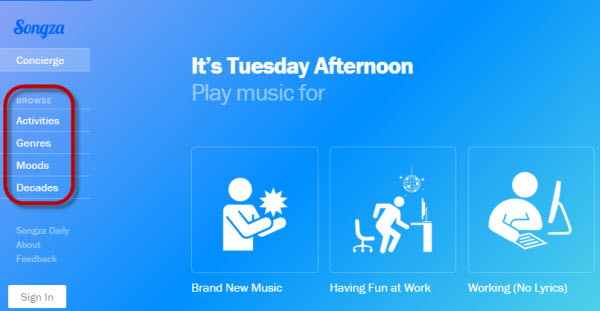 Jango
The last website like Grooveshark that I want to share with you is Jango, which divides its music sources into two parts – "Artist Radio" on the left side and "Genre Station" on the right side. You can either enter any artist to search for the music tracks or choose one of the popular choices under the search box. In addition, it is also possible for you to select a kind of genre station to stream music or hit one top list among those hottest playlists.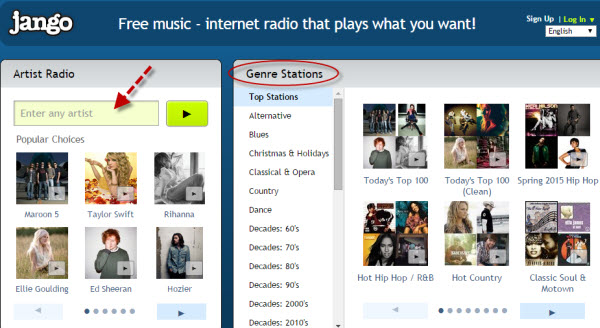 Tips on How to Record Streaming Music
All these sites like Grooveshark described above are deserved to try. Each site has its outstanding features that distinguish themselves from others. But almost all of them have a same defect that it is not available for you to grab music from those sites freely and steadily. Considering this fact, so here I want to share fantastic software to you – Streaming Audio Recorder, which is feasible for downloading music without quality loss. Following are detailed instructions of how to use it.
i
Before utilizing, you need to download and install this program on your PC.
ii
Configure some correlative settings at your will, you can set "Audio Source", "Output Format" and "Output folder" and even customize some hotkeys.
iii
After that, go to one of these websites like Grooveshark, and then choose a lovely song that you want to save offline.
iv
Go back to this software, press the button "On" and play the song online simultaneously.
v
Hit on "Off" to finish the recording, right click on the recorded audio, and you can play, convert, rename and even edit it randomly.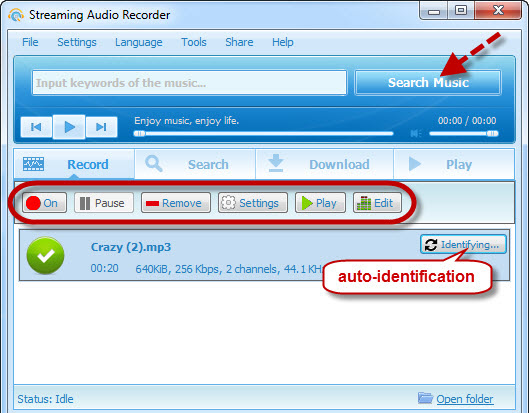 This software has an outstanding feature that it can identify the detailed information of music track automatically along with the recording process. The song's title, artist, album, year and genre can be recognized correctly. Aside from recording online music, it is also possible for you to download music with the built-in MP3 Downloader of this program. You just need to input music keywords to the search bar and click "Search" tab. All loading results can be played online or downloaded for playback flexibly. Anyhow, no matter which method you select to utilize, you can rest assured that it will help you get the music files successfully.