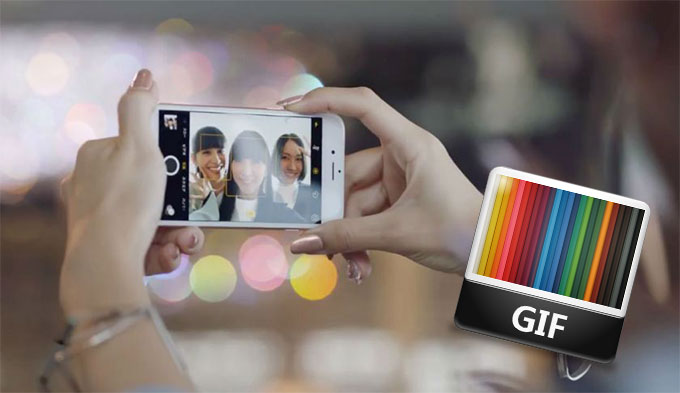 iPhone 6s/6s plus, the new version of iPhone comes with a fresh technology in photography which empowers users to take live photos. When you press on the live photo, it will play a short episode that captures the moments before and after shuttering for 1.5 seconds. It looks like a sort of GIF animated images. However, the live photo cannot be shared directly with others. For this case, it's advisable to convert live photo to GIF. To learn how to do this job exactly, you may check the following parts.
Effective apps to convert live photo to animated image
1. GIF Toaster
GIF Toaster ranks top on the recommending list for GIF creating apps. This app offers free service for users to convert media files on iOS devices including the conversion between timelapse and video to GIF, live photo to GIF, GIF to video and GIF to live photo. In addition, this app also empowers users to customize playback speed and framerate per second (FPS). You can check the following steps to learn how to use this app.
Download and install GIF Toaster from App Store.
Open the app and then tap the option of "Photo > GIF".
Tap "Live Photo" option to show live photos only.
Select target live photo and then tap "Encode".
Adjust FPS, range, resolution size and playback speed for the GIF image.
Click "Start Encoding", and then choose "Export to Camera Roll" after the encoding is completed.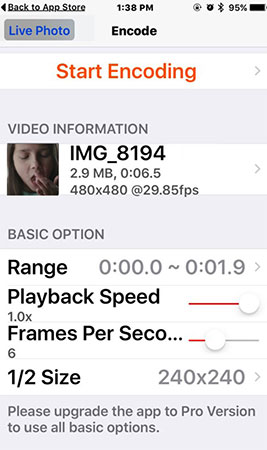 Tips: The output file can be sent and shared with others via message and email. You can simply go to Camera Roll and then choose the GIF file that you wish to share and perform sharing.
Note that, you need to upgrade your account, if you want to apply higher resolution options for GIF.
2. Lively App
Lively App is an app developed for those people who are fond of sharing pictures (still and animated) and video clips with others. For iPhone 6s/6s plus users, Lively App can help you convert live photo to GIF and movies and then share them on different social networking sites like Facebook, Twitter, Tumblr, some other messaging apps and many more. With this app, it's feasible to finely share your happy moments with others who do not own an iPhone 6s/6s plus. You may refer from the instructions below.
Download Lively App and then install it on your phone.
Open the app and then allow Lively App access to your camera roll.
Select a live photo and then choose "GIF" tab.
Press "Export GIF" and then select a way to save or share the GIF image. (You can save the animated to your local roll or share to message, Facebook, Tumblr, etc.)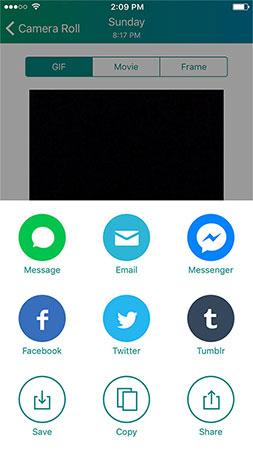 Smart tricks
Customize GIF: The app comes with some editing options that enable users to adjust size and playback speed. You can simply press Edit icon to activate editing panel and then make configurations based on your preferences.
Save certain frame as picture: If you love some certain frames in live photo, you may go to the tab of "Frame" and then locate to the desired frames. Press "Export Frame" > "Save to local Camera Roll".
The output file will be attached with a watermark which can be removed after purchasing. Absolutely, if you do not mind the watermark, this live photo to GIF converter is good to use all the same.
There're also some people who need to keep the GIF in their computers. However, neither of those two apps offers the option to export the GIF file to computer. To solve this setback, you may try the application suggested below.
Extra tips – Export GIF to computer
Using AirMore
AirMore is a totally free online application that works excellently in transferring file and date between portable device and computer. Therefore, we can make use of this tool to export GIF, pictures and video to computer from iPhone. This application connects your devices via WIFI that makes transferring faster and more stable. Do as follow to use this tool.
Launch the app.
Navigate to the site of AirMore on your computer.
Scan the QR code on webpage with your phone.
Click the tab of "Picture" on webpage and then browse your camera roll.
Choose wanted files and then press "Download" button to export the file to your computer.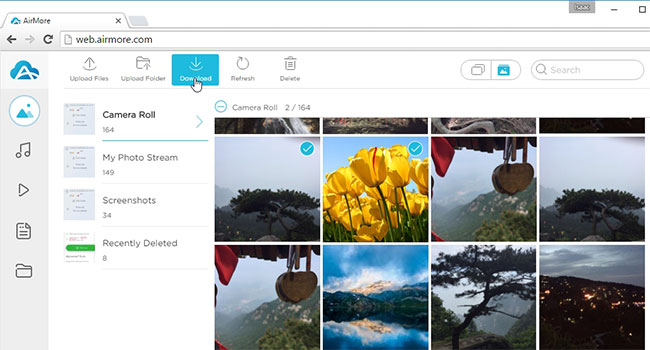 Bottom line
I believe that all of you have learned how to convert live photo to GIF from above guidance. You may choose an app that you like best. When you need to save those GIF images to your computer, AirMore will come into handy for this job.