AVI which stands for Audio Video Interleave is a multimedia format that was created by Microsoft to serve as a file format that contains multimedia content. This kind of format can often be seen on files that are from a DVD disc. This type of video file format is perfect for watching movies and other video clips with high quality. Unfortunately for Mac users, this format has some compatibility issues with its media player which is QuickTime. This may be confusing for others, but don't worry because I will give you the easiest ways to play avi videos on mac.
Two Ways to Play AVI File on Mac
There are basically two easy ways on how to play avi file on mac, they both work well and can depend on. It depends on your preference to which method will you use.
Solution one: convert AVI to MOV
As we all know the default video player for Mac is QuickTime. And for you to play AVI with QuickTime, you can get third party plug-ins called Perian. This application enables you to play AVI, FLV, MKV and other formats on Mac. However, this process only works on older Mac OS and is not supported by the latest Mac OS X Mountain Lion. In this case, the best option we got is to convert AVI to MOV, which is the supported video format with the QuickTime media player. The best way to convert your videos to MOV is by using a free online program which is the Video Grabber. To convert file using this program all you need to do is to: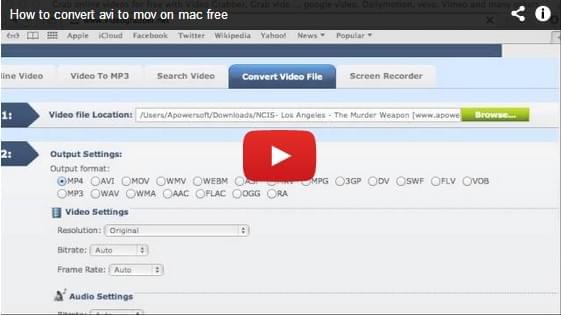 Visit the Video Grabber homepage
Click convert video file and enable Java applet
Browse for the AVI file, and choose MOV as the output format
Press convert and just wait for your output file to finish
Tips: If you want to try another video converter, then you must try this awesome program which is the Apowersoft Free Online Video Converter. This program works well in converting files to various formats. What is good about this converter is that is gives you an option to set a specific video and audio setting for your desired output. Both video converters can help you convert AVI to MOV successfully so that you can play AVI videos on Mac.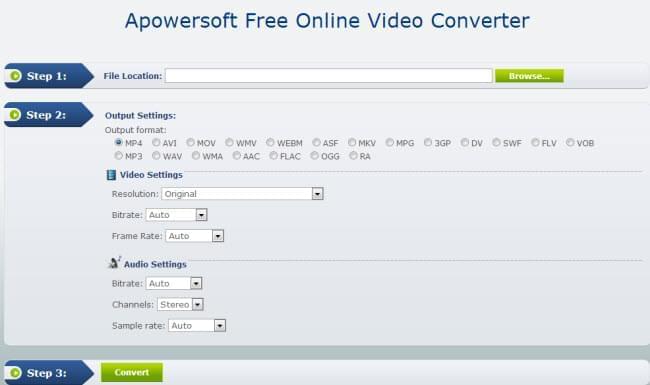 Solution 2: Use free AVI player for Mac
Here is another way to play AVI files on Mac aside from the solution that I've mentioned above. If we can't play avi with quicktime then we can use other free media player instead. Here are some of the notable free media players that can utilize to play AVI files on Mac OS.
VLC media player – This is a well known media player that performs well on any OS including Mac system. Aside from playing AVI files, this player can also read almost video file format from the smallest to the largest.
MPlayerOSX – You can also play various media formats using this program. A great program to have free of charge with a nice interface.
ELmedia Player for Mac – This great media player to have on your Mac system, it has an awesome interface that matches a Mac OS style. It can play AVI files and other media file type without any issues. For added features you can buy its Pro version.
MPEG Streamclip – This is basically a video editor and converter program that has a built in player which can play multiple media files regardless of their format.
You can still try some other player at your own risk, but for best result be sure to only use this free avi player for mac. Just be sure to download this player for a reliable website to avoid getting some malware and spyware.