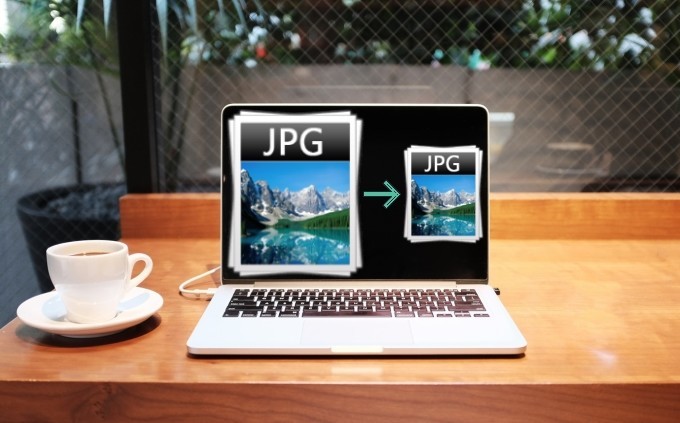 Images are one of the most common file types that we store on our mobile phones. Moreover, these images are very important to us as we can reminisce and relive the experiences and the moments just by browsing through them. However, it may takes you a lot of time to share or archive them due to their large file size. Luckily for you, we have found there are many compression tools that can help you to reduce JPG file size. We will list some of the best tools and how to use them below. Please check them out if you just need to adjust your JPG files.
3 recommended tools to reduce JPG file size
Online Image compressor
The first tool that can help you to compress your JPG file is called Online Image Compressor. This web-based tool has a clean and simple interface. However, it offers you a lot of great features to resize your images. Moreover, this wonderful tool is free to use for all users. It has no limitation to the file size you upload. Undoubtedly, Online Image Compressor is one of the best online JPG file size reducers available. To begin using this online compression tool, please complete the steps listed below.
Visit Online Image Compressor on your browser.
Click the "+" sign to add an image or a bulk of images.

Once your images are uploaded, you may choose the best type from the three options such as Size, Normal, and Quality. Choose the output format as Original or JPG.
Click the "Compress" button to start resizing your JPG files.

Finally, click "Download All" to save the compressed images.
Paint in Windows
Paint is one of the longest surviving features on Microsoft platform. Moreover, it offers some new features which are not included in previous versions of the built-in app. Furthermore, it is a free JPG file size reducer and some of its positive features are: transparency, pasting another object, editing colors, etc. However, you can only edit one image at a time. You cannot compress multiple images at the same time. Here are the steps for how to resize your images for free using Paint.
Go to "Start" menu and open "Paint".
Copy the image that you want to compress and paste it onto Paint's interface.
Go to the "Resize and Skew" tab and input your desired size, then click "OK".

Finally, save the JPG file by clicking the "Save" icon at the upper left corner of the screen.
ApowerCompress
ApowerCompress is a desktop tool that lets your compress images in various formats like JPG, JPEG, BMP, GIF, TIF, TIFF and PNG. Besides images, you can also use this program to compress video and PDF files smoothly. Moreover, this software can assure that your files are safe and also produces a good quality file with high compression rate. Let's check out the steps listed below to learn how to compress your JPG files with ApowerCompress.
Click the Download button to download this program.
Go to the "Compress Image" tab, and then click the "Add image" button, or just simply drag and drop the images into the "Drag or click to add file" box.

Select the compression strength as well as which output format you desire. You may choose to keep the output images in original or JPG format.
Finally, click the "Compress" button to start compressing your files.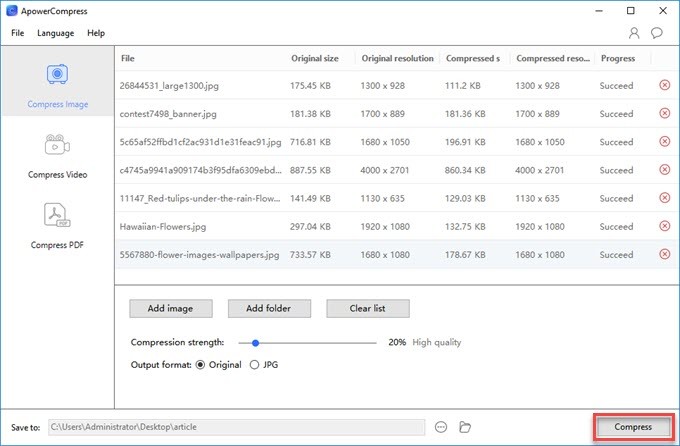 Conclusion
All in all, you can use the tools shared above to reduce JPEG file size quickly and easily. Online Image Compressor and Paint are free to use. And Online Image Compressor enables you to reduce JPEG file size on Mac, Windows, iOS and Android systems. Nevertheless, if you are looking for a stable and fast file compressor, you may try ApowerCompress. ApowerCompress allows you to choose the compression rate more flexibly than the other two tools. If your image file size is less than 2MB, you can use it for free.