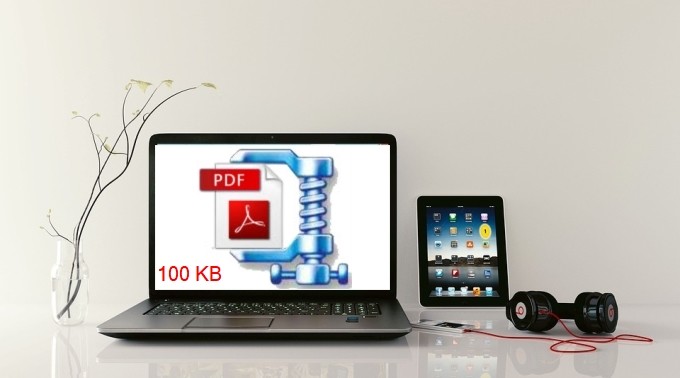 PDF is one of the most commonly used document file formats. This is because it is easy to store, view, edit etc. However, there are some large PDF files that contain images which make them quite difficult to send or share. For these files, you'll need to reduce PDF file size below 100 KB to send them quickly and easily. On that note, let's discover some effective solutions to reduce the size of a PDF file.
4 easy ways to reduce PDF file size below 100 KB
ApowerCompress
ApowerCompress is a free desktop tool which lets you reduce the size of a file without trouble. The file can be a PDF, a video and a picture, or in any other format. This stable and fast tool has some advanced compression functions. It can compress multiple files at the same time with just a few clicks. Its simple and clean interface allows users to utilize the program conveniently.
To learn the process of how to reduce PDF file size below 100 KB, see the given steps below.
Hit "Download" button to download and install ApowerCompress on your computer.
After the installation, launch the tool and then click the "Compress PDF" tab.

Next, drag the PDF file to the program or simply click the "Add PDF" button. If you want to compress files by batch, just click the "Add Folder" button then select the folder from your local drive.
Once this is all set, choose the best compression type.
Lastly, hit the "Compress" button to start the compression process.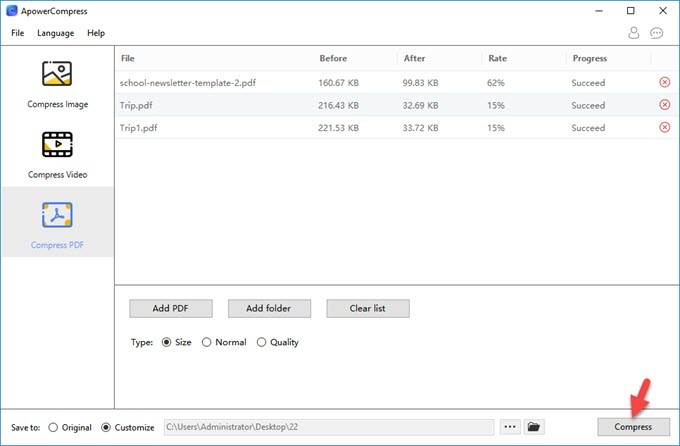 Free Online File Compressor
If you don't want to install any software on your device, then Apowersoft Online File Compressor will definitely help you reduce PDF file size below 100 KB online. This program lets you compress PDF files without signing up for an account. Apart from that, Android and iOS users can use the program on their devices without any limitations. All you need to do is make sure that your device has a browser and is connected to an internet. Here are the steps for how to do it.
Simply open your browser on your device and visit the official site of the program.
Next, add a PDF file by hitting the "Click to add file" button.

Once uploaded, choose the compression type and then hit the "Compress" button.
Lastly, download the compressed file to save it on your device.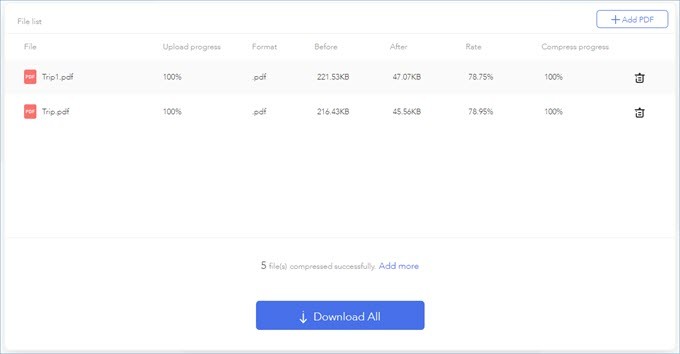 NXPowerLite
NXPowerLite is another piece of software which can be used to reduce PDF file size to 100 KB. This tool can help users compress PDF files up to 95% of their original size. It is available for both Windows PC and Mac OS, and is a free program. Furthermore, it can compress multiple PDFs, shrink folder contents, zip compress and so on and so forth. If you want to try all of its features, you can buy the premium version after a 14-day trial. Here is the guide to how it's done.
Go to your browser and visit the main site of the tool, then click "Free Online Tool".
Next, upload a PDF file to the program by dragging the file to the main interface of the program or simply click the "+" button then select a file from the folder.
Once it is processed, click the "Download" button to save the compressed file.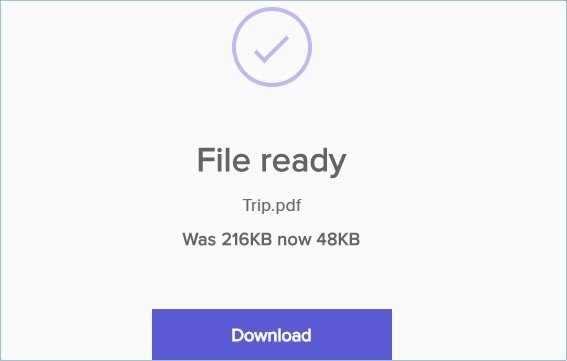 Free PDFCompressor
An alternative yet effective way to reduce PDF file size below 100 KB free is by using Free PDFCompressor. It supports five different compression settings. These include screen, eBook, printer, prepress and default. With Free PDFCompressor, users can choose from among these compressions depending on their needs. In addition, it is a totally free app which can be used for personal and commercial purposes. Follow the step-by-step procedure to how this program works.
Download and install the program on your computer. Run the program once it has installed.
Upload a PDF file you want to compress by clicking the "Browse" button, then select it from your PC.

Once this has been added, you can change the output file folder then choose the compression settings you want.
Once this is all set, hit the "Compress" button.