People need to reduce the video file size for all kinds of reasons, such as releasing their hard disk space, sharing videos online, transferring to their digital gadgets or E-mailing video clips to a friend. Whatever the reason, the large video files might bother you sometimes. And, your dilemma may be the fact how you can compress the video file so that you can easily free memory space, distribute videos over the internet fast, and many more. Sound difficult enough?
In fact, there are many methods available to reduce video file size. Below are popular ways to help you resolve the problem successfully.
Three popular ways to reduce video size
Reduce video resolution, frame rate and bit rate
As we all know, the video resolution is associated with video quality and video size. The higher resolutions mean that more pixels are used to display video, resulting in the larger video file size. You are able to change the resolution of the original video file to a smaller resolution. Generally, HD videos can be as high as 1920X1080P, but you can reduce to 1280X720, 640×480, 640×360, and more resolutions.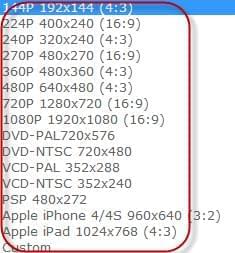 If the video size is not small enough, you could also lower frame rate and bit rate. The frame rate has a lot to do with the file size, which displayed images of a video per second. Lowering the frame rate will directly lead to the decrease of video file size. With regard to the bit rate, it mainly describes video or audio quality. If the video file is compressed at higher bitrate, the higher video quality and larger file size will be, and vice versa. In general, we recommend maintaining the lowest acceptable bitrate and frame rate to preserve quality.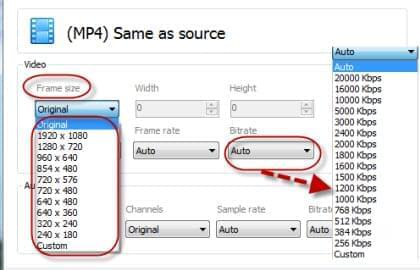 Change video format
The following way will focus on how to convert video files to other formats with smaller size. The frequently-used formats include AVI, WMV, MP4, MOV, RMVB, 3GP, MKV etc. You may want to compare them and choose the best one for using. Obviously, the best quality format for HD video should be MP4, but it has maximum video resolution and frame rate to upload to YouTube, Facebook and other video sharing sites. AVI is a multimedia container format, which is very flexible. But the downside is that it is too large to compress. Amongst all accepted formats, WMV and FLV provide relatively small size. WMV is a good choice for video email and storage on your hard disk while FLV is a suitable format for web video. For example, if you hope to compress AVI format, it is suggested to convert to FLV or WMV. In this way, you will reduce video size without losing too much quality.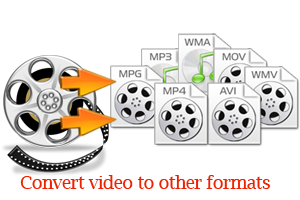 Trim unwanted video part
Trimming unwanted or useless video clips from the big video can do great help to reduce video file size sometimes. If the file is too big, it is another matter. There are quite a lot of video editors able to let us cut off unnecessary clips, for example, the windows movie maker. Relatively speaking, professional video editor will be much better than it in terms of functionality, practicality, and simplicity. See the below suggested professional tool then for reference.
Workable tools
You have already figured it out how to make video size smaller, now it's high time that we should use the best video file reducer. The tool shared here is the Video Converter Studio, a versatile video converter combined with a built-in video editor.
All you need to do is to add your video file for editing. After you loaded the video into the software, drop down Profile, the application will give you a list of video format options, such as AVI, WMV, FLV, SWF, MKV, 3GP, MP4; select the one that you prefer for the output file or you can directly change video format to FLV or SWF since flash video is famous for small file size. If you want to change resolution, frame rate or bit rate, tap Setting to adjust the parameters. Then forward to the video editor window by clicking Edit on the video ribbon, press Add Trim Marker to split the clips, choose the way you'd like to save the video from Preference. Once done, please click OK then Convert on the main interface to proceed. Then, just wait until the process completes.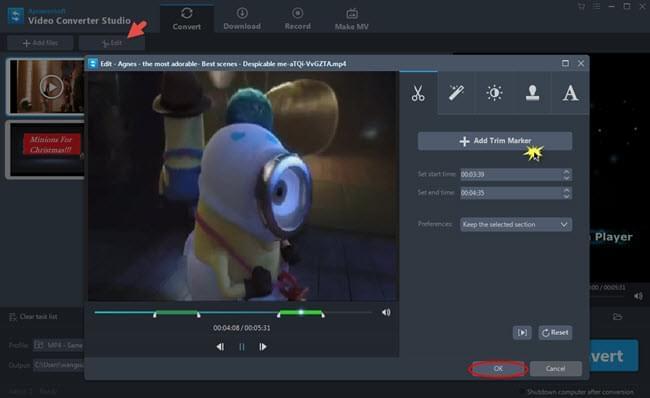 Another way for reducing video size is to directly make use of the size reducer feature on the Video Converter Studio. The steps to make it is also very simple. After you drag the file in, click Size on the video ribbon, a window will pop up right away, enable Custom and enter the number between the range then hit OK.