Twitter is an online social networking service which allows users to send and read short messages named "Tweets", which is less than 140 characters. Created in 2006 by Jack Dorsy, Twitter has gained more than 100 million active users. If you are a registered user, you can read the tweets posted by your followers, and post your tweets as well. Tweets can be message, photo, audio and video.
However, Twitter only provides social networking service, and it doesn't support to hold large size files, such as videos, in that way, sharing videos on Twitter is the only one method at present. Twitter is fully integrated with most video hosting sites, such as YouTube, Vimeo and Vine, so you can share whatever you've been watching on them.
How to share videos on Twitter
Twitter users like to share video on Twitter account, so that friends can enjoy the same entertainment. Popular video hosting sites, like YouTube, Vimeo and Vine, are welcomed among Twitter users. Some best video clips have been shared for thousands of times. To help fresh Twitter users, a little guidance on video sharing on Twitter is given out below. And it will take YouTube and Vine as the examples.
Methods to share from YouTube and Vine
Tweet YouTube Video
YouTube is a worldwide video sharing site where we can search out any video clips we want. For Twitter users, it's always the loved website. It's every simple to share videos on Twitter from YouTube, here's given out two basic methods.
First is directly share from YouTube. What you should do is navigating to the video on YouTube, and then clicking the share icon below the video and selecting the sharing target Twitter.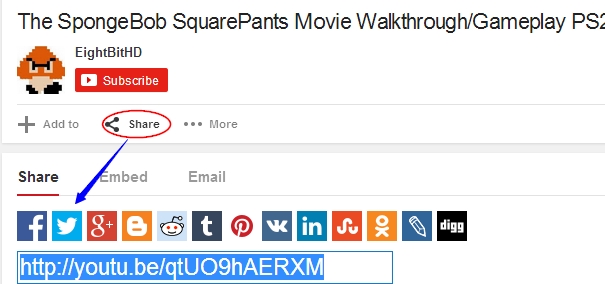 Second is embedding a YouTube video in your tweet. Log in Twitter with your account. Here when you start to write a tweet, you just need to enter the URL of the video of YouTube, and it will be shared on Twitter easily.

Tweet your six-second Vine videos
Some users may ask how to share a video on Twitter from Vine since Vine joined into Twitter Company. You can easily make it through your Vine account. Visit your Vine profile setting and add your Twitter account under "Social Networks". Once you've added your Twitter account, you'll have the option to share your Vine videos at creation or after posting. If you want to share a Vine video after you've posted it, just go back and click the "Share" button that appears under your post. You can also share other people's videos on Vine as long as they're not protected.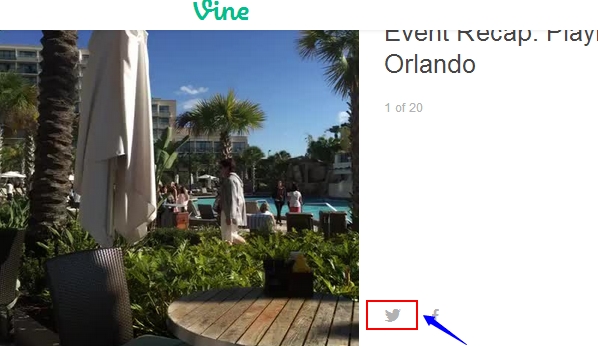 Ways to upload video to Twitter
As we all know, Twitter provides social networking services, where users can tweet messages, photos and linkages. While many users may want to upload personal video clips to Twitter, so how can we do that. Follows are the two suggestions.
Through third part video sharing sites
As it mentioned above, users can share video on Twitter from video hosting websites, such as YouTube and Vine. So one want to upload video to Twitter, he can upload or post the video to those video sharing web first, and then put it on tweet. This method is easily to think about.
By Mobile Phone
Actually, Vine is a mobile application, owned by Twitter itself, for creating 6-second video clips. These clips are uploaded to the Vine network and can be shared automatically through your Twitter account.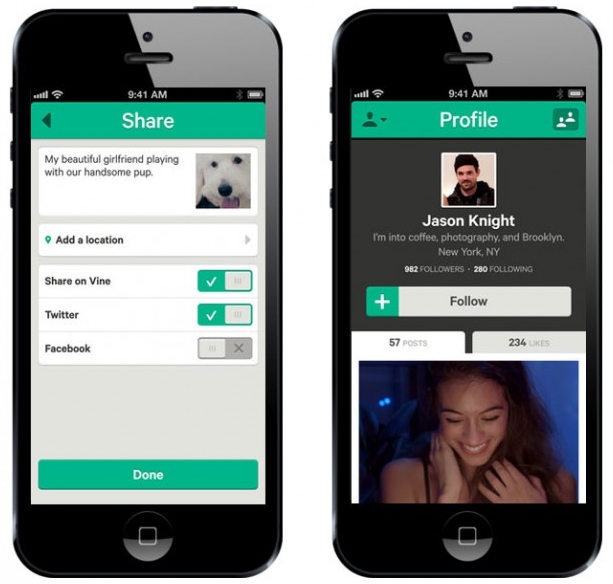 At recent, Twitter announced the roll out of a native video product- a mobile video camera that will give mobile users the ability to upload clips of up to 30 seconds directly to the Twitter platform. And Twitter for iPhone users will be able to upload videos from the camera roll as well on the new mobile video camera. All those features will come out in the coming weeks.
Users want to save some favorite Twitter videos to their PC, so that they can view them offline. If that, you can refer to the best and free ways to download Twitter video clips.