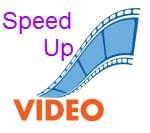 With the availability of smartphones that have the ability to record videos, as well as the affordability of video camera nowadays, people can easily create videos for various reasons. This could be for entertainment, work, projects and to capture special moments. These videos can be burned on disc, transferred to other devices, sent through e-mail and even share online. You may want to speed up video that you recorded for different reasons as well.
Speeding up your videos can cut their length, which is perfect if you want to achieve a specific duration. This is beneficial if you are posting it on a video sharing site that only allows videos of specific length like YouTube. This is also true if creating a presentation with a set time limit. It can also enhance the playback, making it easier to view. You may also speed up on the parts that you think the viewers already know and just focus on the parts that  needs more attention. Making a video faster can also be a way of styling your videos like that of a GIF file that moves fast. It is also the method used if creating a time lapse video to show the changes on the subject that may not be possible to see by the naked eye.
How to speed up your video with ease
Windows Users
If you are using Windows computer, speeding up videos can be done through Windows Live Movie Maker. This is a free application from Microsoft that lets you edit and create videos. It comes with the Windows Essentials suite that you can download and install on your computer.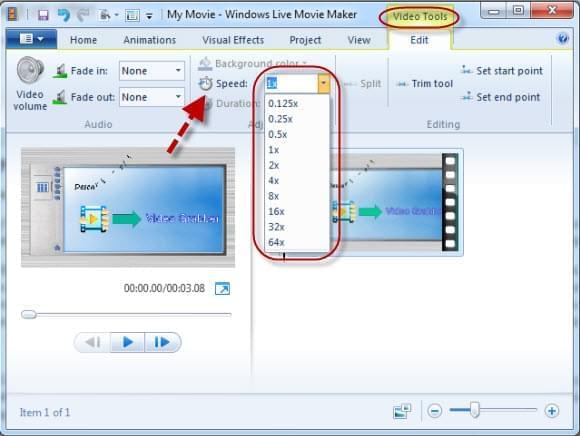 Once you have the software on your computer, you can start to speed up your videos by launching the said application, selecting the option for browsing videos and photos that you wish to edit and double clicking on the specific video you wish to make faster. Another way of opening a video on Windows Live Movie Maker is by right clicking on the video, selecting open with and choosing the application. Once you have the video loaded on the program, click on video tools edit, click the drop down next to the speed option and select the speed that you prefer.
Mac Users
Since Windows Live Movie Maker is only compatible with Windows, you may speed up video in iMovie if you are using a Mac computer. This is a video editing software from Apple that Mac, as well as iOS users can use to edit their videos. While this is an effective tool for editing videos on Mac, it only supports some video formats including DV, MPEG-2, MPEG-4, H.264, and AIC.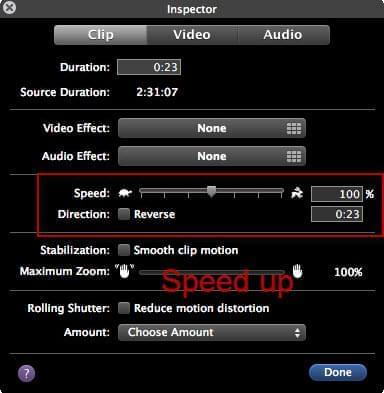 If the format of your video is not supported, a workaround is to use a video converter to convert it to a format that is supported by iMovie. Video Converter Studio is one of the best programs that you can try. This is an easy to use and straightforward converter that you can use. Open the application, click add and find the video that you wish to convert, choose the format your prefer and click convert. You can also use this application for converting video to audio and converting audio to other audio formats.
Now that you have an iMovie supported video, you can speed it up by following the steps below:
Click File.
Select Import.
Click on your video.
Drag video to the project browser.
Double click the video on the project browser.
Move the speed slider to the right, which makes the video play faster.
Click Done.
The given methods are easy ways on how to speed up a video on Windows and Mac. If using Windows, use Windows Live Movie Maker. If using Mac, use iMovie instead. Certainly, it is possible to slow down the video with the same steps above.