I love watching movies and popular TV shows. With tons of video hosting sites, is there a single website that features a wide variety of full length movies and globally renowned TV shows? I've heard Youku is one of the best but my friends told me that viewers outside China are restricted to access its contents. Is there a way to unblock Youku outside China?
Youku is one of the best websites you can ever visit if you want to stream movies, TV shows, special events, concerts and many more without spending a dime in your pocket. This Chinese video hosting website is known not only for its humungous collection of videos but also for its lenient copyright policies. From top blockbuster films to regularly updated TV shows, Youku offers it all.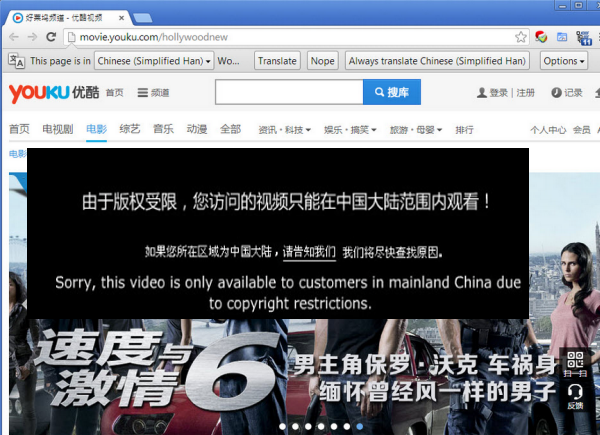 However, Youku has a big geographical restriction issue. Contents can only be viewed by people residing in Mainland China. Visitors connecting from other countries will receive an error message should they attempt to stream contents on this site. Luckily, there are different tips and tricks on how to watch Youku outside China. Check them out below.
Unblock Youku for Chrome
Of course you can use all internet browsers to explore Youku, but using Google Chrome will definitely give you not just one but two significant benefits. First is that Youku do not have an English version, all texts are written in Chinese. With Google Chrome's built-in translator, it will automatically translate Youku website in full English so you don't have to guess all those text tabs and menu panels. The second reason is that Google Chrome has an extension called Unblock Youku to help viewers watch Youku outside China.
Using this extension is very easy. Go to the Chrome Web store and search for Unblock Youku from Zhuzhu.org. Install it on your Chrome and restart the browser if needed. Then:
Using Chrome, visit Youku and translate the whole webpage in English.
Find the movie or TV show you want to stream and play it.
Do not worry about the error message but instead find the "unblock Youku" icon on your toolbar.
Click this icon and reload the webpage.
The video should now play as if you're connecting from China.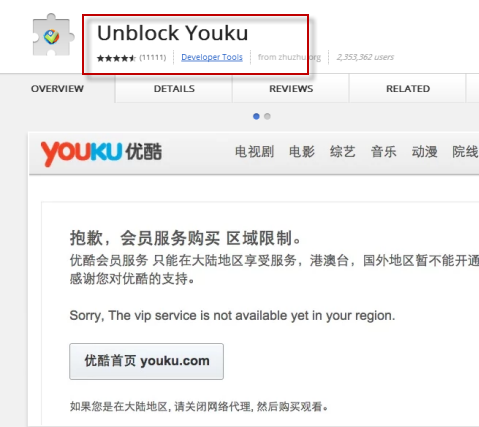 Use Proxy
Another way you could unblock Youku outside China is through the use of proxy servers. Remember that it can only be accessed if you're connecting inside Mainland China? This is because Youku checks your internet connection via your IP address. The IP address identifies your computer as well as your location that is why Youku can detect outside visitors. Fortunately, there are proxies you can use to be able to stream contents on this site.
Proxy serves as a gateway between connecting computers. Before your data can reach its destination, it will first pass through proxy servers. The beauty of proxy lies on the fact that some of them can offer anonymity. Instead of you connecting directly to Youku, using a proxy server will alter your IP address fooling the website that the connection originates from China. This way, you can easily watch Youku outside China.
Using a proxy server is simple, all you need is a reliable proxy then you're good to go. You can google search for free web proxy or paid servers online and it will surely give you millions of results. As a piece of advice, try to limit the results by typing in "free China proxy". After you have found the right proxy site, enter the website Youku on the blank search bar and click "surf now" or "go". Most proxy works this way but other might give address port and various configurations for manual alteration of your connection settings.
Use VPN
If you want a faster, reliable and more secure way of streaming contents from Youku, you might want to try VPNs. VPN or Virtual Private Network is a group of computers that uses specialized infrastructure to connect over the internet. Originally, they are used by businessmen who travel a lot letting them access files on their office even if they're not physically around. Nowadays, VPNs can be used to protect identity as well as hide location which is what you want to be able to explore geographically restricted websites such as Youku. Some VPNs can even unblock Youku download allowing you to save contents directly on your hard drive.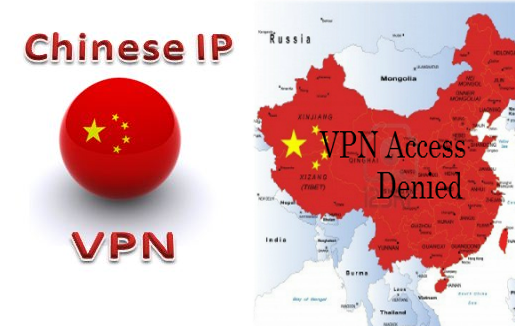 While using VPN, it shows the IP address of the VPN you're connected rather than your own IP address. Therefore, you must use China based VPNs if you want to stream Youku contents. Additionally, you need to have the right access code such as username and password. Using VPN requires no technical skills, after you have setup a valid connection, just use your browser to surf Youku like you would normally do on other websites.
There are many ways on how to watch Youku outside China or watch Hulu outside US. You can use Chrome extension, proxies and VPNs. Warning though, most free proxies are equipped with viruses and malwares, so you must be very careful when using one. Reliable and safe VPNs on the other hand might come with a bit of a price tag.