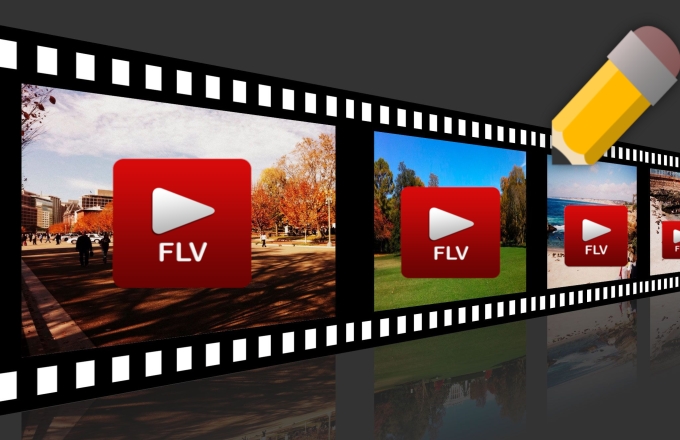 Flash Video, commonly known as FLV video, is a video file format which uses Adobe Flash Player or Adobe Air to deliver digital video/audio over the Internet. FLV videos surround us everywhere in the Internet since most of the producers of web ads, movie trailers, or films on the Internet use this sort of video format to display the content they want to show. Mastering the way on how to edit FLV videos can bring significant value, for example, enhancing the content and effect of FLV videos would help ads catch more attention from visitors. However, flash files are not fully supported on media players and mobile devices, and it gets even worse when it comes to editng them. Therefore one of the best practice is to convert flash videos to the more popular MP4 format before editing them in the first place. We collected the most efficient programs to assist you in editing flash videos.
How to edit FLV videos on Windows?
Edit FLV files with Windows Live Movie Maker
It is important to note that Windows Live Movie Maker doesn't read FLV files. We have to convert them to WMV or MP4 format before it is ready to be edited. Video Grabber is one tool to convert video and audio files while keeping the video quality of the created video. Access its official website, click on "Convert Video" and then click on "Select files to Convert" in order to choose your desired FLV file conversion. Afterwards, click on the "Format" button to choose a file format supported by Movie Maker, such as MP4, AVI or WMV. Finally, click on "Convert" and you can get the converted file very soon.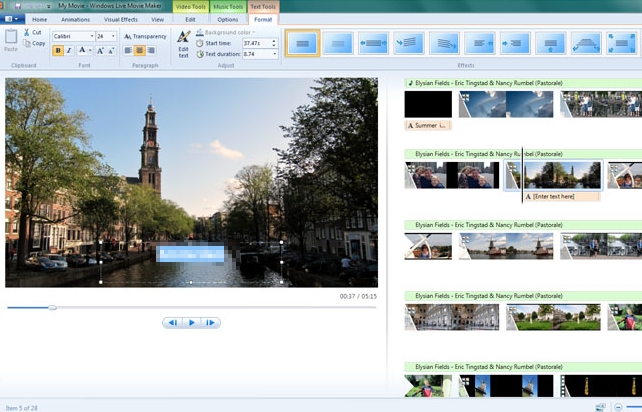 After preparing our FLV file to be ready for Movie Maker, the program allows us to edit FLV videos in various ways, including splitting the video, applying video effects, adding captions/transition/animation, adjusting the sound volume, increasing the video speed, among many others. If you have Windows running on your computer, it is recommended to try Movie Maker to enhance your FLV video files. However note that the resulted file will be encoded in MP4 and WMV format. Movie Maker is preinstalled on PCs running on a Windows system earlier than Windows 10.
Edit FLV files with Video Converter Studio
Video Converter Studio is a converter program that supports every video and audio format. You can also change the width, height, frame size and bitrate of your video before converting it. This application keeps the resolution and quality of the original files while converting them quickly and easily. In case of using this program, there is no need to re-encode flash videos, therefore you can go and edit FLV videos directly with it.
If you choose to try this software, after loading your desired file into the software, click on the "Edit" button and a new window will be opened where you can split a video, crop the size, adjust the aspect ratio, sync video and audio, change visual effects, increase audio volume, add watermark and texts to the video.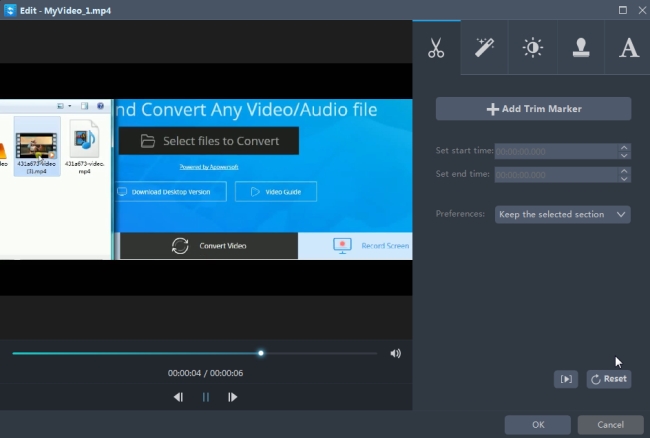 Edit FLV files comprehensively with ApowerEdit
If you are looking for a professional FLV video editor to enhance flash files in a comprehensive way, ApowerEdit is the best program to go with. It lets you perform advanced editing with its amazing features, allowing you can to cut, trim, merge, split, rotate, combine video clips, apply video effects and speed up/slow down your video speed and so on. Below you can see the main steps about how to edit FLV videos with it. This will help you find out more features in it.
Click on the "Download" button to download the program and install it by following the instructions.
Open the software, choose the aspect ratio you want to use to start editing your FLV files.
Click on "Import" > "Import file" on the main interface to select the file from your computer to load into the software.
Drag and drop the file to the video track, select the clip, click on "Edit" to make simple modifications such as splitting, or adding visual effects.

Drag templates like "Text", "Filter", "Overlay", "Transition" to their respective track, and set the start and end time for them.
Click on the "Export" button, choose the file format and rename it. The file will be soon saved to your computer.
Obviously, this FLV video editing software covers all functions that people will ask for when it comes to editing a video. Furthermore, it fully supports flash video files.
For a better understanding and comparison of the advised programs, you can have a look at the table below.
| | Movie Maker | Video Converter Studio | ApowerEdit |
| --- | --- | --- | --- |
| Compatible System | Windows | Windows | Windows |
| Supported Video Formats | MP4, WMV, AVI and 3GP | All | All |
| Real-time Preview | | | |
| Basic Timeline Editing | | | |
| Advanced Editing Tools | | | |
| Version | Free | Free/Paid | Free/Paid |