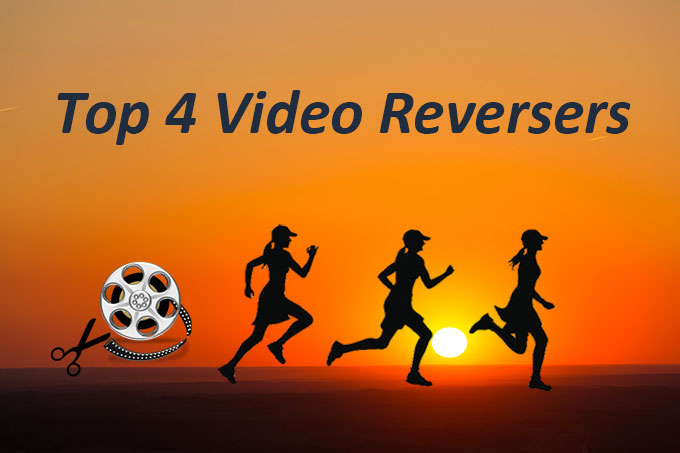 Have you ever watched a video which was fueled by flashbacks bobbing you back through a character's authorized history? And have you ever thought of applying this technique in your own video? In fact, even though you don't have professional shooting skills or advanced editing knowledge, you can make a video to be played backwards by setting its last frame as its first frame. With this effect, you can easily trace and reproduce the reverse process of a cup's breaking, water's splitting, an egg's frying, a flower's blooming, and so on. In order to do that, you need to find a useful video reverser, and understand how to reverse video with it.
How to Reverse a Video Using Online Video Reverser
If you prefer to use online video reversers, then you should pay attention to the two free video reversers mentioned below.
Ezgif
Ezgif is an online website focusing on making and editing GIFs, while it also enables users to do video editing, including video reverse. As a free online server, Ezgif has lots of advantages, for example, it has an intuitive interface to give users a good viewing and operating experience. However, as the saying goes, every coin has two sides. Users have to endure endless advertisements showing up in Ezgif's main page when they use this online editing tool. Despite this, however, Ezgif is still a great app to reverse a video online. Below are the steps you can follow.
Go to Ezgif's main page.
Click on "Video to GIF" and choose "Reverse".
Click on "Choose file" or paste video URL to import a video. (Note: Don't forget to click "Upload" after you've chosen a video.)
Edit the audio by clicking "Reverse sound" or "Mute sound".
Click on "Reverse" to get the reversed video.
Click on "Save" to export the video.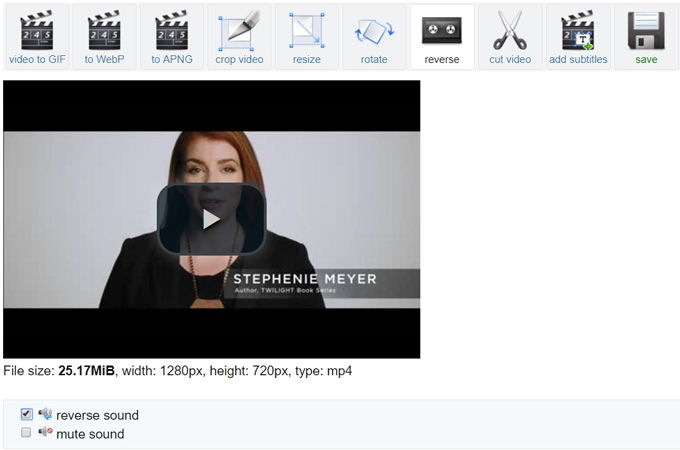 Note: Note: Ezgif also allows users to do basic editing. For example, after reversing the video, you can cut, resize, crop, and convert it to get a more enhanced creation.
Online Video Reverser
Online Video Reverser is a professional tool to reverse videos, and you're bound to know its professionalism when the first time you hear its name. However, Online Video Reverser is not an all-in-one tool, so it doesn't provide users with other important functions, such as the option to download videos, convert videos and edit videos. Therefore if you just want to reverse a video, and you prefer a clear interface, then this video reverser is recommended for you. Furthermore, there are advertisements on its main page, but if you don't mind those annoying ads, you can check the instruction below.
Go to "Online video reverser".
Click on "Choose a file" or enter a video URL to import your favorite video. (Note: Max. file size for upload is 10 MB)
Select the output format. (MP4, MPG, MOV, WMV)
Click on "Start" to generate the reversed video.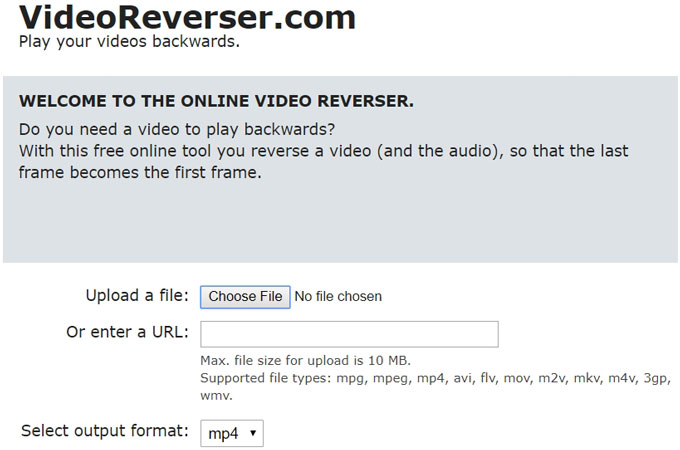 How to Reverse a Video Using Desktop Video Reverser
Some people may don't like to reverse a video online, but rather want to use desktop video reversers because they're usually free of advertisements and are available in case of the reversal needs to be done offline. If it is also applicable to you, then the tools below are highly recommended for you to try out.
Easy Video Reverser
Easy Video Reverser is a free app which helps users reverse video clips and save frames from last to first. Indeed, this video reverser is more professional than the former two online apps, for that it offers users multiple choices to set the audio mode to. For example, you can choose to keep the original sound, reverse sound or mute sound. Aside from that, you can also customize the frame size, add fast or slow motion and set the sound tempo. With this video reverser, you can quickly make a satisfied video. Below are the steps on how to reverse video with it.
Install and open Easy Video Reverser.
Click on "Load video file" to import a video.
Set sound mode, frame size, and fast-slow motion.
Click on "Reverse" to export the video.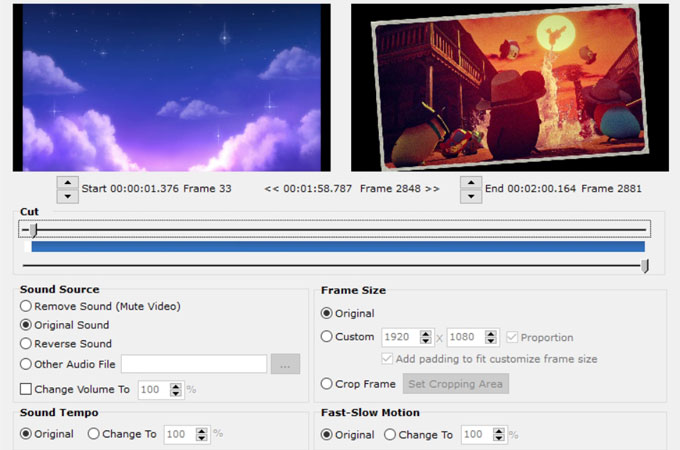 Lightworks
Lightworks is another free app available for Windows, Linux, and Mac OS. With this video editing tool, you can easily reverse videos, and take basic editing, such as trimming the video, adjusting the brightness, editing the audio, and so on. However, because of Lightworks' professionalism, it is not too easy to be used compared to the former three video reversers. Actually, if you're looking to challenge yourself and to experience this professional tool, then you can follow the below steps.
Install and open Lightworks.
Create a project, and then click on "Local file" to import a video.
Click on "Edit" to switch to the editing page.
Drag and drop the imported video to the timeline.
Right-click on the video in the timeline and choose "Speed".
Choose "-100%" and "Reverse" method.
Click on "Do it" to save the editing.
Right-click the video in the timeline, and choose "Export" to export the video.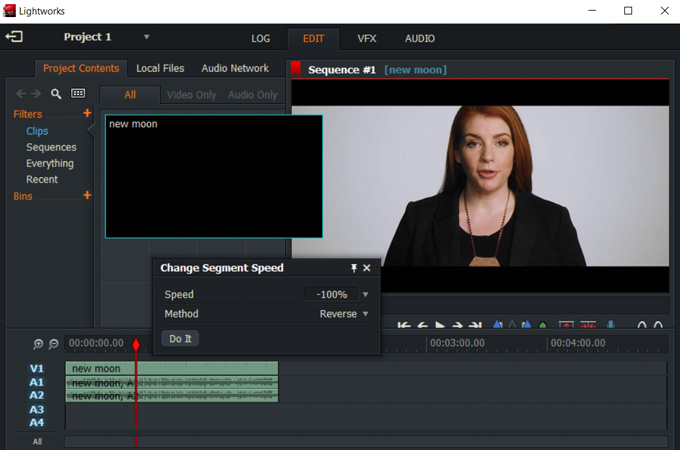 Conclusion
Those are video reversers that you can use to reverse a video. Online tools are great but you have to endure endless ads which appear in its main pages. Desktop tools have a clearer interface and are more powerful than the online ones. However, you can actually pick one of them and use them on different time and scenarios.